Childhood, Games, and Imagination at Play
Safa and Marwa are inseparable siblings who often spend the entirety of their day playing together, enjoying the simplicity and innocence of their childhood years - however, they are in the minority.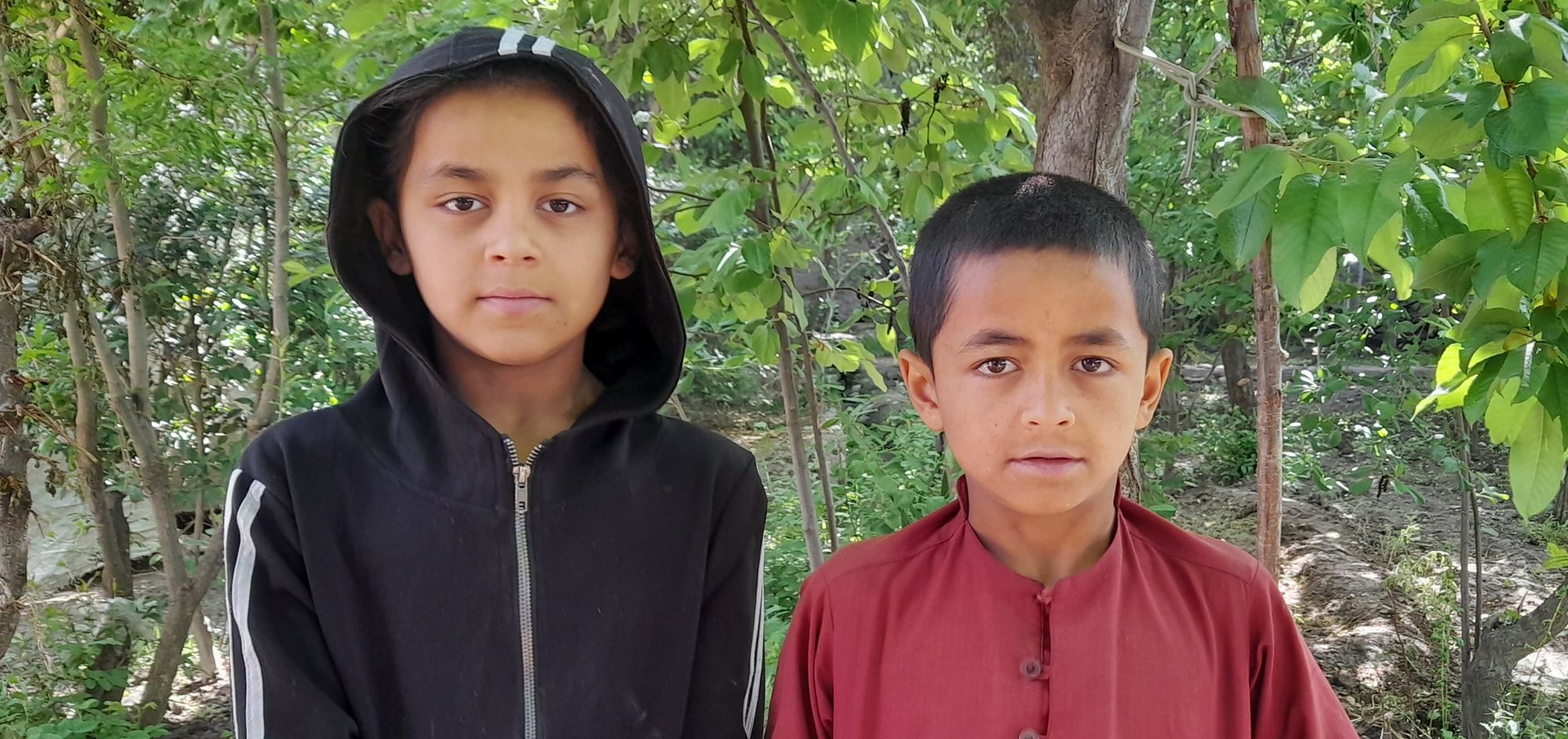 – One Day in Afghanistan –
Written by Abdul Ahad Poya, edited by Mohammad J. Alizada, Grace Morgan, & Brian J. Conley.
---
---
NIJRAB – Many of us wish we could return to certain timeframes of our youth, even for a few moments - before the world weighed heavy on our shoulders.
For some in Afghanistan, this is one of their biggest regrets - the loss of innocence that was taken from them as children growing up in a war torn country, and the feeling that they could do nothing about it.
Today we focus on 10 year-old Safa and 12 year-old Marwa, a brother and sister who have managed to avoid being affected by the heaviness of war. They spend their days carefree - laughing & playing -  and very distant from their parent's concern for the stability of their futures.
It's early Thursday morning, and a rooster wakes me at my childhood home in Qala-e Khawja, a village of Nijrab district in Afghanistan' eastern Kapisa province. As I rise, I see it's 6 am–I need to hurry if I'm going to document a day in the life of Safa & Marwa from the very beginning. The sun has yet to appear, but it's starting to get light out. The birds of the countryside sing loudly, and welcome the start of a new day.
With one hand, Safa rubs the sleep out of his eyes on this early morning - the other clasps his books tightly to his chest on his way to school. We greet each other as he takes a green plastic pitcher and washes his face. Soon after, he's on his way to his studies at the village mosque. His female relatives are no longer allowed to study at the same time as him and the other boys in the village, so they will attend after he is finished, around 2 in the afternoon.
I grab my camera and chase after Safa to the village mosque. Students sit in rows and repeat the lessons back to their teacher aloud, the childrens' voices are reminiscent of the countryside birds that woke me earlier in the morning. A young-looking Imam is stationed beneath the center of the mosque dome. He keeps a watchful eye on the students who circle around him. By 8:30, after a little more than two hours they are dismissed, and eagerly head home, clutching their religious books tightly under their arms.
When we get back home, the entire household is awake and busy with their morning tasks. Marwa is sweeping the snow off the balcony. Minutes later, their mother calls the family to breakfast, which consists of homemade cheese, fresh bread cooked in their oven, and plenty of tea.
Boys to to public school after religious studies, but since it's their annual school break, which is usually in the winter, they don't have to attend school.
Safa & Marwa are just two in a family of ten - including six siblings, parents and grandparents. The family patriarch, 39 year-old Abdullah, served in the local police force for many years until the country's collapse in August of 2021. After August he was forced to migrate to neighboring Iran to find work in order to support his family.
The siblings most often spend their days playing in the garden, waiting until the morning dew evaporates, before heading out to the central village to play with the other children. We leave their house together around 9:30 and head for the main yard, now illuminated and warmed by the morning sun.
"Marwa, let's play Patan Patani!," Safa asks his sister. "Patan Patani" is his nickname for "Chashm Putakan" – commonly known world-wide as 'hide and seek'. Neither of them have a coin to flip, so they toss a flat rock in the air – one side wet and the other dry. Safa chooses the dry side, and he wins the kick-off round.
Marwa counts to 10 with her eyes closed, leaning against a wall with her face forward, covering her eyes with her hands. She starts the countdown. When she gets to one, she immediately starts the hunt for Safa. Omar, one of their other siblings, is too young to play (and I am too old), so we watch together. Omar quickly gets frustrated that he's not being included, and decides to out Safa in retaliation. This triggers a round of laughter from the onlookers, and Safa sheepishly reveals himself while chastising his brother for exposing his hiding spot.
When it's Safa's turn to count, they get interrupted by someone knocking on the gate. He opens it, and comes back to tell Marwa, "It's Farahnaz, asking you to go to school because they are distributing books."
His words excite Marwa, and she loudly responds "Beshak! [Great!]". Farahnaz is a neighbor of theirs who often accompanies her to school.
With Safa now left alone, their yard suddenly feels too small a playground for him. He enlists his cousin, Bilal and younger brother Omar, and together they head towards the outdoor play area - some 400 meters from the house. Once there, Safa tricks his brother and cousin into a snowball fight, but being much younger, they both get scared quickly and retreat from the game, embracing each other sweetly in a comforting fashion. They hug each other after the fight. The trio leaves the play area to venture out into the fields surrounding the village, off to find other games to play.
Some older children are playing tag in the fields, but Safa, as well as his brother and cousin, ultimately decide not to join and head back to their house. Safa tries building a kite using broom sticks and a plastic bag  – hoping to fly it off the roof - but his mother vetoes this decision, citing the likely possibility of injury. Meanwhile, Omar and Bilal seem to have found other ways of entertaining themselves. They are on a tricycle with a broken seat, and take turns riding and pushing each other around the yard.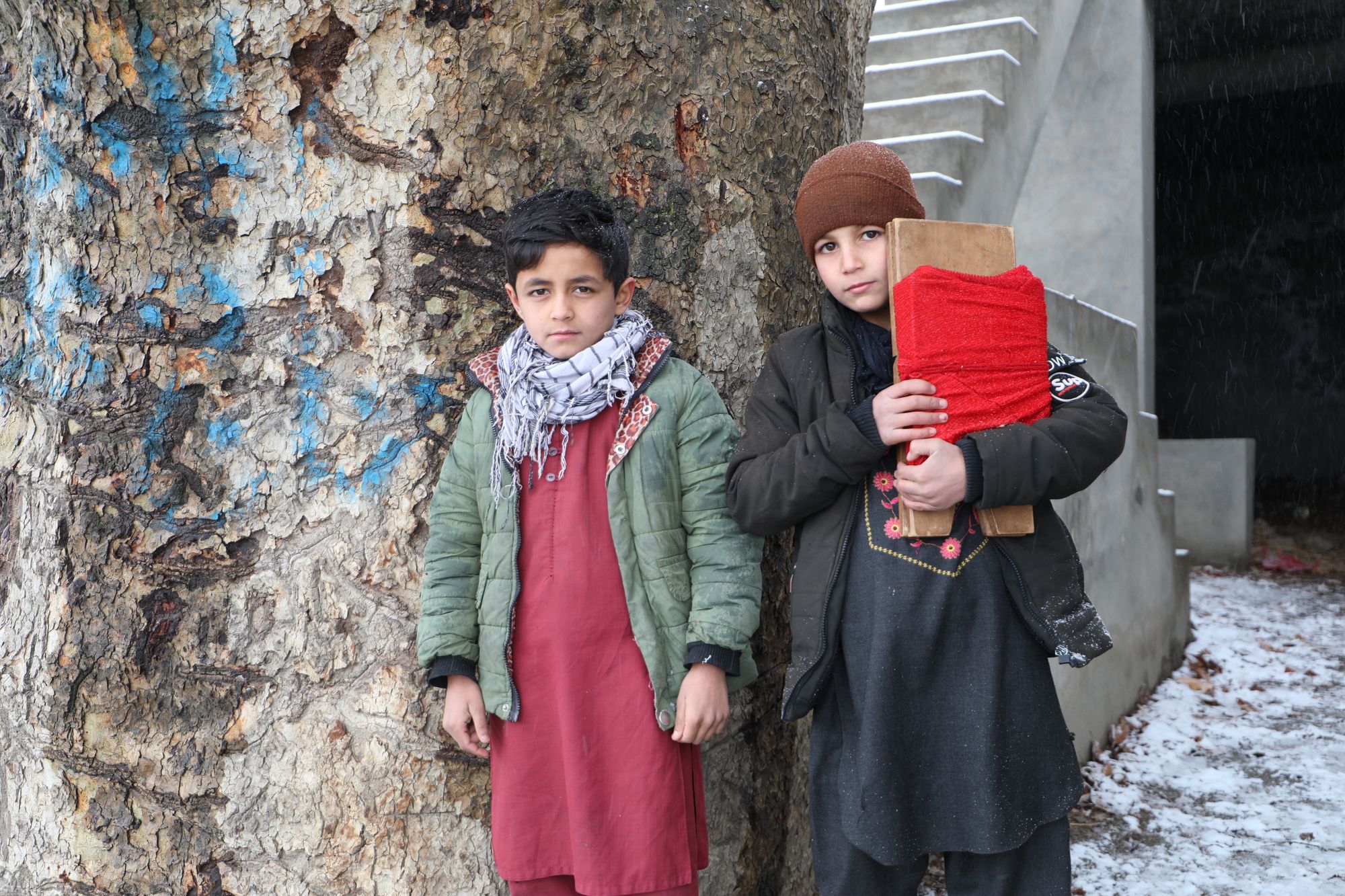 At a quarter before noon Marwa returns with four used books and instructions to study at home until school reopens for her. She's flagged by two of her cousins, Rukhsar and Seyamu. Once home, they immediately jump back into their previous playtime, not stopping to eat or for a break. The game the girls choose is traditionally more feminine, but they decide to allow Safa, Bilal, and Omar take part as well so they can have more participants. The game is very similar to the American version of 'Ring Around A Rosie".
---
---
Their laughter momentarily alleviates the bigger adult stresses weighing on my mind, and I find myself not wanting this moment to end. After a while, the children move on to a different part of the yard, and begin a whole new game while I follow.
"Children, lunch is ready!!" Marwa and Safa's mother calls, but they pay her no mind. By this point I'm a participant in their game, and they delight in making fun at my expense - though I do not care, and am having a great time.
The last game played before lunch is called "Ya gul bitay, ya chocha – Give me the flower or the bait." We find a lot of humor in the game, so much so that my lungs hurt from laughing. The largest of the children stands in front, while the others hang tightly onto the coattails of the one in front of them - the last person in the line is considered the "bait."  The opposite team is only a single player, whose job it is to fight the opposing team leader. Marwa currently has this role, and has given Rukhsar a flower.
"Where did you hide my flower?," Marwa asks Rukhshar.
"I don't have it, I didn't take your flower," Rukhsar denies.
Marwa then puts her hands behind her back with two of index fingers pointing out as sticks that are supposed to signify a knife and a sharpener and says, "Should I sharpen my knife?"
"Sharpen it!" Rukhsar says.
"Should I jump on your last one?" Marwa chides back, threatening that she will tackle the last person in the line.
"Jump!" Rukhsar responds.
Taking advantage of the opportunity, Marwa attempts to catch the last one standing, demanding "Give me the flower or the bait!"
"I won't give you either!" Yells Rukhsar, while jumping away in order to protect her team and prevent Marwa from touching the last person in line. We all explode in laughter, and the game continues until Marwa wins by catching the last person in line, finally.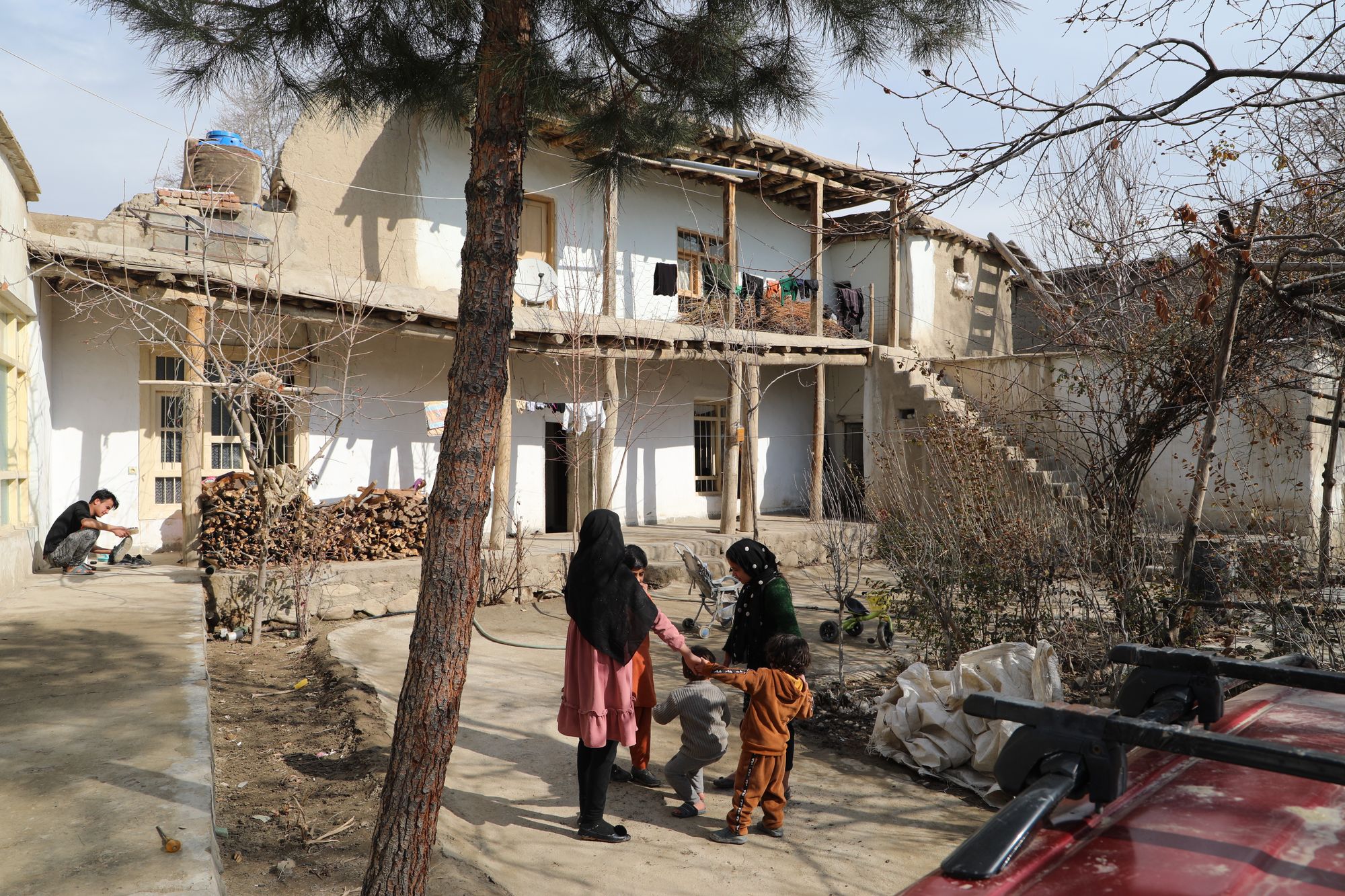 The game and subsequent lunch take an hour and half, but time flies by without notice. The lunch prepared by Najla consists of cauliflower, yogurt, green peppers and fresh flatbread. Everyone, including the elderly, women, and children eat together. Lunch is filled with the children making passes at each other.
"How was it? Will you just give me my flower next time?" Marwa asks Rukhsar while laughing. The clock shows 2:45 in the afternoon and Omar & Bilal go down for a midday nap. Marwa doesn't have to go back to school today - Thursdays are a rare free day for her. Safa heads out to the larger village to find other children to play with - his siblings have bored him for the time being.
In a nearby yard, young girls whisper to each other before they get up all at once, retreating to a corner of the yard where  a rope swing hangs from an apricot tree. Nearing them, Marwa succeeds at outrunning Rukhsar to take the first turn. The girls perform their tricks on the swing, both standing and sitting, but Marwa excels more than others, as she is tall for her age. Safa makes an appearance towards the end of the game and wants to take a turn - but the gaggle of girls turns him away saying "You are a boy, your beard will grow lopsided if you take the swing!".
"This is a typical Thursday for me, playing with the girls since we are off school. Sometimes I go to my aunt's (Rukhsar's mom) house and play with Rukhsar and her neighbors," Marwa says.
Marwa says she attended a number of literacy, math, and English courses set up by high school graduates in her district but those have been shut down since the Taliban takeover.
"May God take the Taliban; who have taken school away from us!"
Editor's Note:
Alive in Afghanistan initially wanted to do a story about the hometowns of each of our correspondents, this the third story in a series about our correspondents' hometowns.
Our lead correspondent Abdul Ahad Poya originates from Qala-e Khawja.
---
---