Camels Leave No Time for Tea
Camel herder Habibullah Baloch spends at least half a year herding the animals in the deserts of southwestern Afghanistan's Nimroz province.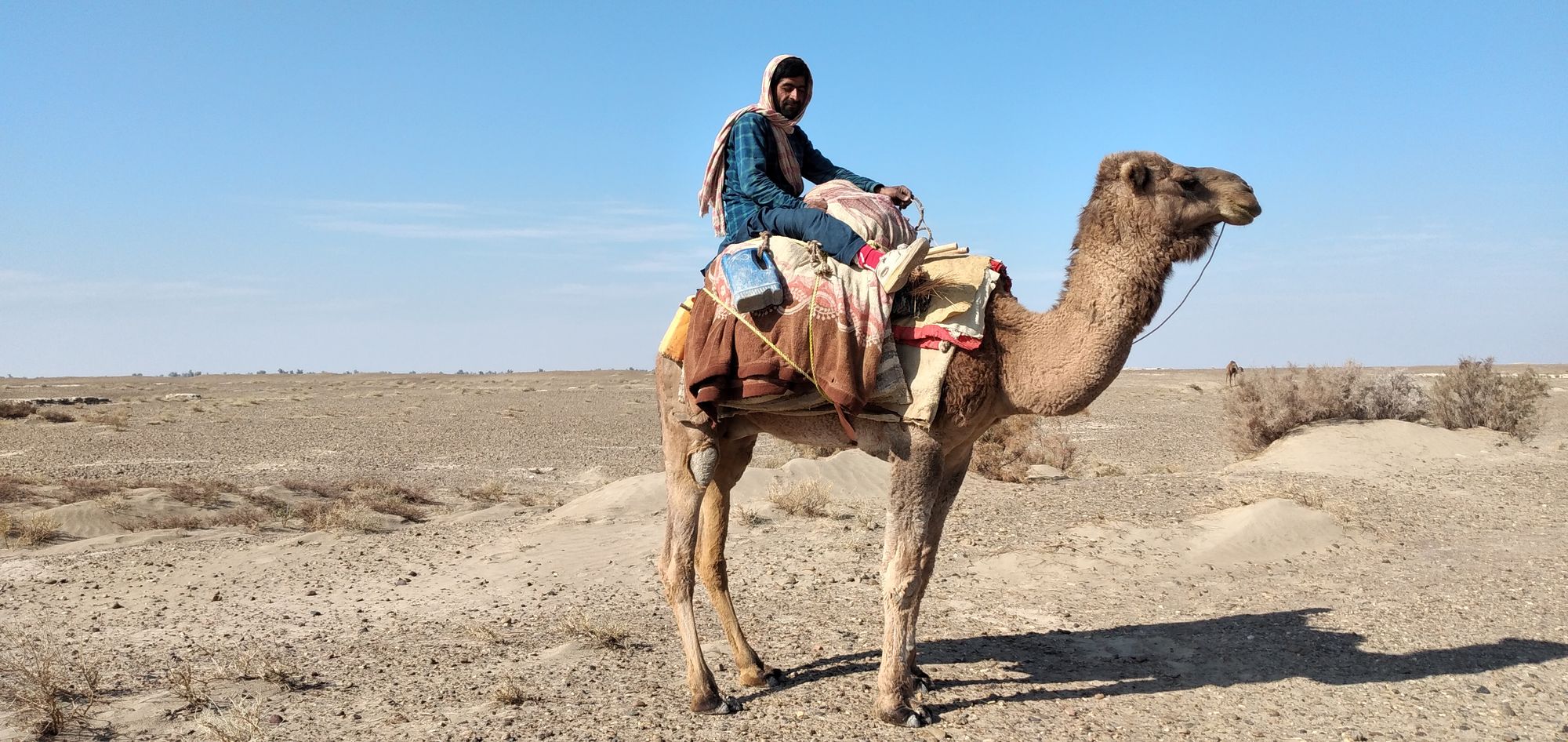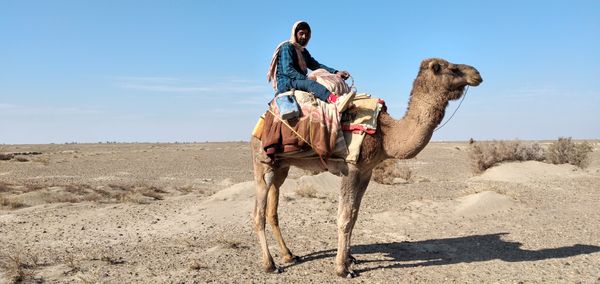 — One Day in Afghanistan —
Reporting by Samira Wafa
ASL-E CHAKHANSUR, NIMROZ — Shepherding brings a life of difficulties, wandering the vast deserts with a herd and being unfamiliar with urban lifestyle. Shepherds typically spend their time and energy grazing and taking care of animals.
In today's One Day in Afghanistan episode, Samira Wafa documents the life of 35 year-old Habibullah Baloch, a Saraban (camel herder or caravan leader) who spends half a year herding the animals in the scorching deserts of Asl-e Chakhansur (otherwise known as Chakhansur) in the province of Nimroz.
Another day has started, and like many other city dwellers, my husband and I are heading to work. My husband accompanies me during my travels. After covering a distance of 120 kilometers, we find ourselves in the heart of the Margo desert. Here we spot a herd of camels leisurely grazing on the sparse desert plants.
"Hai, hu, boooo, hai, huhu, ai hai, brrrr…" the camel herder shouts as he goes after his camels. As I try to approach a camel, it suddenly runs away. Habibullah notices my presence and walks over to me, guiding his camels as he comes closer.
Habib is dressed in a dark blue shalwar kameez underneath a pleated, long-sleeve blue shirt. He has wrapped a bright red and white scarf around his head, adding a vibrant pop of color to his outfit.
Habib is from the Baloch ethnic group. The Baloch people are an ancient, semi-nomadic tribe that settled in an area of land that stretches through what is now Iran, Afghanistan, and Pakistan. Although the precise number of their population is unknown, the Defense Language Institute of the US Department of Defense estimates 2 million Balochis live in Afghanistan.
The Baloch people are one of Afghanistan's forgotten minorities. No government has paid much attention to this ethnic group and a majority of Afghanistan's Baloch people live in chronic poverty. Livestock and agriculture are the main sources of revenue for the majority of the people, like mucht of rural Afghanistan.
Habib was born in Nimroz and has been herding camels with his sibling, Hafeezullah, for the past seven years. He has been a shepherd since he was 12. He makes 7,000 Afghanis ($78.65) a month. The siblings live in Sia Chashman village on the outskirts of Zaranj, the capital of Nimroz.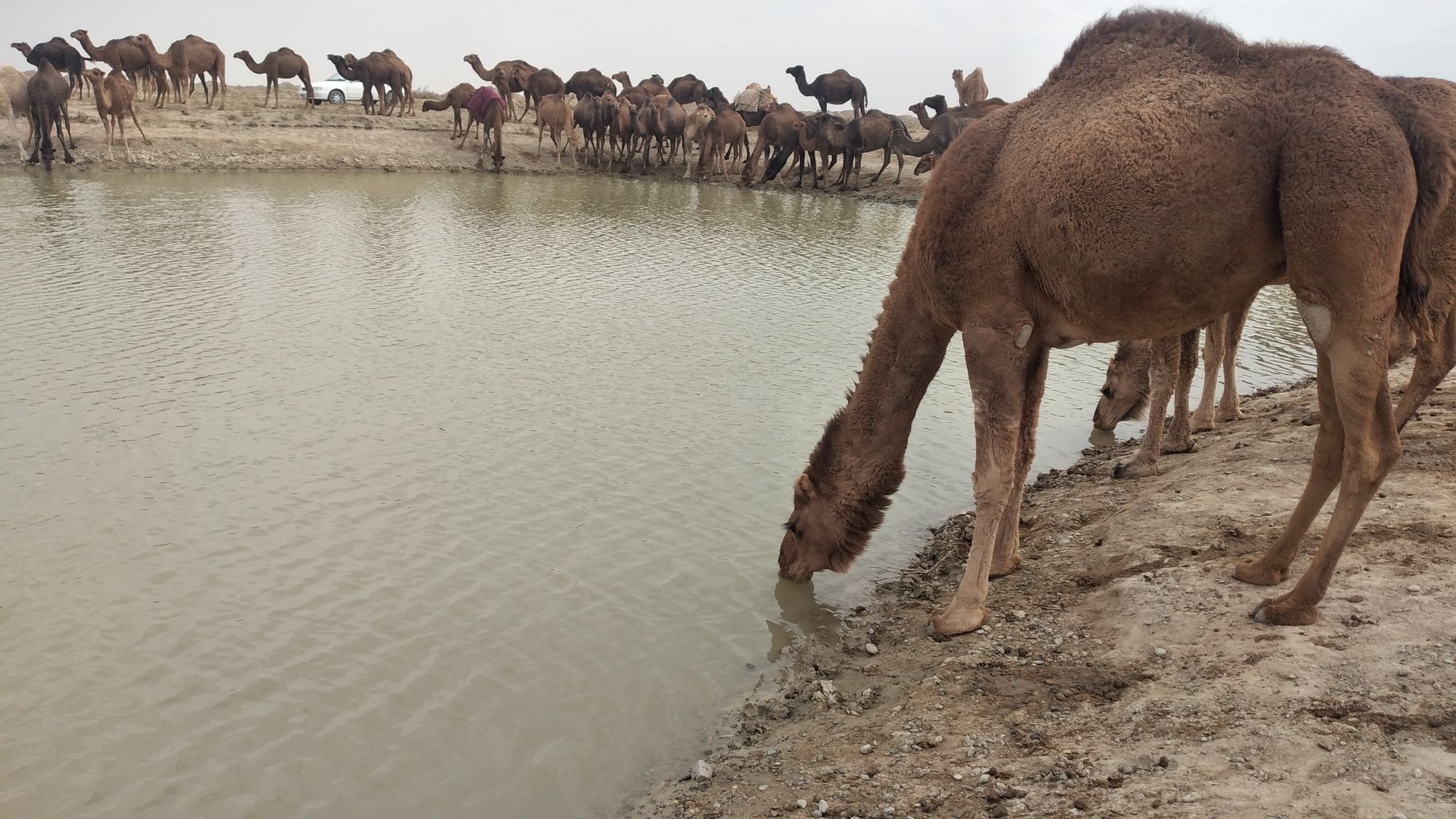 "I sleep, make food, eat, and bathe here [in the desert]. I wake up at 5 in the morning, untie the camels' feet and look after them until 9 pm. We can't sit idly for long, have to walk with the camels so they don't walk astray and get lost," Habib explains.
Habib and Hafeez must make sure each of the 120 camels is sitting, and tie one of their front legs with a rope to prevent the animal from moving.
"Herding camels is much harder than any other animal because camels are very different. They won't get along with just anyone. I have been with these camels for seven years and have raised them. I walk with them all day, then tie their feet after they fall asleep. Some won't fall asleep, so I wait until they do, then tie their feet; otherwise, they will kick. I go to sleep after all the camels are asleep," Habib says.
"I visit my family once a month," Habib tells Alive in Afghanistan. He buys all the necessary groceries for his family before heading back to the desert. Habib adds that he cannot take more than three days off as his brother herds the stock by himself.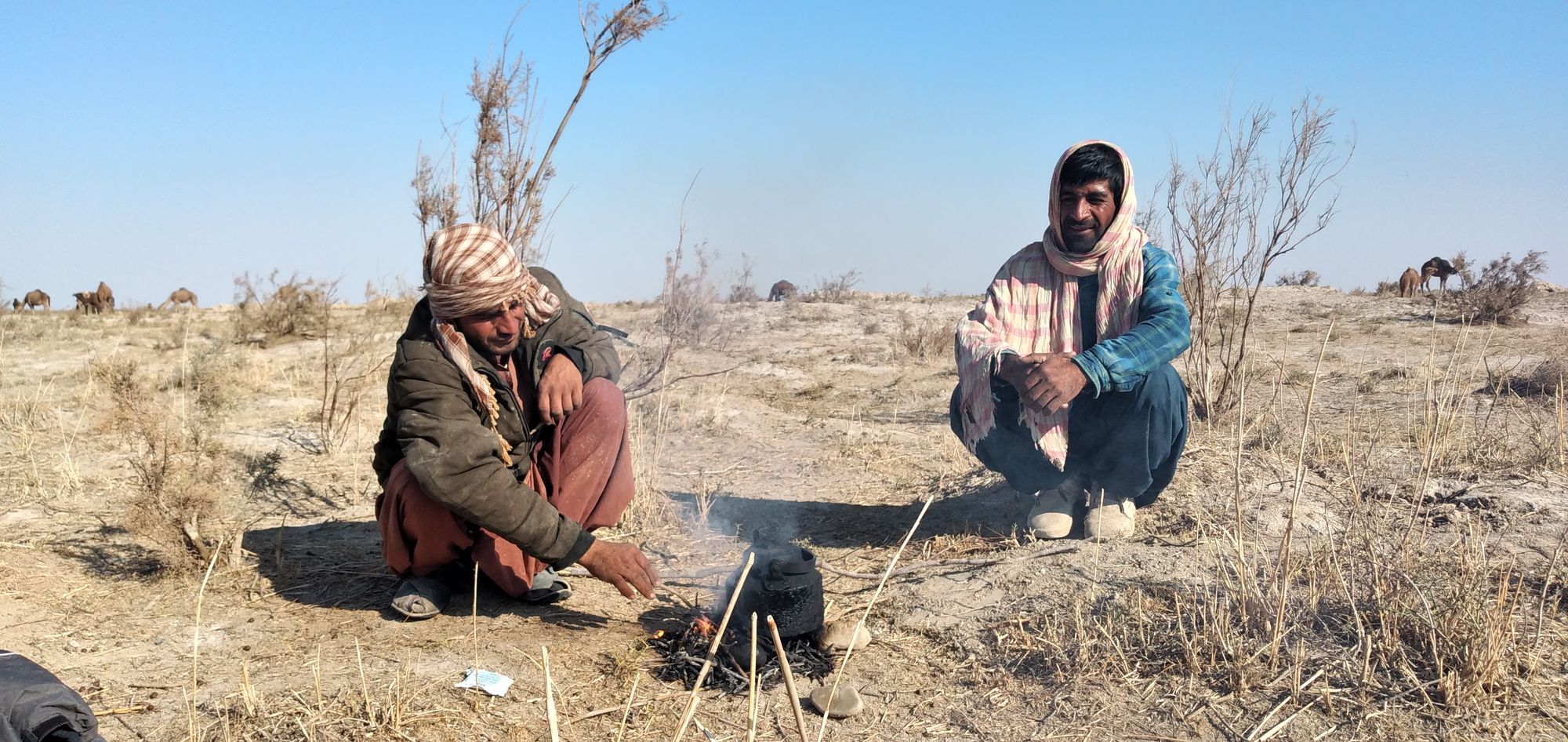 With Afghanistan's economic situation getting worse, the unemployment rate increasing, and prices for daily commodities skyrocketing, Habib's paycheck is barely sufficient to support his family of seven. Despite the challenges he has no choice but to adapt to the situation, endure the scorching heat and freezing cold weather of the desert, and even sleep outside so his family won't starve.
It is now 10 am, Mr. Baloch takes a break while Hafeez follows the camels. While resting, he talks about his children.
"I have 3 girls and 3 boys, all of whom used to attend school prior to the Taliban takeover," Habib says, adding that the village school was closed following the Taliban takeover of Afghanistan in August 2021. The reason for the closure was that the school building was an old structure, requiring repair that has not yet been completed.
After Hafeez returns, the two of them start a fire by gathering brush from the desert. Then they place a couple of rocks on either side of the fire and position an old, blackened metal teapot filled with water on top of the rocks. Once it boils the water will be used to make tea.
But the thought of camels wandering off does not allow him time to drink his tea. Habib rushes after the camels so they do not stray from their path.
"Oftentimes we stay hungry all day long and don't even have time to drink tea because the camels might get lost if we are busy doing something else," Habib says after returning.
According to him, herding camels is a challenging job that pays very little. The herd's owner provides them with grains, potatoes, and flour only once a month, which are stored in saddlebags on the back of some of the camels. When they are through most of the supplies, they have nothing but loaves of bread they make in the desert and camel's milk to wash it down with.
"Anyone knowing the advantages and taste of camel milk will not drink any other kind of milk," Habib says.  
Although Habib doesn't explain the advantages of camel milk over others, camel milk ranks second in nutritious value, is easier to digest than cow milk, and has a richer, creamier taste. The milk may also serve as the only source of water in arid lands, according to a ranking by Desert Farms, a camel farm in California.  
The siblings are contracted to herd for six months. If their employer likes their work their agreement is renewed and they will continue working. During this time, they are rarely allowed to return home, reasoning that the camels would be lost, in which case Habib and his brother have to pay the price of the lost camel, on average going about 20,000 Afghanis ($223).
If a camel is lost, which according to Habib, has happened many times, "One of us would leave to find the camel the next morning while the other tends to the herd. I have walked to Helmand to find a camel sometimes, which takes about a month. The herder is not paid during that month."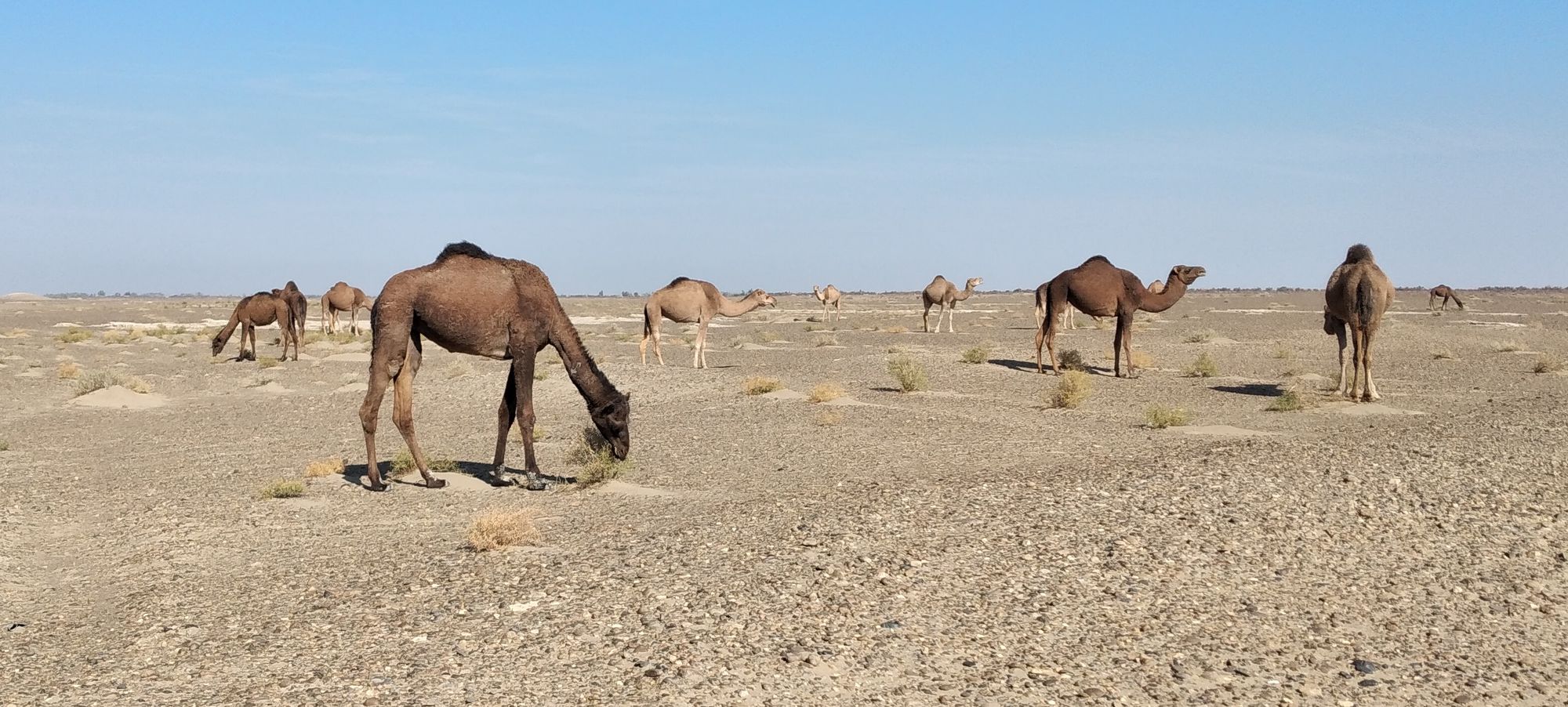 The nearest point in neighboring Helmand province is about 120 kilometers from Chakhansur.  
It is now 12 pm. First Hafeez takes a lunch break, then his brother Habib. Habib begins by assisting one of the camels, equipped with a saddlebag, to sit down. He then retrieves a can of milk, a bowl, and a partially consumed loaf of bread.
"This is our bread, I cook it myself," Habib says as he pulls the bread out. After setting the bread on top of the rice bag, he gets up to retrieve a circular griddle and adds, "And this is the pan I use to cook it on."
To keep the milk cool, he repurposed a vegetable oil can and covered it with cloth sewn around it. Habib dusts off the bowl, opens the can, and pours some milk into it. He then takes a piece of bread and washes it down with milk.
"You drink camel milk every day?" I ask.
"Yeah, every day! When we don't have anything else." Habib responds.
"Don't you get tired of drinking camel milk every day?" I ask.
"Nope!" Habib responds.
"Doesn't the milk go bad?" I ask.
"It's winter now so no, but the milk goes bad quickly in the summer," Habib says.
"What do you do if there is a lot of milk?" I ask Habib.
"I only milk enough to consume," Habib answers.
"Right now the camels don't produce a lot of milk because they only eat bushes, there is no grass. They produce more milk during the spring," Habib says, adding that the camels, "Only produce 2 liters of milk currently. I milk them at night when they are asleep. They walk during the day, or their calves drink it."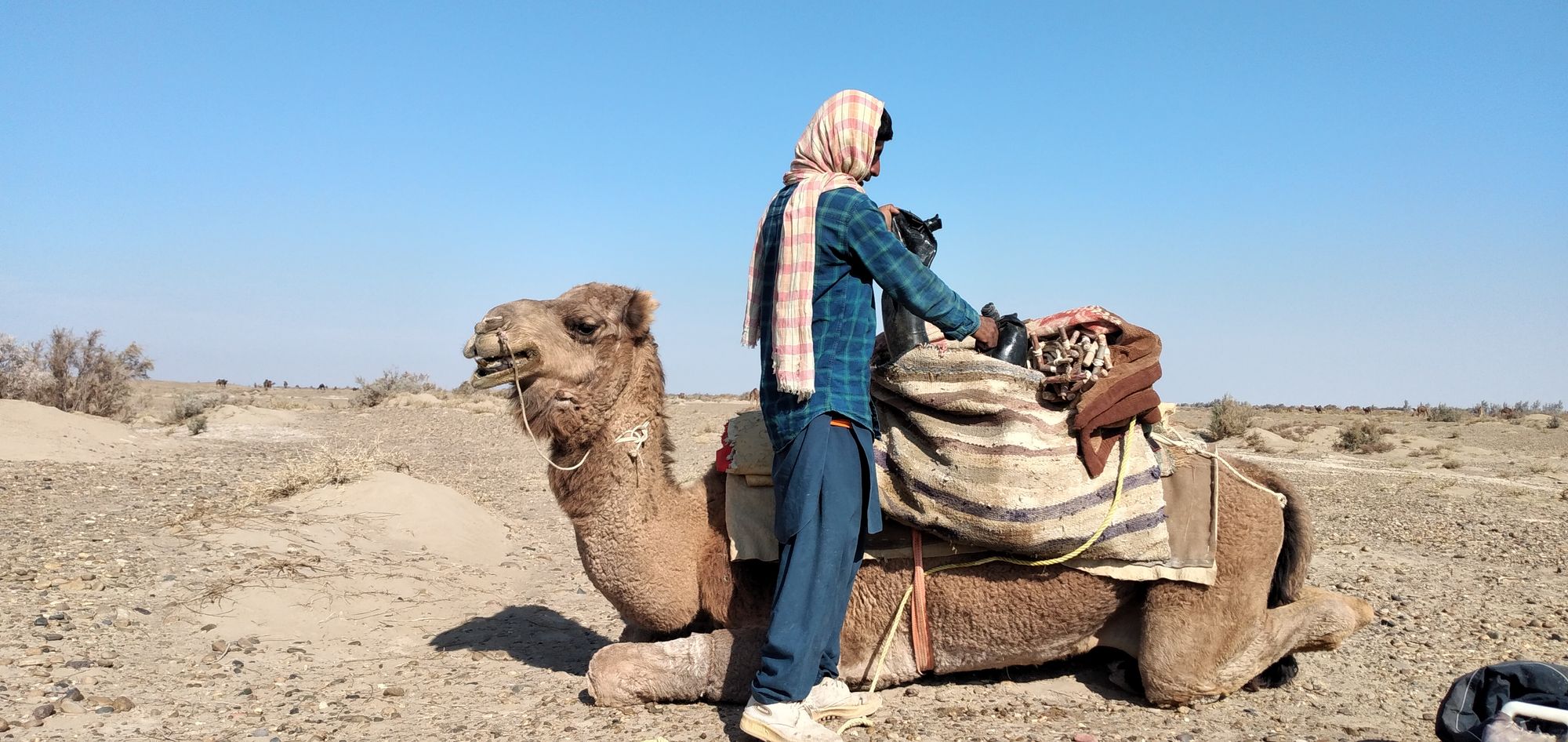 Sleeping in the desert requires bravery, a trait these men possess. "I am not afraid of wolves or foxes. They sometimes come and sleep next to me, but I am frightened when jinns scream."
According to Islamic belief, Jinn are real, invisible creatures from a world other than that of mankind, capable of causing physical and mental harm to human beings. Habib claims to have seen and been harassed by the creatures.
After half an hour of a break for lunch and rest, he hops on the camel to show me how it is ridden. Seeing him on the back of the camel, I recall a famous song by renowned Afghan singer Ustad Saraban.
O caravan leader, go slowly; for the comforter of my heart is leaving
And my heart that I had with me; is leaving with its possessor
Hold the transporter o caravan leader, don't rush the caravan
For the anguish of (seeing) her (leave), feels as if my soul is leaving.
According to Habib, camels reproduce every year. Camels normally live between 35 to 40 years. The youngest camel Habib keeps is eight months old and the oldest is 25 years old.  Five of the camels are pregnant. The owner sells or butchers two or three of the camels every year.
Habib skillfully guides the camels down a new path using the familiar sounds and commands he has used earlier. The camels appear to respond obediently, demonstrating their familiarity with Habib's instructions.
"When a camel gets sick, I have to get to an area with cell reception quickly and contact the owner so he can bring medication. If the medicine arrives late and the camel dies, the owner blames me and docks my pay. That's why I have to pay close attention to the camels," Habib says.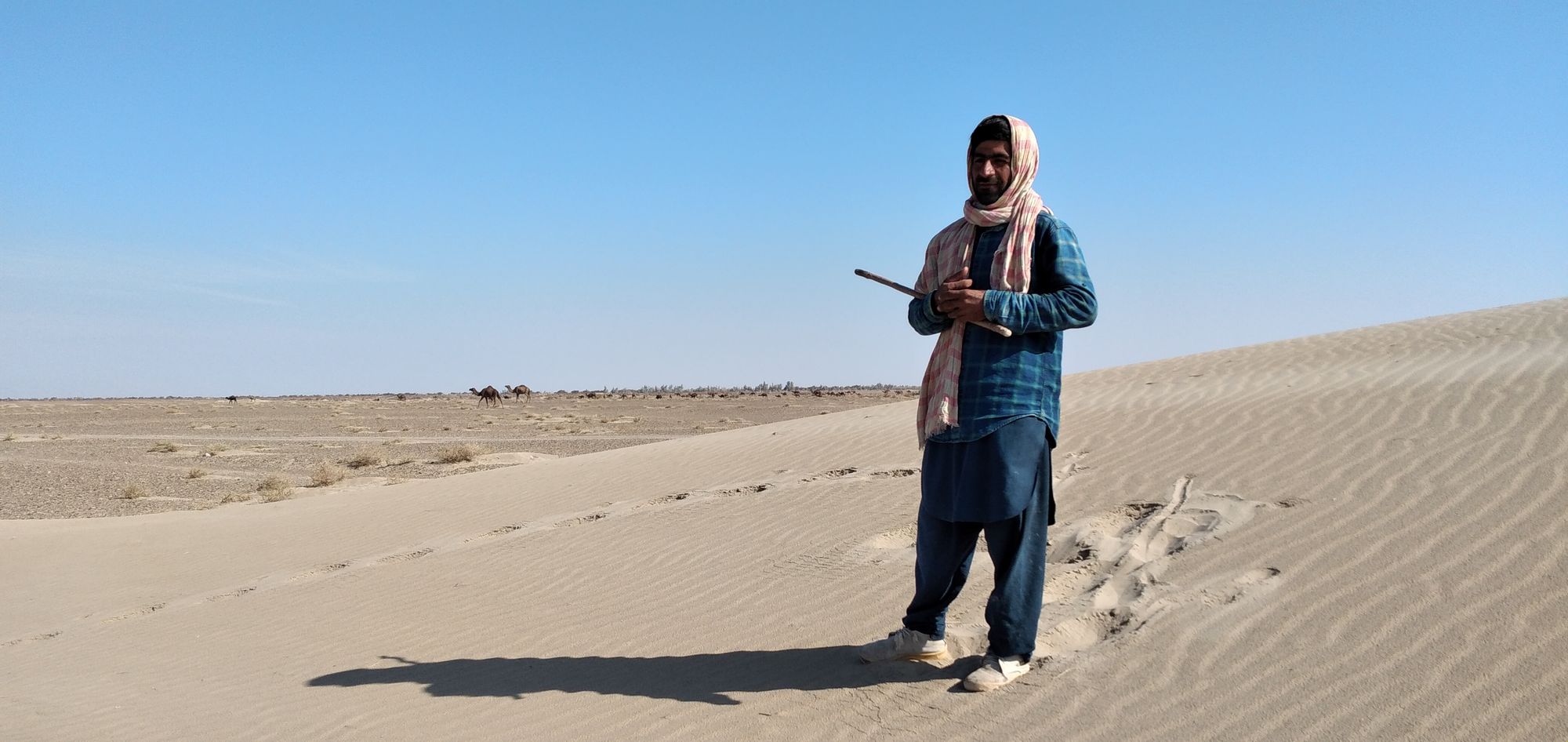 According to Habib, Nimroz is home to the largest number of camels in Afghanistan followed by Helmand and Farah. There are three types of camels, 1 pashm, 2 pashm, and 3 pashm (pashm means wool). The camels shed their wool in the springs and the female ones can become pregnant after shedding three times.
It is now 2:30 in the afternoon, Habibullah with the help of his brother Hafeezullah, leads the camels toward a pond. The one-kilometer walk to the pond takes us 45 minutes. The camels drink water from the pond where two other herders have brought their herd.
The camels, according to Habib, are marked on their necks, back, or front legs when they are born and they are identified and found by that marking if ever lost.
Habib says a camel can go without drinking water for 40 days if there are things to eat, but will only last two days if there is no food. The camels are led to graze again after they are done drinking water.
"While I was in the desert I received a call that my daughter was bitten by a snake, but couldn't go because of the responsibility I had," Habib recalls the painful memory while walking, adding that the incident took place around three years ago. "She was taken to a hospital in a wheelbarrow by our neighbors."
Habibullah is interested in farming and would leave his job if conditions for agriculture and farming were ideal in his home province. However, the persistent drought over the past several years in Nimroz and across Afghanistan has resulted in a steep decline of agriculture in the dry province.
It is now 4 pm but I am interested to learn more. Habib says camels are dangerous animals with the ability to recognize a person years after. "If a person harms it, or its calf, the camel will recognize him even after 10 years and will kill them with a single kick."
We bid goodbye to Habib at 4:30. He gifts us a bottle of camel milk as we leave.