Brick Maker: Work or Sell Your Children
Saleh Noorzai is a brick factory employee in southwestern Afghanistan's Nimroz province who works 12 hour days just to earn a meager wage that barely keeps his family fed.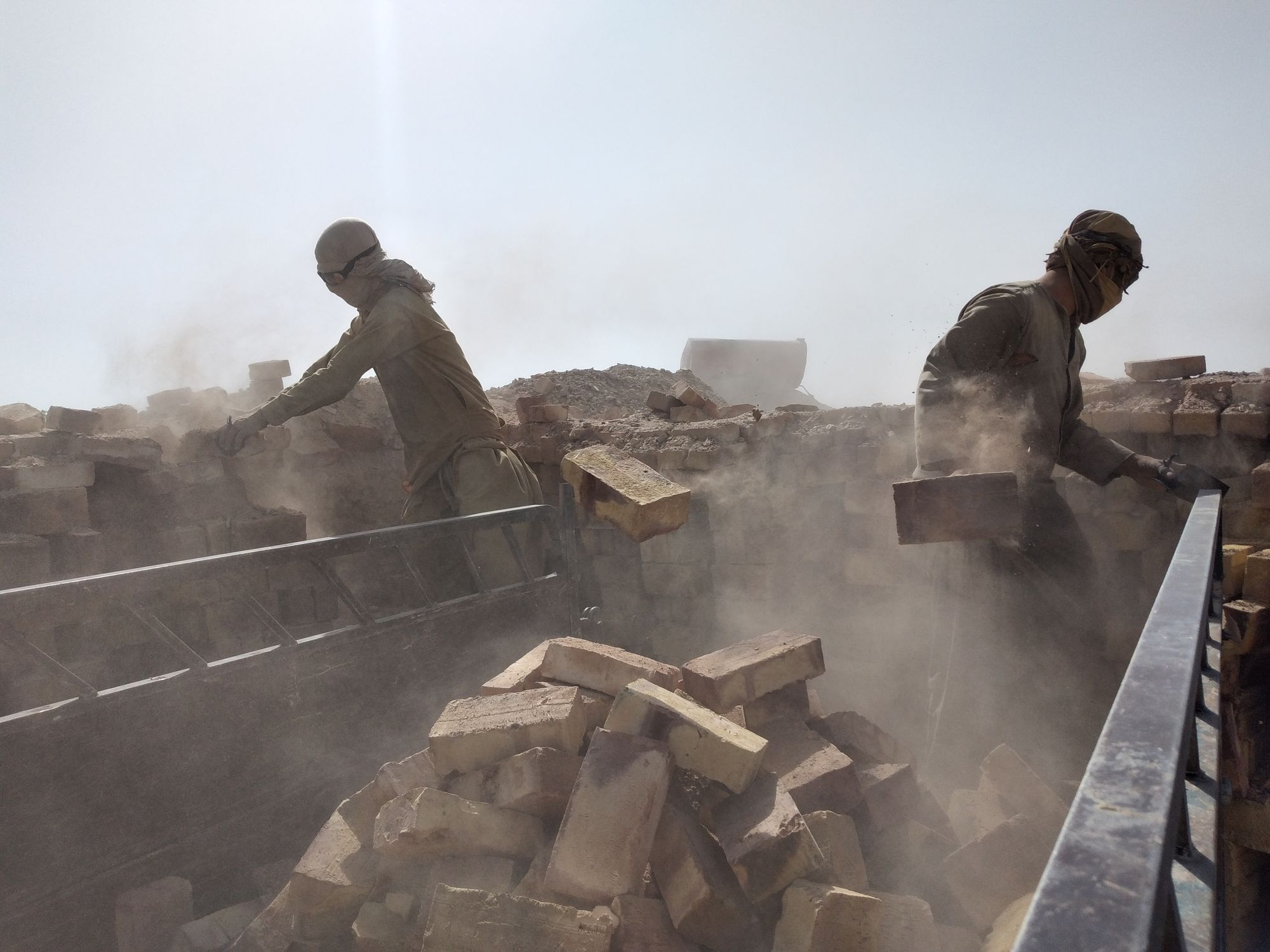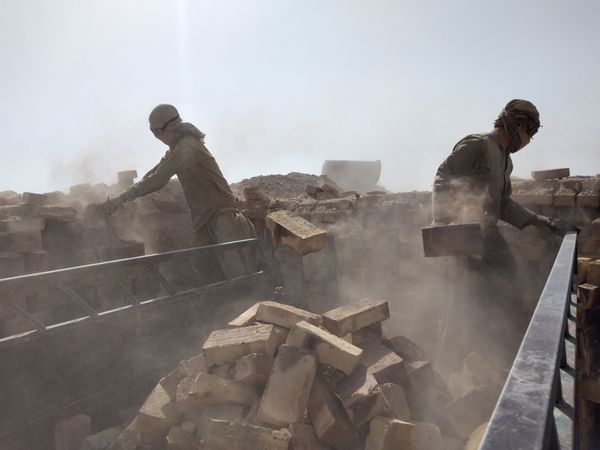 — One Day in Afghanistan —
Written by Shaima Seddiqi
ZARANJ, NIMROZ — Wind, dust, fire, smoke and the scorching temperatures of the summer sun are just some of the hurdles these children and men have to endure working at a brick factory in southwestern Afghanistan's Nimroz province. They sweat amongst the smoke, fire and dust so their families don't weep in poverty.  
In today's episode of One Day in Afghanistan, Alive in Afghanistan's Shaima Seddiqi will visit a brick factory in Masoom Abad village, some 25 kilometers from Zaranj city, the capital of Nimroz, to document a day in the life of 38 year-old Saleh Mohammad Noorzai, a factory worker.
I leave Zaranj around 9 am. The summer weather is hotter with the wind and dust blowing constantly. In the western and southern regions of Afghanistan a northerly wind, known as the "wind of 120 days" blows almost constantly from June to September. This wind is usually accompanied by intense heat, drought, and sandstorms.
We reach the factory where huge chimneys–as high as a three story building–tower over us, the tallest structures that can be seen. Piles of raw bricks occupy the land that the factory uses. An excavator is pulling dirt out of the ground and dumping it into a blue dump truck. Squinting to block the dust being blown by the wind from hitting my eyes, I can see brick workers performing various activities a little farther ahead.
In the other part of the factory, children aged 6 to 16 are busy loading raw bricks into a three wheeler which will transport them to the kiln. These children carry the burden of feeding their families instead of experiencing childhood and seeking education. 16 children work at this factory.
Child labor has been on the rise in Afghanistan. Surveys by Save the Children reported that the percentage of families saying they had a child working outside of home in the seven provinces surveyed grew from 18 to 22 percent from December to June.
It is 10 am, Edres Uzbakzai, the manager of this factory, guides and accompanies me. More than 30 people, including 4 Pakistani nationals, tasked with firing the bricks, work at this factory.
"Afghan laborers do not have the skills to cook bricks, that's why I had to hire Pakistani workers," Mr. Uzbakzai tells Alive in Afghanistan.
"We established this kiln 15 years ago and have rented 12,000 square meters of land for 350,000 Afghanis ($3,490 currently) annually," Edres says. According to him, "A number of the kilns went bankrupt due to Afghanistan's economic crisis and only three of the 15 brick factories in the province have remained operational currently."
According to Edres, seven of his employees produce the bricks, another 20 people, mostly children, space them out so they dry faster while  the Pakistani workers cook the bricks. Two others including Saleh load the bricks into trucks while one operates the digger/excavator.
The excavated soil is first turned into mud and kept wet for three months until it gets the desired consistency. The mud is then removed by the excavator and thrown into the brick making machine.
Raw bricks are laid to dry in the sun, taking between 3 to 5 days depending on the temperature, and then are loaded into trucks and hauled to be cooked. At this stage, 4 workers light the kiln using coal. The coal is poured through holes until the bricks are fully cooked.
"2,0,000 bricks are baked daily and 800,000 are baked monthly in this kiln," Edres says.
Currently each brick costs 5 Afghanis ($0.05) in Nimroz's market.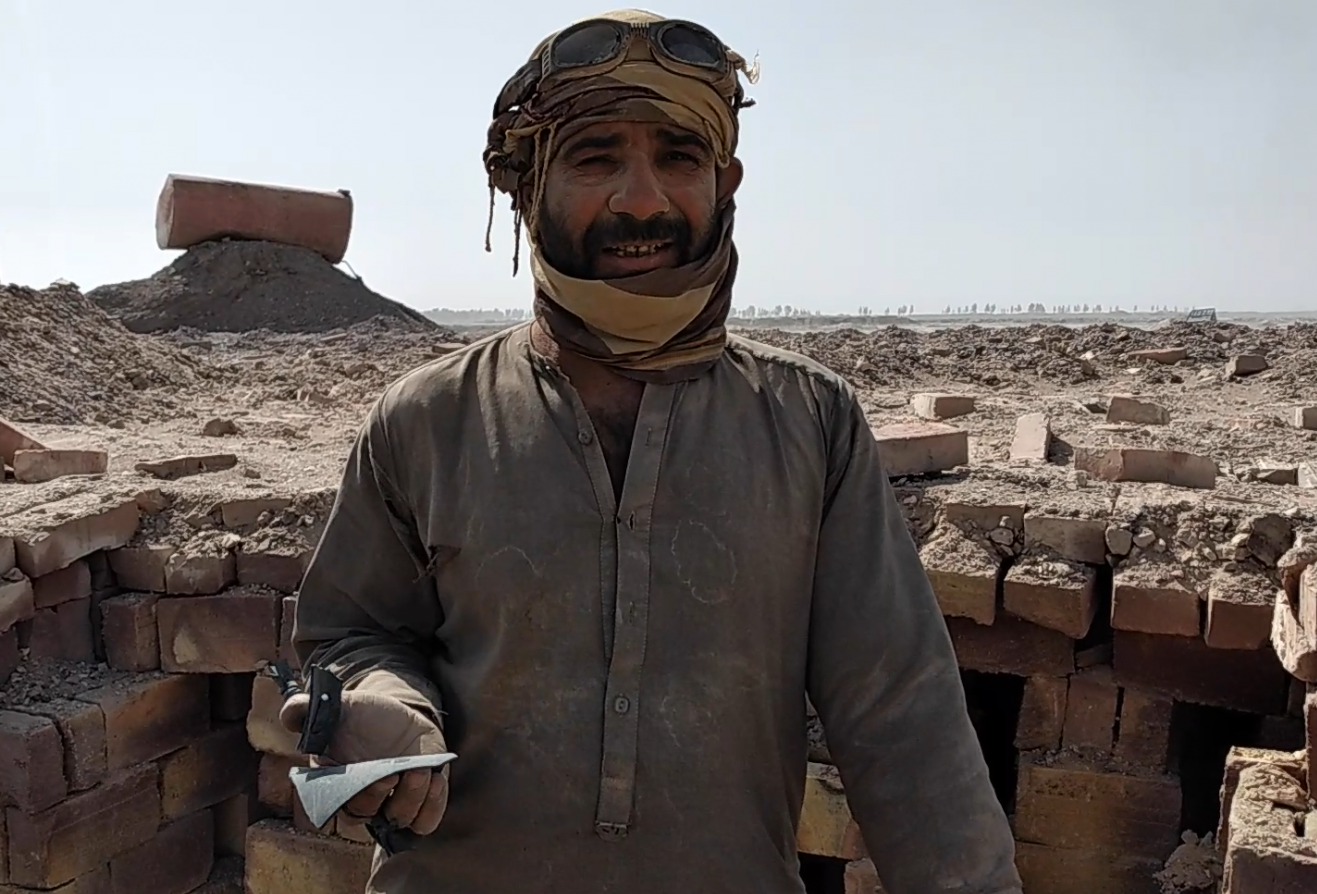 Mr. Uzbakzai introduces Saleh Mohammad to me after we are done talking, leaving me to spend the rest of the day with him. Saleh is a rather shy person, he is embarrassed to appear in front of the camera with his face covered in dust. His face and head are covered in a patterned scarf and he is wearing a pair of goggles. Both the scarf and the goggles serve as protective gear against the smoke and dust, but when he unwraps the scarf to speak, it's clearly evident that the protection is not working very well.  
Saleh is originally from Washir district in the neighboring province of Helmand. He is married and has four children.
He emigrated to Iran with his family 23 years ago when he was just 15, due to the continuous war in Afghanistan. He was deprived of education in his new country because Iranians did not allow Afghan children to attend school. Saleh spent nine years before returning to Afghanistan. He worked as a day laborer in Iran as well.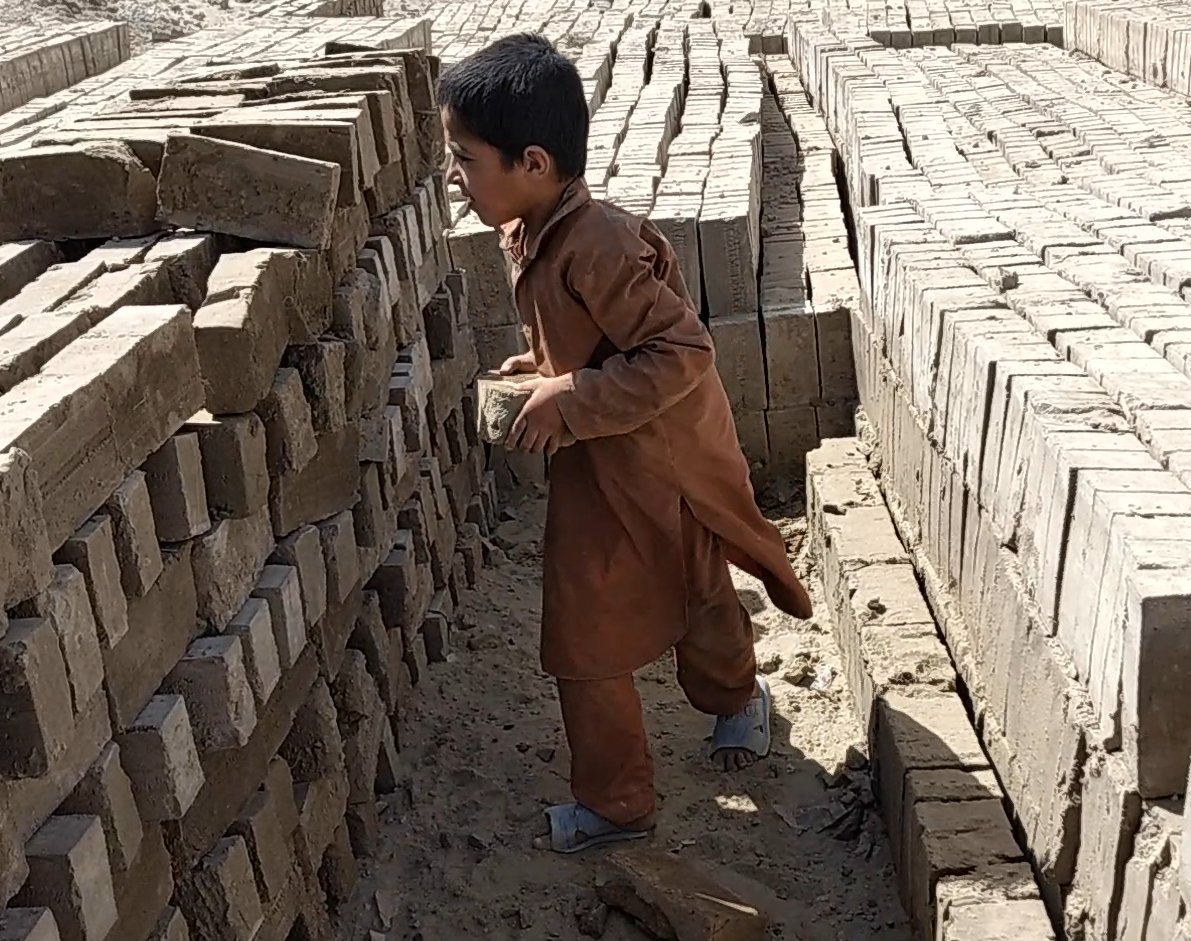 Upon their return to Afghanistan, Mr. Noorizai's family hoped that the conflict had ended, a false hope that caused them more problems than before. He farmed their land for the next five years, but that did not meet his family's needs.  
In addition to that, "The severity of the war in Helmand barred us from harvesting our crops and life became very difficult there," Mr. Noorzai tells Alive in Afghanistan. So he decided to move his family to Nimroz, which according to him, "Was relatively peaceful."
Until the Taliban took control of the country in August of last year, Helmand was one of the most conflict-ridden provinces in Afghanistan.
Saleh started working at this brick factory around five years ago and is tasked with loading cooked bricks into the trucks that haul them to customers across Zaranj and its outskirts. While he is talking to me, he finishes loading the first truck and starts loading the second. Sometimes, in order to relieve the exhaustion of the heavy work, he stops and takes a short break, before returning to work.
Salih works from six to six with an hour lunch break every day. He walks home for lunch, about 10 minutes from his workplace. His salary is not fixed and he receives money based on the number of bricks he loads.
"This job is like that of a shopkeeper, there is no fixed income, the more bricks I load, the more I get paid; so I try to work more."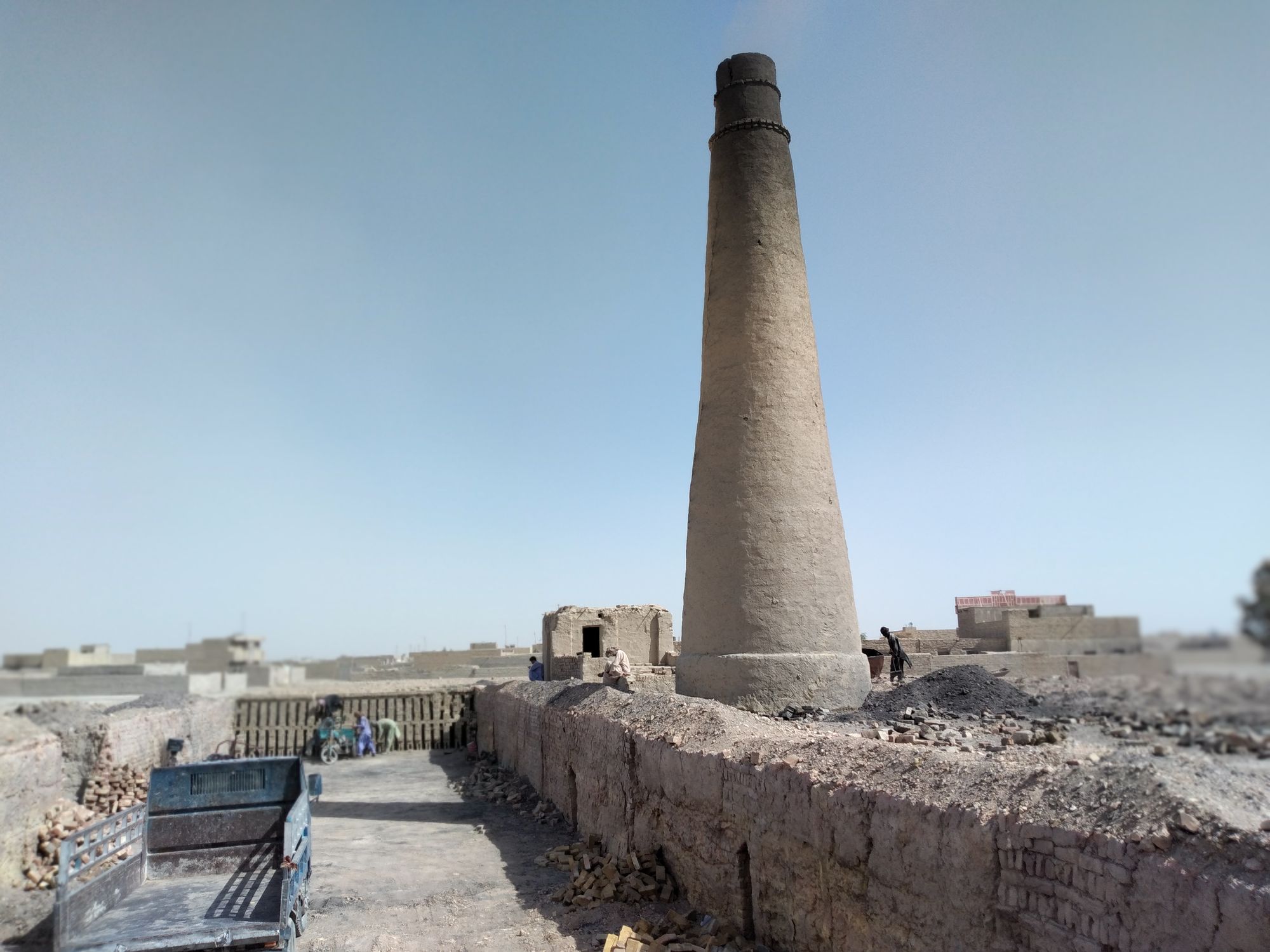 Mr. Noorzai loads 2,000 bricks for a fee of 75 Afghanis ($0.84). According to him, he loads between 4,000 to 6,000 bricks a day. That amount cannot even provide the basic needs of his family such as flour, oil, onions, potatoes, etc.
"I am uneducated and there are no job opportunities even for educated young people in this country. I have to work in any condition and feed my children."
But illiteracy is not the only factor affecting Afghanistan's employment market. Afghanistan has been battling a worsening economic crisis that is fueling unemployment across the country since the Taliban's victory.  
It is now 12 pm and the seasonal wind keeps blowing across Nimroz. Saleh and his colleague have loaded three truckloads–approximately six thousand bricks–and look very tired. He dusts off and leaves for lunch while other workers gather around, eating a serving of flatbread and tea. Although I do want to follow him to his home, he says, "I am not willing to broadcast the pictures of women in my family through the media."
I head back to the Zaranj bazaar to have lunch and return to meet Saleh Mohammad at 1:30 in the afternoon. Saleh, who has returned before me, is now wearing his protective goggles and wraps pieces of leather around his hands so he doesn't burn them.
Over the next two hours Saleh and his colleague fill another truck before taking a short break. During the break he talks about the destructive effect and aftershocks of migration and displacement.
"If there was no war, we wouldn't be displaced in foreign countries and we wouldn't remain illiterate. Maybe if I had studied, I wouldn't have to endure so much trouble for so little money now," he says clearly, exasperated.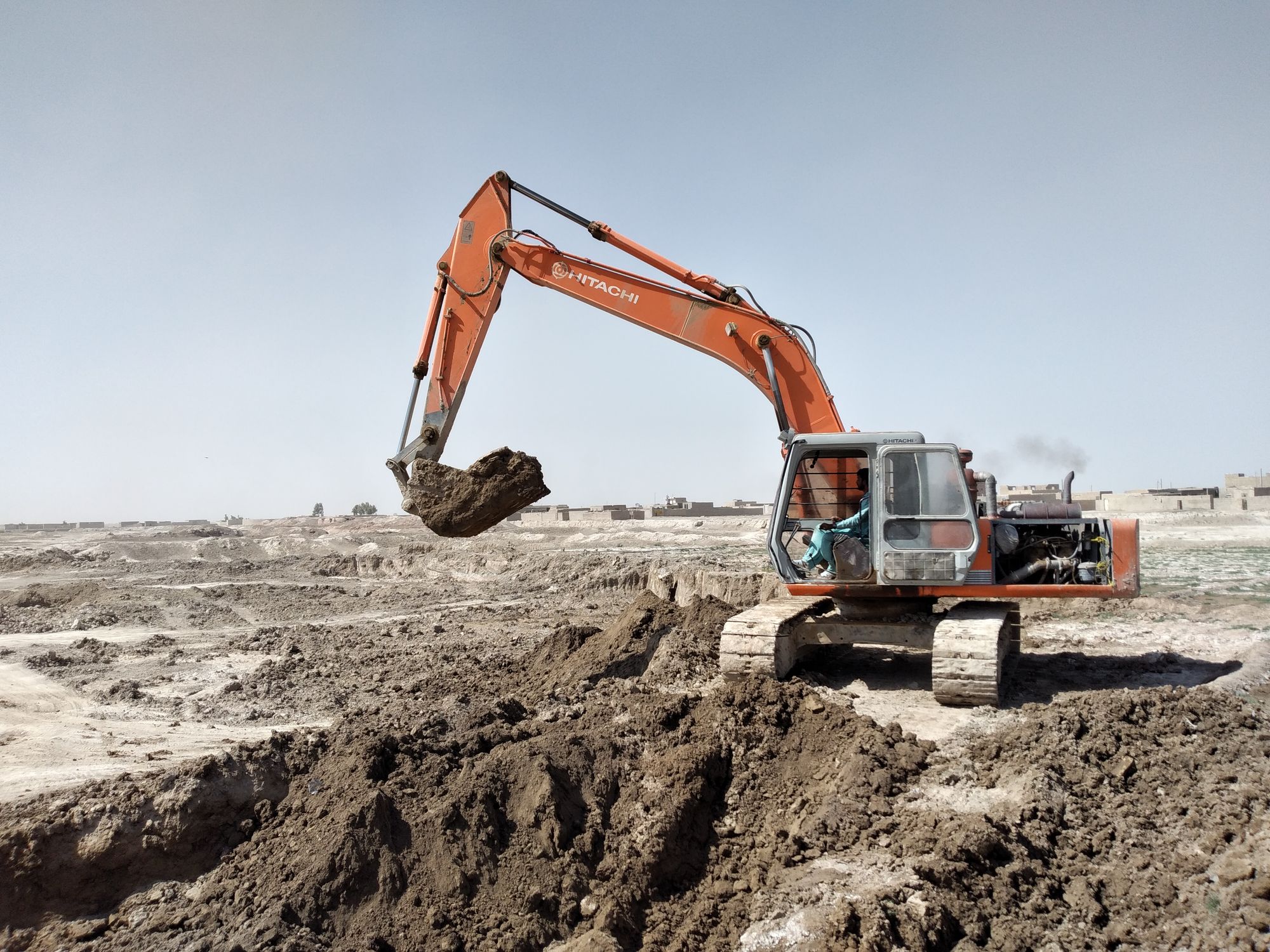 A deep pain contorts his face as he says, " I dreamed of becoming a civil engineer when I was a child, but war and immigration buried all my dreams and now I am a laborer. I have to burn under the scorching Nimroz sun, shiver in the cold outdoors during winter and work so that I don't have to sell my children out of necessity like others."
Mr. Noorzai pays 1,000 Afghanis a month for rent. When the subject of his children's education comes up, he sighs deeply and says, "I could not send my children to school because I can't afford it, this is the biggest pain I carry in my chest."
It is now 3:50 in the afternoon, Saleh is busy loading the fifth truck so I leave him to his work.