Blacksmithing, an Ancient Profession Still Alive in Afghanistan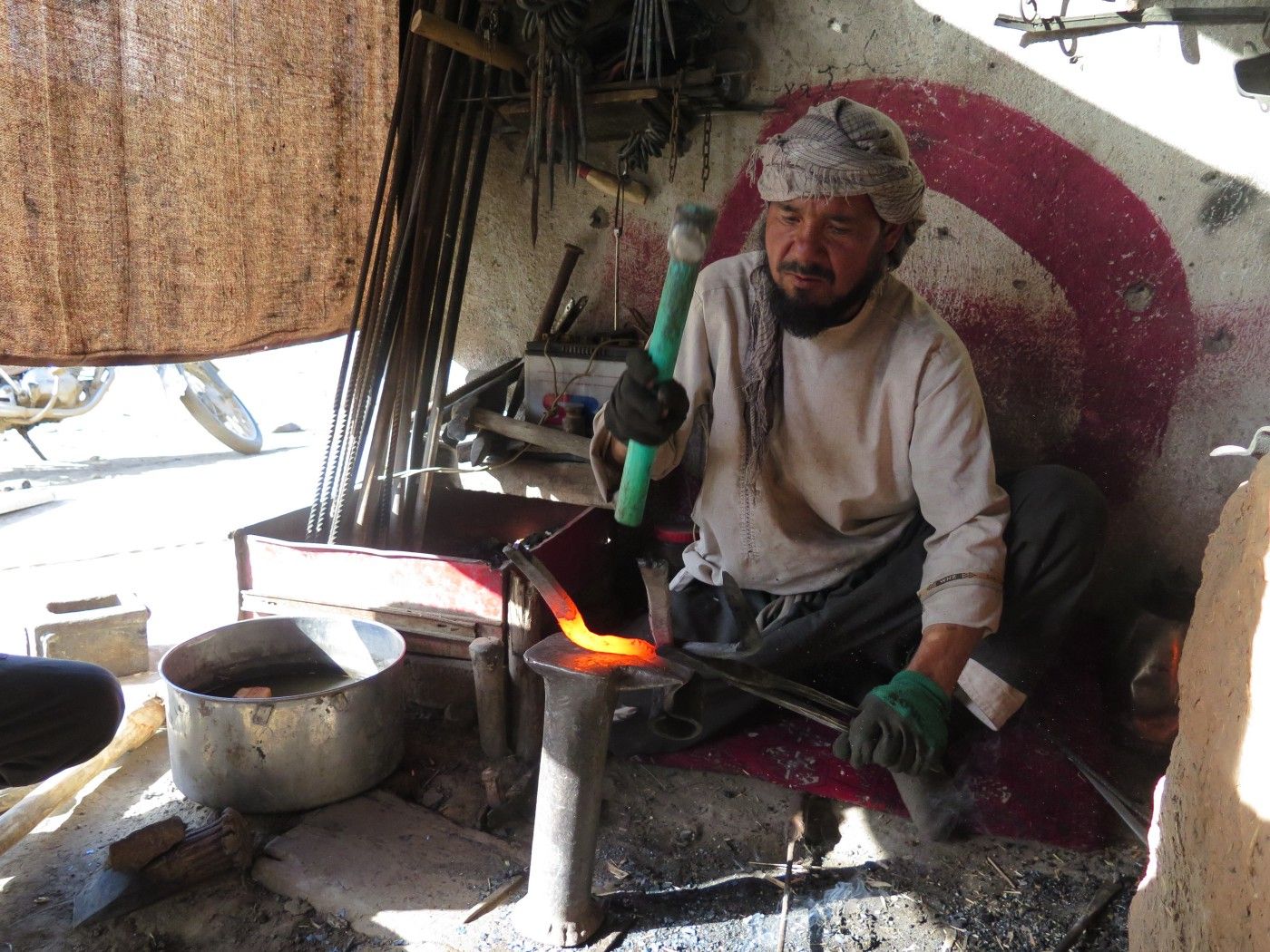 — One Day in Afghanistan —
Reporting by Abdul Karim Azim, written by Abdul Ahad Poya and edited by Mohammad J. Alizada and Brian J. Conley
QALA-E NAW — In the current situation where feeding a person in Afghanistan is difficult and people must knock on every door to earn something, a man from northwestern Badghis province does that just with his hammer.
Blacksmithing is one of the world's oldest professions shaping metal into different tools and implements. In Afghanistan, blacksmithing is one of many ancient professions that are still practiced across the country.
For information about other ancient professions still existing in Afghanistan, see these previous articles, (Mill Town, Old Fashioned but Still Going Strong), (Processing Cooking Oil the Old Way), and (Famous for His Mule).
Qal-e Naw, the capital of Badghis province, is about 150 kilometers northeast of Herat city and 800 kilometers west of Kabul. I am traveling to Badghis to document the work of Abdul Rahman Haidari, who has been a blacksmith for the past 20 years. On the way there, I pass Band-e Sabzak, a beautiful dam in an area located between the Badghis-Herat highway.
Mr. Haidari is 35 years-old, is married to 34 year-old Qandi Gul and has 7 kids, including 6 girls and one boy, 14 year-old Somaya, 11 year-old Sohaila, 10 year-old Fatima, 8 year-old Zahra, 6 year-old Mohammad, 4 year-old Assya and 2 year-old Madina.
It's now 8:30 am, I have gotten out of the car in Qala-e Naw city and am looking for the blacksmith. After a shortwalk through the small city of Qal-e Naw to reach his shop I finally arrive at his place of business around 9 am. After exchanging greetings, I sit on a chair made by Abdul Rahman himself. Directly across from me, I see a red hot, steel furnace inside which Abdul Rahman melts the iron.
The flames inside the furnace project a reddish yellow hue around the shop, which gives the store a pleasant feeling. The tea kettle was set on top of the burning coal.
"I inherited this business from my father, I earn about 300 to 400 Afghanis ($3.15 to $4.21) each day. Although I am facing a lot of problems, I am thankful I have such a job," Abdul Rahman tells Alive in Afghanistan.
Rahman pays 1,000 Afghanis ($10.52 currently) for the monthly rent, he buys 10 kg of coal per day for 150 Afghanis ($1.57 currently). Rahman uses scrap metal to forge axes, pickaxes, sickles, spikes and many other tools that are for everyday use by the residents of this province.
It feels good to be in a warm shop during the dry and cold winter of Afghanistan. Abdul Rahman offers me tea and says, "I know sports are good for my health but I don't need them. Hammering away at this workshop all day is all the exercise I need."
According to Abdul Rahman, his children are very interested in going to school and are currently continuing their education. He has done everything so his children can continue to go to school without concern.
It's now 10 am and my attention is drawn to the 13 year-old child who works at Abdul Rahman's shop so he can learn to be a blacksmith. His name is Abdul Wasay and he earns 30 Afghanis ($0.30 currently) per day working at Abdul Rahman's workshop.
Wasay, who loves school, says he only works during school breaks.
"I finished 3rd grade and now that schools are off, I work here," Wasay says.
Wasay is one of a family of 9. His father is not working due to old age, his mother washes neighbors' clothes for a small fee in addition to her work as a housewife. Two of Wasay's brothers also work for blacksmiths, earning 50 Afghanis ($0.52 currently) each.
Sweat drips off Wasay as he cranks the handle on Abdul Rahman's hand cranked forge blower (fan) to keep the fire at high temperatures.
It's now 11 am and Mr. Haidari decides to take a break. While he sips his tea, he tells me about the prices of the items he makes and sells.
"A spike is 100 Afghanis, a sickle is 50, an axe is 300, I also sharpen tools people bring, a pickaxe is 50 and a shovel is 30." Abdul Rahman says.
Although a little hopeless about the future of Afghanistan, Abdul Rahman seems happy with his job. He says he has about 40 regular customers, if he hasn't opened his store, they wait outside until he does.
"I think my attitude and honest work for the customers is what keeps them coming," Abdul Rahman says proudly.
It's now 11:40 am, Wahidullah, an old man enters Abdul Rahman's store to buy an axe. Wahidullah has traveled here from Qadis district of Badghis province, about 40 km southwest of Qala-e Naw on a dirt road. Wahid starts bargaining with Abdul Rahman.
"My financial situation is very bad! I will give you 300, that's it," Wahidullah tells Abdul Rahman. He buys the axe 50 Afghanis cheaper than the original price. According to Mr. Haidari, the axe cost him 250 to make.
At lunchtime Abdul Rahman offers to take me to a restaurant but I want to spend this time seeing Qala-e Naw so I respectfully decline his offer and take a stroll through the small, underdeveloped capital. Although billions of dollars were spent in Afghanistan during the control of the western-backed government that came into power following US intervention in late 2001, many Afghan provinces, including Badghis, saw little development.
Badghis, is among one of Afghanistan's most isolated provinces where in addition to the overdrawn conflict, it suffers from persistent drought which has crippled the province's agriculture.
The Afghan government that collapsed in mid-August following the full withdrawal of foreign forces from Afghanistan just weeks before, was 165 out of 179 countries, according to the corruption index 2020 by Transparency International.
I return to Mr. Haidari's store after lunch and prayer. I see that another man is sitting by him and they are busy discussing something. The man introduces himself as Abdul Ghaffar Rahimi. Mr. Rahimi is a blacksmith who is also the head of the blacksmiths' union in Badghis.
"Prophet Dawood was also a blacksmith but people look down on blacksmiths, like we are socially invisible. However I believe that no profession is humiliating, it will be humiliating to be an addict or unemployed," Mr. Rahimi says. Ghaffar adds that his profession is the reason behind his life's achievements and he is proud that he is a blacksmith.
Mr. Haidari who is busy making an axe for a wood seller in his city is nodding his head in the form of agreeding with Ghaffar. The axe is being made by melting down a section of car suspension.
Mr. Haidari pulls the half made axe from the scorching furnace with pliers and puts it on the anvil telling Abdul Wasay to hammer away at it. Wasay lifts up the hammer and slams it on the axe with an "Allah."
Allah or God is said to pray or wish for more strength. Wasay keeps hammering the axe for six minutes as Abdul Rahman moves it back and forth between the furnace, the anvil and a bucket of water to make the piece of metal hard and get rid of the heat.
Then Wasay returns to cranking the blower to keep the fire going, it's now 3:30 pm and they have reached the final stages of making the axe. Once again the red-hot axe is taken from the furnace and placed on the anvil while Wasay hammers away at it to make the head of the axe as sharp as possible and then Abdul Rahman dips it in the water.
The last stage is sharpening the axe with the grinder after which it's ready for use. The axe is given a very sharp edge so that when the customer tests it before buying, it can chop a piece of wood as easily as possible. Abdul Rahman takes pride in his work and smiles as he puts the finishing touches on the axe, testing the blade by running his fingers alongside it.
Now it's 4:30, time to close up shop as days are much shorter in winter. Abdul Rahman closes up shop and heads home with a goodbye and a hug.
Although my work in Badghis is done, Abdul Rahman will return to work tomorrow and make more tools for the residents of Badghis as he has done for the last 20 years.