Beautiful Woodworking, with Basic Tools
Afghan carpenter in the eastern Kunar province makes beautiful wooden products he sells on the side of the Kabul-Jalalabad highway.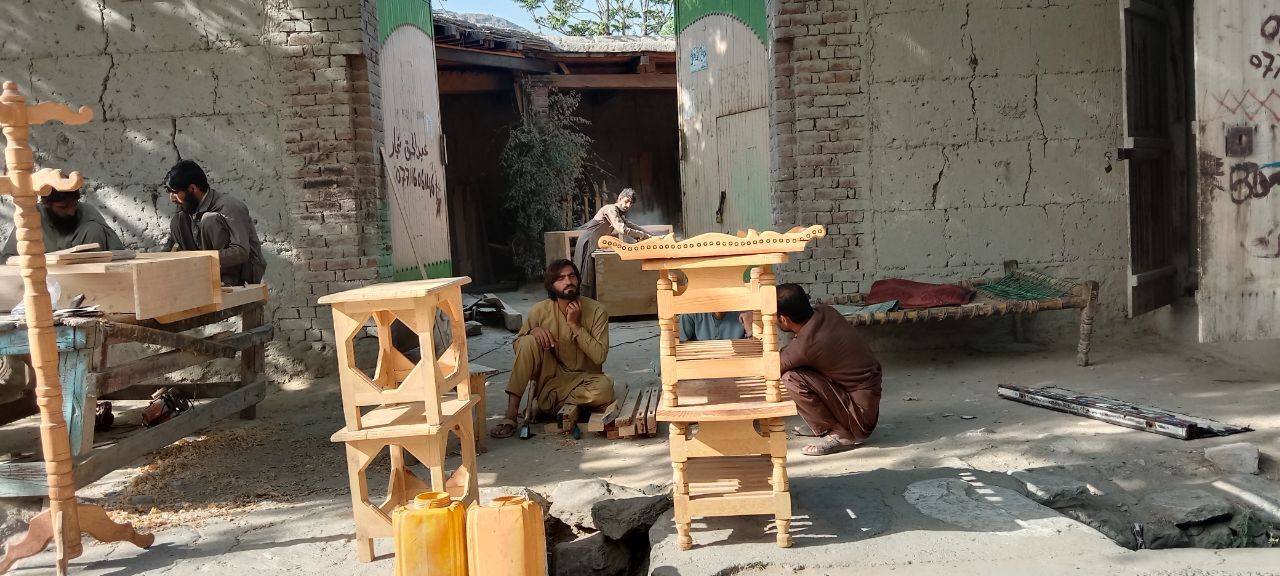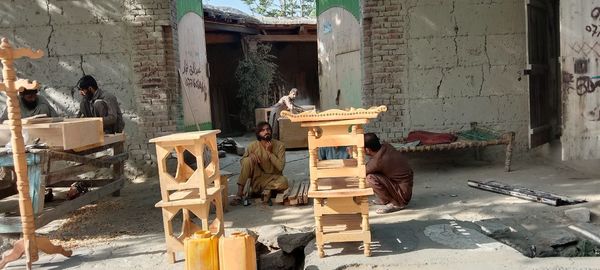 — One Day in Afghanistan —
Reporting by Khalid Khadim, Written by Abdul Ahad Poya, edited by Mohammad J. Alizada and Brian J. Conley
Kunar is a mountainous province surrounded by evergreen trees, green forests, and is located in the eastern part of Afghanistan, bordering Pakistan. The province is famous for the quality of its wood. The wood is used for making windows, doors, and other decorative items.
Due to the large quantities of lumber available, carpentry is the main profession of its people. Over time the people living here gained a special skill in the trade. The carpenters of this province have acquired special skills to make wooden items, including fruit trays, which they earn a good income from.
Kotaki is a village located on the Kabul–Jalalabad highway in Narang district, some 20 kilometers from Asadabad, the capital of Kunar in the west of the province. The village is known for the large carpentry shop that is set up in an ancient mud fort. Abdul Khaliq Najjar, a local carpenter, owns the store which produces fruit trays and other decorative items in traditional styles.
I plan to travel to the small neighborhood of Kotaki, to cover Abdul Khaliq's busy working day and arrive there at 8:30 in the morning. After a ten-minute walk to the neighborhood store, my eyes dart toward an old mud fort with a metal gate. Although it doesn't match the ancient character of the house, the gate is built of metal and is modern. Old forts like this one usually are adorned with large wooden doors.
When I arrive, one employee is opening the shop while another is turning on his saw.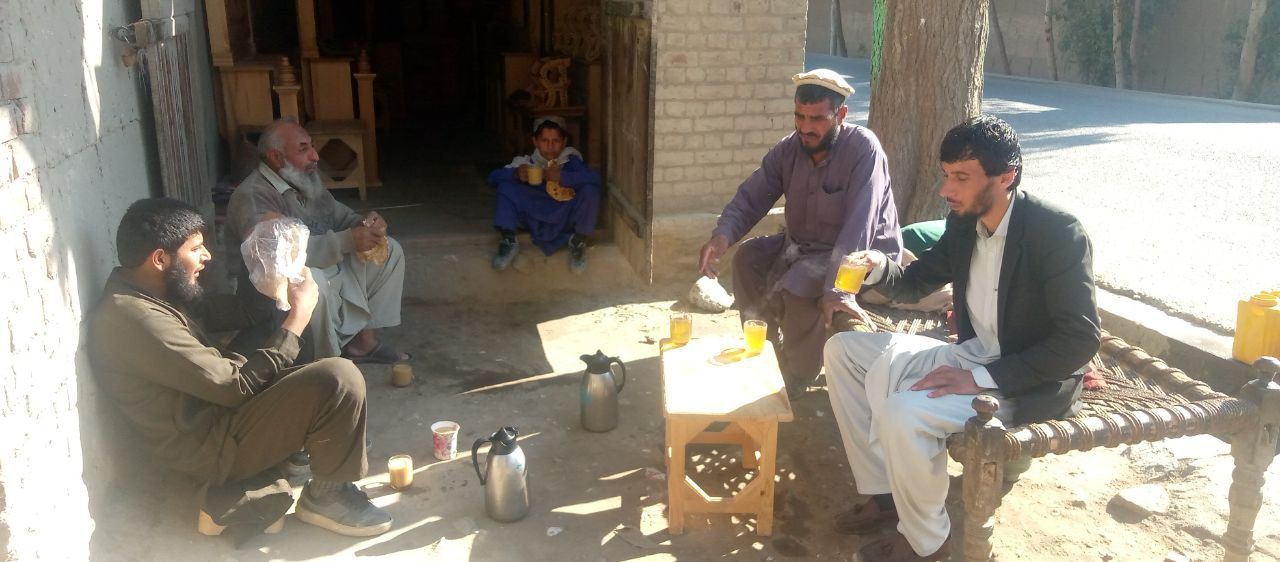 On one corner of the metal gate, the name and telephone number of Abdul Khaleq Najjar has been engraved in black, like a tiny sign. There is no need to knock because no family lives here, instead, the fort has been turned into a carpentry store.
The sounds of the machines attract my eyes and ears as I enter the yard. 52 year old Abdul Khaliq is busy sawing through a large piece of wood with the help of one of his employees. The wood is cut from the pine trees that cover the eastern provinces of Nuristan and Kunar.
Various electric carpentry machines have been installed around Abdul Khaliq's workshop, each one used for a different purpose. Several workers are busy with their tasks simultaneously.
The workshop is filled with piles of raw wood and products that are in process, such as cabinets, trays, tables, and fully and partially assembled beds. With so many piles the workers are surrounded and their workplace a little tight. Two of Abdul Khaliq's employees are working outside the courtyard on the side of the highway. Although the sound of electric machines is tedious, watching the objects made by Abdul Khaliq distracts me from the noise.
It takes about an hour to photograph their workflow and the objects made in this factory, as well as familiarize myself with the equipment. Beside the metal gate that opens onto the courtyard, a ten-meter room with an open space has been built into the wall of the fort. Abdul Khaliq uses this spartan concrete space as a showroom where  they place finished objects so that passersby can see them.
It is now 10:30. The buzzing cacophony of electric machines cutting or smoothing wood cease instantly when Abdul Khaliq turns off the generator powering them. Sitting near the highway on cots in the sun we take a break to eat breakfast and talk about Abdul Khaliq's work.
The worker in charge of making tea arrives with two pots, one green and the other milk tea, together with some glasses. He puts it on the table and asks me to pour myself whichever I prefer. I take one glass of green tea and we spend a moment drinking in silence. Typically Abdul Khaliq and his employees do not have breakfast when they start work but take a break around this time to eat.
Fazluddin, one of Khaliq's older employees cracks a joke while we are having breakfast. He addresses me and says, "The tea break for today is going to be longer because of you, you should come here more often so we can make use of the sun and tea." The joke makes Abdul Khaliq and his employees smile.
The employees return to their tasks after 30 minutes. Abdul Khaliq and I are alone now so I decide to ask about his personal life.

He says, "I have two wives and five children. I married my first wife 29 years ago. We had our first child who is an adult now but disabled."
Khaliq then married his second wife with the permission of his first after they realized they couldn't have more kids. Khaliq now has three sons and a daughter from his second marriage.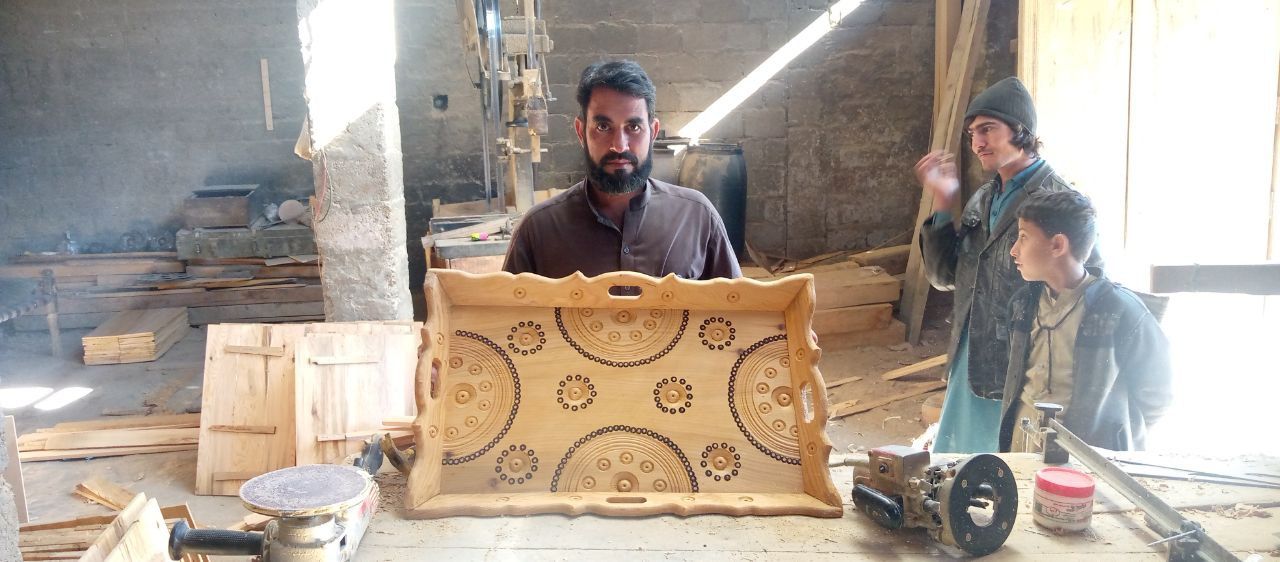 Muslim men can legally marry up to four women at a time, a tradition that has persisted in Afghanistan and many other Islamic countries to this day. Deciding to marry another woman often happens without the consent of the man's current wife, wives or the woman he is marrying.
But for some, those reasons include the wife not being able to bear children or have children that are otherwise able. At most times it might be the fault of the man for not being able to have children, but it is always the woman to blame.
13 year-old Kamran is Abdul Khaliq's second oldest son and is in sixth grade. 11 year-old Khalid is in fifth grade and Erfanullah, an eight-year-old, is in 2nd grade. Abdul Khaliq's only daughter, Neda, just turned five years old. He says as soon as Neda turns seven he will enroll her in school to study.
"I work at this old age so my children can live comfortably. My hope is that they build a good life through education," Mr. Khaliq tells Alive in Afghanistan.
Abdul Khaliq was a timber salesman between the ages of 20 and 40 before becoming a carpenter, although his income was higher than that of a carpenter, he had to leave the profession because the previous government stopped deforestation.
He adds, "When I brought wood for the carpenters I would sit with them for awhile and gradually I learned more and became interested in carpentry. It has now been 12 years since I established this carpentry store."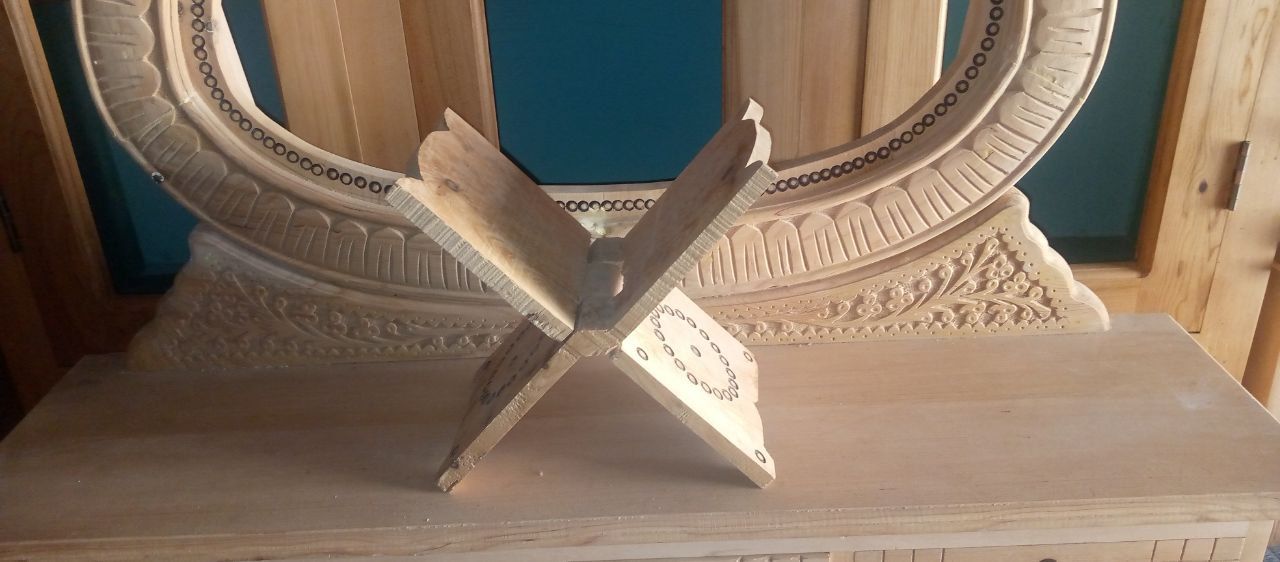 According to the United Nations Environment Program (UNEP) evergreen trees, predominantly oak and pine, covered as much as five percent of Afghanistan in 1979, but roughly half of those trees are now gone.
Fires lit during combat, deliberate deforestation to reduce cover for militants and timber smuggling have all contributed to the loss. However, the primary driver is habitat construction and heating for Afghanistan's fast growing population, which ballooned from 13.2 million in 1979 to an estimated 40 million now.
Although Khaliq would have been able to sell wood through the black market, he refused to continue that line of work and started carpentry. He now provides job opportunities for eight people, including himself. According to Abdul Khaliq, before the fall of Ashraf Ghani's government, he had ten employees but had to dismiss two because of the current economic situation.
Afghanistan has been on the brink of economic collapse since the Taliban takeover in mid-August of last year, the economy has severely impacted businesses like the ones Abdul Khaliq runs.
"Our work was very good, but our business was badly impacted by the fall of the previous regime and still has not fully bounced back," Abdul Khaliq said.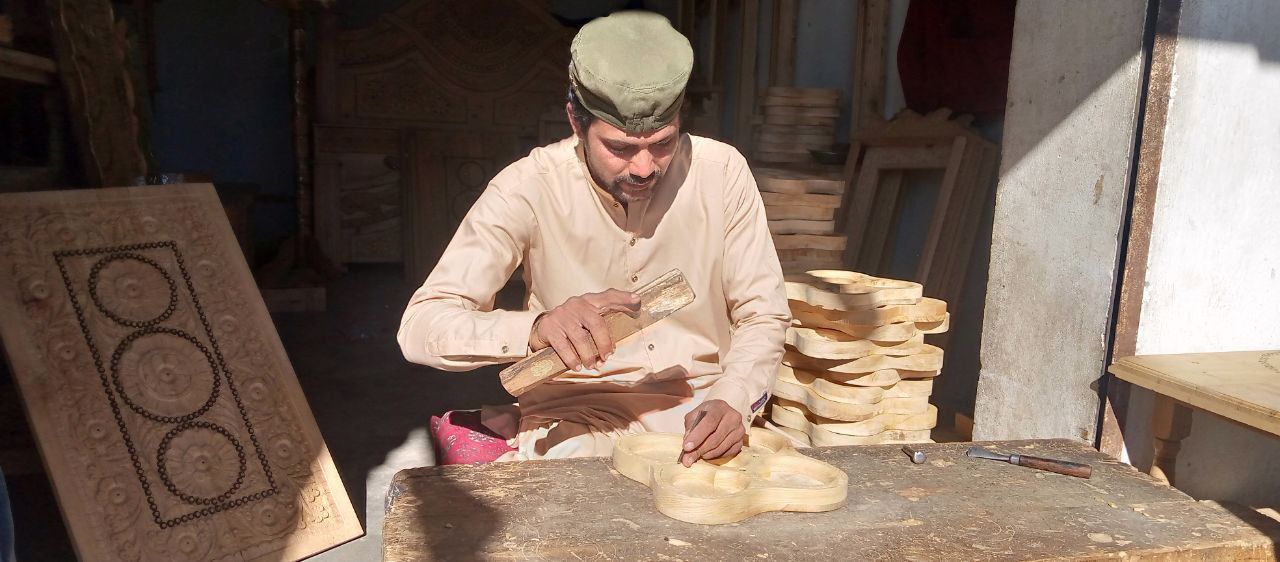 He points to his watch showing it's 12:00 pm and says, "You see, not a single customer has come from morning till now. In the past, during this period, 20 to 30 customers came to the factory and bought their favorite goods."
He attributed the decline in his business to the deteriorating economic situation of the people and blamed restrictions by the new government on transport of timber or timber products to other provinces.
At this time, Abdul Haq, an old man with hunched shoulders and bent with age, arrives at Khaliq's shop. His accent shows he is local to this area of Kunar. He takes 2,000 Afghanis (about $23) from the pocket of his black vest and hands it to Abdul Khaliq.
"This is for the six tables," the man says, "I will bring the remaining 1,000 soon."
Abdul Khaliq happily takes the money, looks at me, saying, "Two thousand afghanis is a lot in this situation."
Currently, the daily income of this skilled carpenter averages between 600 to 1,000 Afghanis (between $6-11) after paying his workers. Each of his workers earns an average of 450 Afghanis (about $5) per day. Before the collapse, Abdul Khaliq's daily income was up to 3,000 Afghanis (about $34) per day.
Abdul Khaliq can make nine trays out of a 3-foot slab of wood, and also five fruit trays out of 4 feet of wood. A worker can usually make ten trays and about 15 fruit trays during a working day. However, Abdul Khaliq and his team go through about 6,000 Afghanis worth of wood and oil on a daily basis.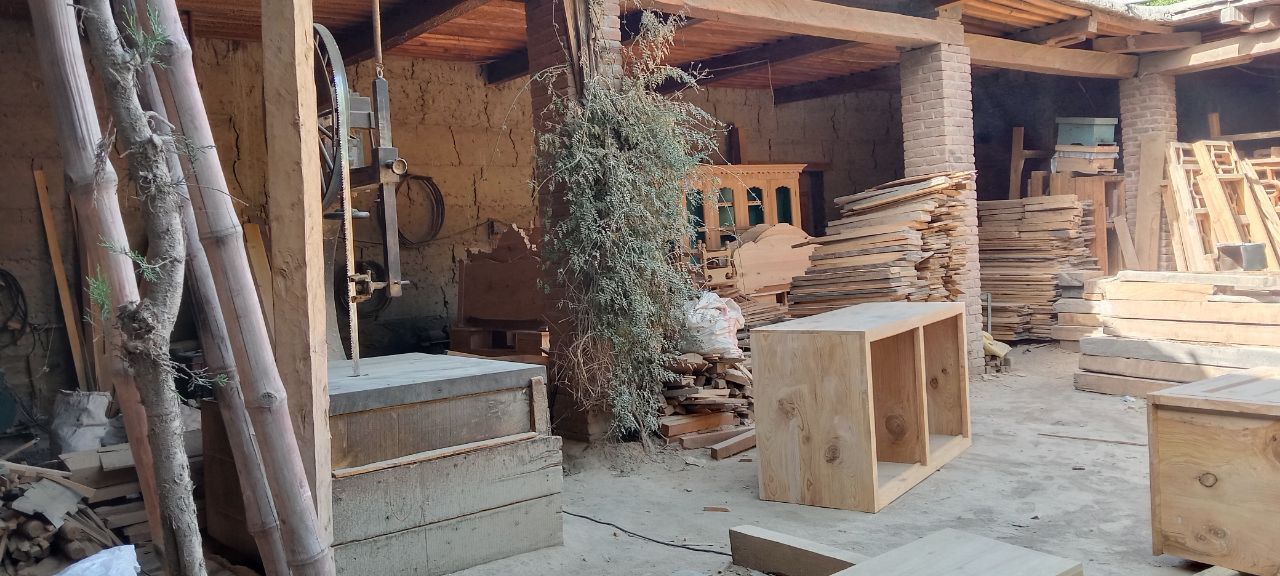 It is now 12:30 in the afternoon, and when they hear the muezzin's call to prayer from the speakers of the neighborhood mosque, they close everything to pray and eat lunch, a break that will last about two hours. One of Abdul Khaliq's sons shows up with a pressure cooker filled with a combination of beans and green peas, along with a few homemade loaves of bread. I excuse myself to go to a neighborhood restaurant with a friend who lives here.
I return to Abdul Khaliq's store around 2:15 pm in the afternoon. One of Abdul Khaliq's employees, making a fruit tray in front of the store, is surrounded by sawdust from his drill. Nearby, another worker is designing a fruit tray with an electric carving tool. Several locals have gathered around to watch them paint and carve designs into the assembled crafts. The sound of the drill prevents us from exchanging conversation.
While watching the process, one of Abdul Khaliq's customers, Saeedullah, from the nearby village comes over and selects a flat serving tray and two smaller fruit trays with individual cups carved into the surface among the objects made on display.
He asks for the price from Abdul Khaliq who is drinking tea while perched on a wooden cot. Abdul Khaliq says the total price for all the items will be 900 Afghanis. Saeedullah also asks for the price of a coat rack, which is worth 800 Afghanis. Abdul Khaliq finally sells the items for 2,000 Afghanis and hands them over to him.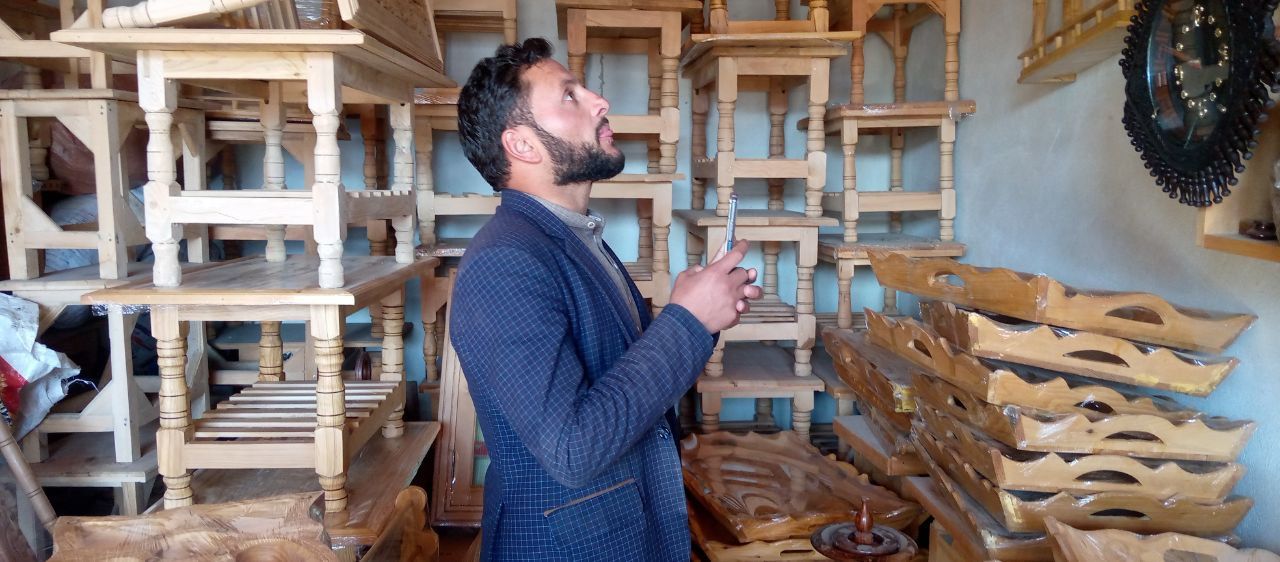 What is interesting about this deal is that there is no bargaining between the seller and the customer. "It is clear to me that the wood of Abdul Khaliq's factory is of good and excellent quality, and skilled carpenters work here," Saeedullah says.
There are no fixed prices for items purchased in almost all of Afghanistan and anything purchased must be bargained for.
Abdul Khaleq brings the wood he needs from Pech Valley, famous for its good quality of wood in the province of Kunar.
"Because we make traditional items, the wood must be of good quality so the finished material is good quality as well," Abdul Khaliq said.
"Although the general public can no longer buy and transport timber from the forests, I am still allowed to take some for my business," he said.
Before the restrictions imposed by the new government, the business could sell up to 50 trays in a day.
"Afghans traveling by the shop are awestruck by the items on sale. Local tourists are drawn to all the beautiful wooden pieces on display. They would take the items to Nangarhar, Laghman, and even Kabul provinces, meanwhile I would sell a large number of my factory-made objects to the shopkeepers of the village; But now passengers are also buying less, and the businesses buying from me are also struggling. These days, we cannot sell more than five items a day," Khaliq says.
According to Abdul Khaliq, if the government does not remove the restrictions, the work of carpenters in the province will decline and eventually collapse.