After Quake, Afghans Afraid to go Inside
A devastating earthquake in southeastern Afghanistan's Paktika province killed more than 1,000 people, wounded at least 2,600 others and destroyed or damaged 2,500 homes.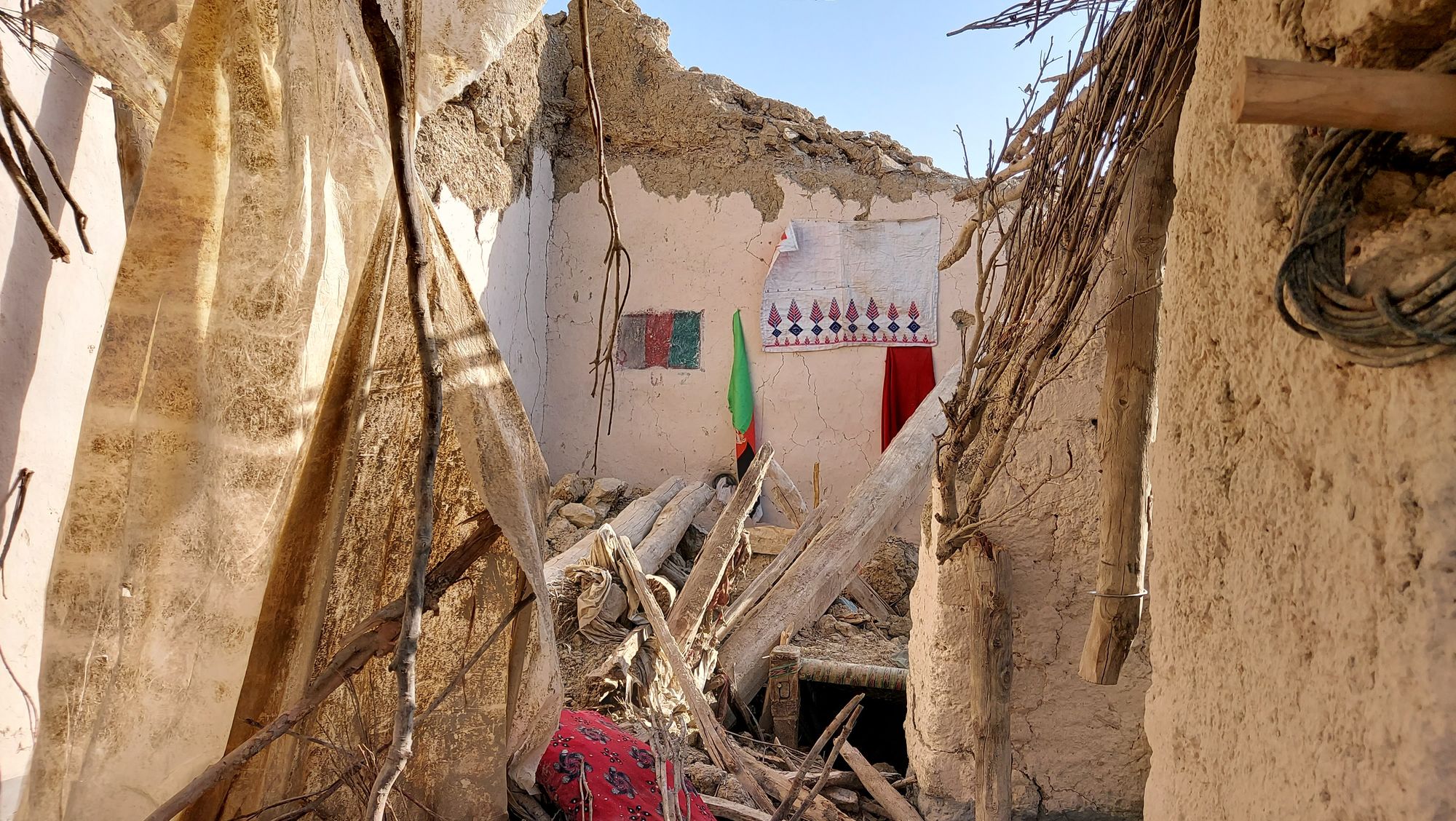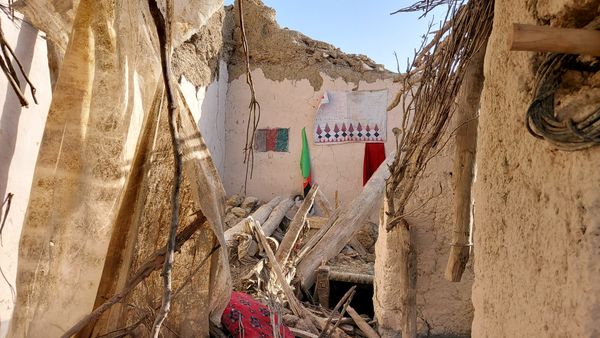 Written by Abdul Ahad Poya, edited by Mohammad J. Alizada & Brian J. Conley
---
Alive-in is a not-for-profit media agency that mentors journalists from underrepresented communities to increase local and international understanding. Subscribe to receive our stories directly in your inbox.
---
[Editor's update: This story has been updated to correct the travel times between Sharana and Orgun and Orgun to Giyan City]
[Editor's note, as this story was going to publish it was updated to include additional information after a second magnitude 5 earthquake occurred in the region]
MULTANI, GIYAN, PAKTIKA — "An earthquake was felt in most of Afghanistan's eastern region today around 04:40 pm (GMT +4:30 hours) injuring seven people in Giyan," Dr. Hekmatullah Esmat, Paktika's Public Health Director, told Alive in Afghanistan on Monday, July 18th from his office in the capital of Giyan district, known simply as Giyan. Dr. Esmat added that people in Gali, a village bordering neighboring Khost province's Spera district, are still experiencing aftershocks hours following the earthquake.
"Most people are afraid to go inside their homes," Dr. Esmat said.
The 5.1 magnitude earthquake took place less than a month after a 5.9 magnitude earthquake in Afghanistan's eastern Paktika province killed  more than 1,000 people and injured at least 2,600 in Paktika and neighboring Khost.
The US Geological Survey (USGS) said the epicenter of Monday's quake was 49 kilometers southwest of Khost. Since then, USGS has recorded at least two other earthquakes, a 4.0 and a 4.3 magnitude earthquake in the area, both on Monday.
Since then, people are scared to sleep inside, according to Dr. Esmat. Saifur Rahman Mansoor, a resident of Giyan's Multani village, told Alive in Afghanistan that rockslides following the earthquake had damaged homes in his hometown.
On June 21st, the US Geological Survey (USGS) reported a 5.9 magnitude earthquake took place 46 kilometers southwest of Khost. Witnesses reported feeling the earthquake in capital Kabul and BBC reported that tremors were felt as far away as Pakistan and India. It is the deadliest earthquake to take place in Afghanistan over the past two decades.
The earthquake took place at a time when Afghanistan is battling an economic and humanitarian crisis that is worsening by the day. Following the Taliban takeover of Afghanistan in August of 2021, Afghanistan's assets were frozen and foreign aid was halted.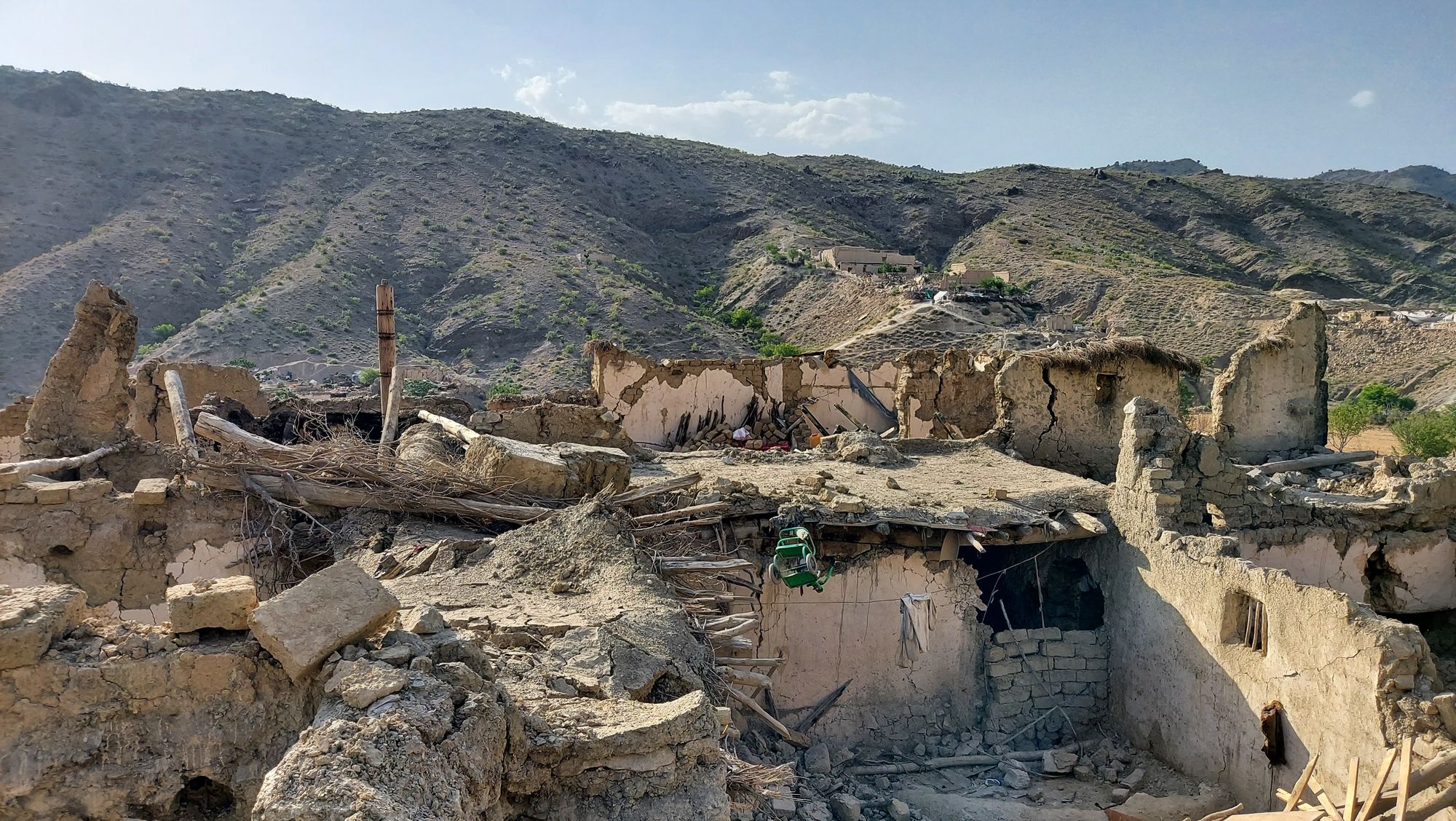 In Barmal and Giyan, the two most affected districts in Paktika, health officials said 851 people were killed and 1,920 others were wounded in those two districts alone. Health officials also said a majority of the casualties were women and children. Perhaps the only benefit of Afghanistan's economic crisis, mMost of the male residents were away from their home districts, working in other provinces or countries, like Pakistan, the United Arab Emirates and Saudi Arabia.
The trip to Sharana, Paktika's provincial capital, takes about 10 hours from Kabul, crossing Logar and Paktia provinces. The closer you get to Paktika, the rougher the road becomes. Although the war between the Taliban and the previous government ended in August of last year, the effects of the war are present everywhere along the road. Roads that are more pothole than road provide a stark reminder of the numerous explosive devices laid to target coalition and Afghan forces over the years.
After another hour and a half of traversing dirt roads and steep mountains carpeted with pine trees one just reaches Urgun, the last district in Paktika before getting to Giyan. More than 10 domestic and international aid agencies have braved the trek and arrived here successfully to assist earthquake victims. From Urgun,  it's at least 4 more hours of travel to the district capital of Giyan, Giyan City.
Children ran towards the caravan of aid vehicles as they passed villages now in ruins, hoping to get some sort of help, whatever it is. Newly dug graves covered with fresh dirt and headstones take up at least half of each graveyard. People are either collecting the little belongings they can gather from the piles of rubble that was once a home, or pitching tents outside aid agency camps in the hope of receiving much needed assistance.
Throughout Giyan sit many houses partially damaged and others completely destroyed. Alive in Afghanistan's reporter was unable to access any villages alleged to be  completely  due to lack of transportation, and could not confirm these claims.
Many witnesses from different villages throughout the Giyan district told Alive in Afghanistan their homes were completely destroyed and not a single household was left without at least one casualty. These claims could not be independently verified by Alive in Afghanistan, but have not been contested elsewhere.
Every family has a different story about the earthquake, its aftermath, the destruction left in its wake,  and how aid has been distributed among the survivors."19 people, most of them children, died and 60 others were wounded in our village alone," Zia Wali told Alive in Afghanistan. According to Mr. Khan, there are  26 families living in their village and each lost between two and ten family members. Zia Wali's home, like many others, was completely destroyed by the quake and subsequent aftershocks.

Zia Wali's mother was rescued but wounded along with four others, while two  family members were killed and five others, as  well as his mother, were wounded. "It took an hour for our neighbor to get us out of the rubble," Zia Wali said, adding that the earthquake lasted between 30 to 45 seconds.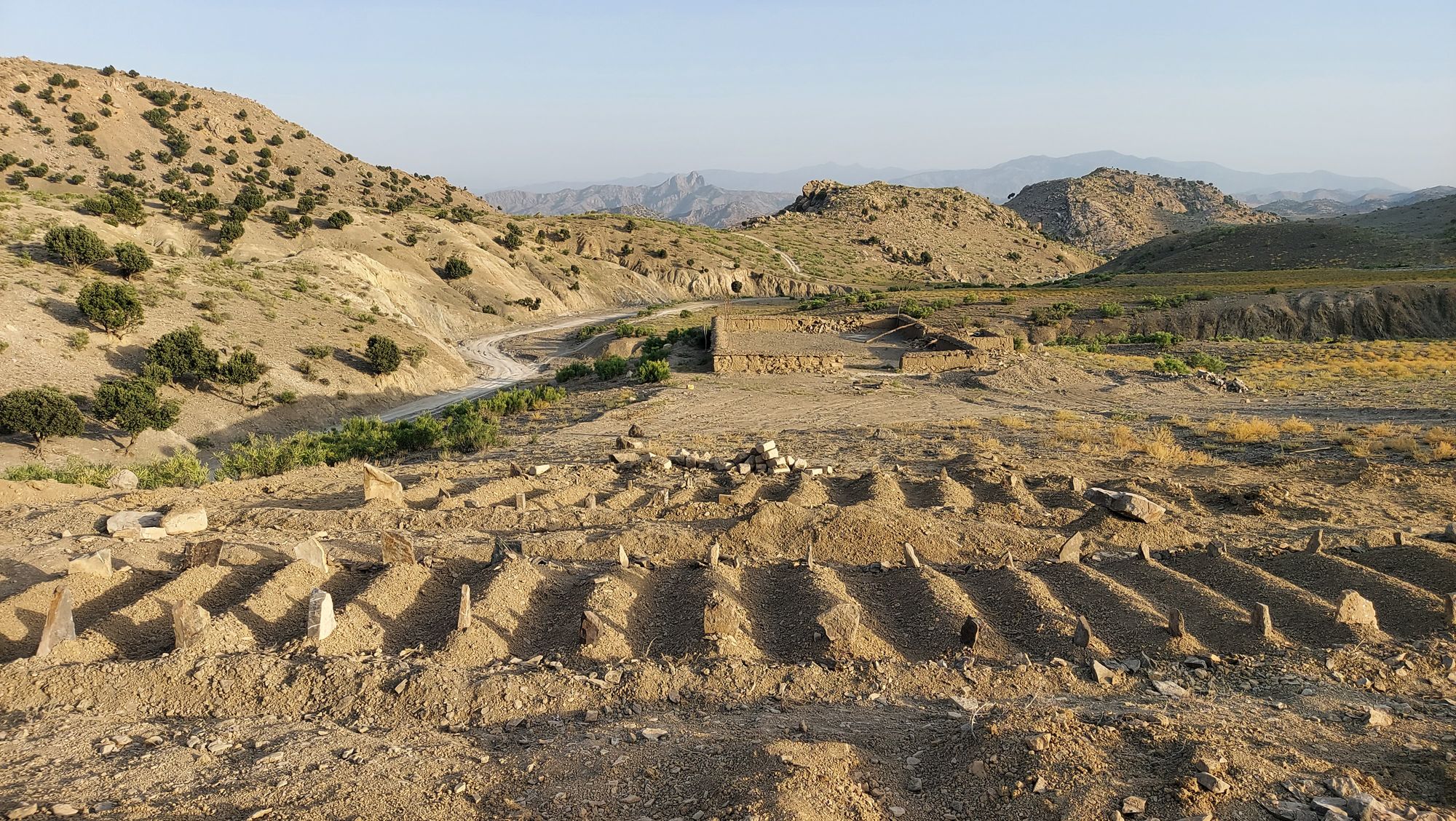 Kamin, another resident of Multani, said, "At 1:15 am on Wednesday the earthquake buried people under piles of dirt. That night everyone was busy trying to dig their loved ones out of the rubble. The next morning, helicopters belonging to the Islamic Emirate [the Taliban] flew in and airlifted the most critically wounded to hospitals in several provinces including the capital Kabul."
Kamin also confirmed that 19 people were killed and 60 others were wounded in the Multani village alone.
"We were busy burying our loved ones until yesterday and now we are here to see if we can receive some aid," Kamin told Alive in Afghanistan on Saturday, four days after the earthquake, before adding, "One or two jolts happen every day and we cannot even get close to our house because of fear."
Kamin lost everything in the earthquake, and said "Every house lost between three to five animals."
---
If you are able to support our work financially, please click the button below.
---
The immediate region surrounding the earthquake's epicenter is made up of dry, mountainous terrain. It has always been a challenge for Afghans in this area to make a living . Although farming and animal husbandry are the main sources of income for most of rural Afghanistan, this region is made up of mountainous terrain and only a small area of land is suitable for agriculture.
Aside from farming, people in the area have historically collected pine nuts and sold the wood from the trees that carpet the area. However, the Taliban recently banned cutting down pine trees across Afghanistan, eliminating their wood as a source of income.
A wide variety of organizations rushed to help in the chaotic initial days, including Human First who provided transportation to our reporter. Not all of the groups who were present, including Human First, had prior experience in humanitarian relief. Given the current situation in Afghanistan and the freezing of most international aid, Afghans were doing what they could to support their fellow Afghans.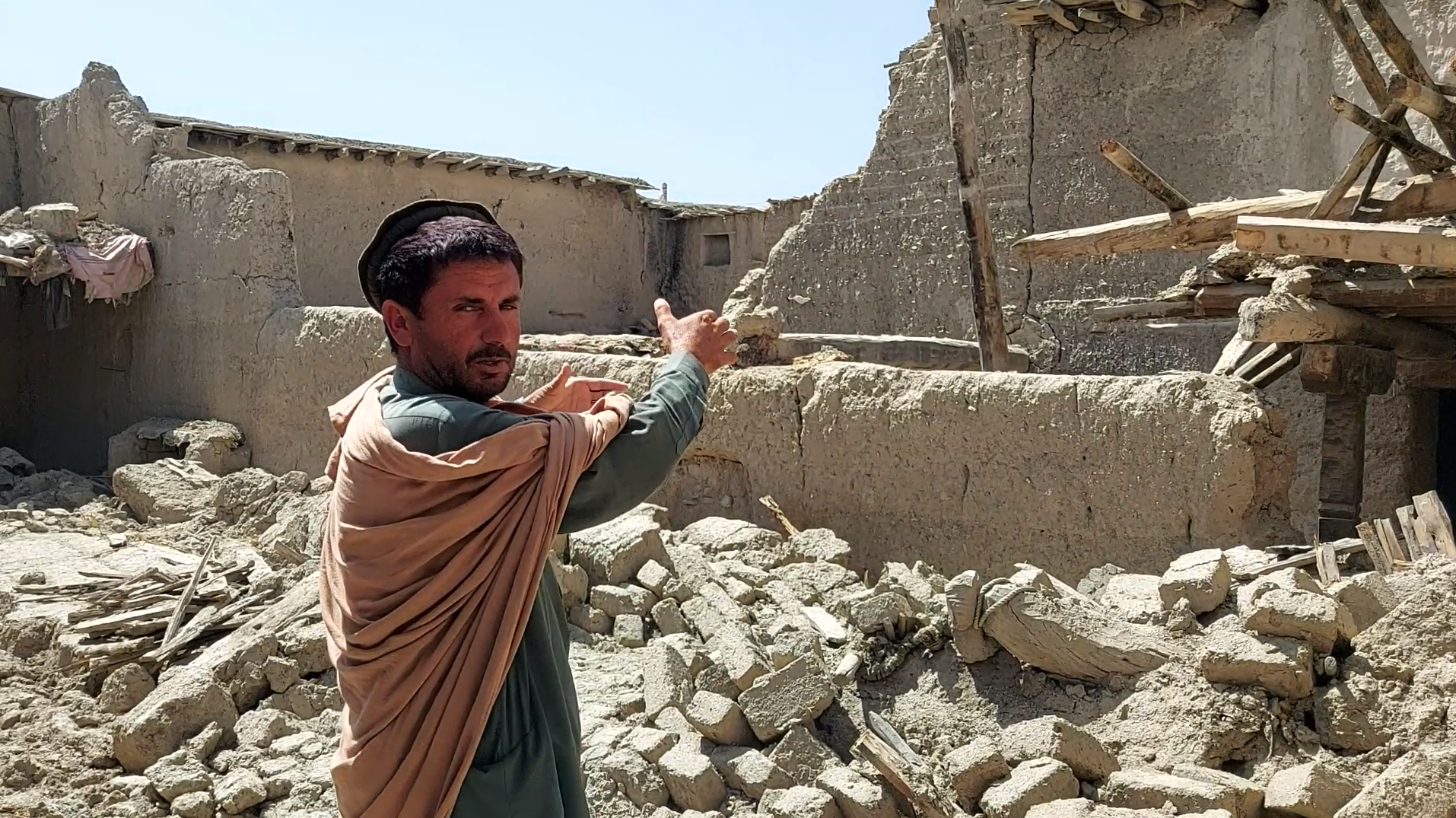 Nearly 2,500 homes in the districts of Giyan and Barmal have been completely or partially destroyed. Due to the widespread destruction many residents currently live outside with no shade from the scorching summer. So far only a small number of families have received tents from humanitarian agencies while being jolted by aftershocks for days following the initial quake.
Kamin requested that international aid agencies and the Taliban work to rebuild their homes since the  victims of the earthquake have been left financially destitute with few, if any, options to rebuild on their own.
Abdul Raziq, a resident of Giyan, said, "Five members of my family were killed and three others were wounded in this earthquake. Although we have received a small amount of aid including a tent, flour, and cash, it's not enough."
Raziq said they are in need of a better long term solution since living under tents will become untenable once winter weather arrives. Mr. Abdul Raziq told Alive in Afghanistan  that 33 people died and 40 were injured in the Giyan district center, and among these a majority of the casualties were women and children.
According to the USGS, 50 earthquakes were detected in this region over the past five years. Over the course of four days spent between Giyan and Barmal Alive in Afghanistan's reporter witnessed at least one or two aftershocks every 24 hours. The unrelenting seismic activity  has turned an already overwhelming crisis into a living nightmare for residents, keeping them in a constant state of impending doom and under immense mental pressure.
Health workers say the only source of drinking water was contaminated with dust and debris during the most recent quake. Many residents have contracted chronic diarrhea due to the lack of clean water. The high volume of  cars delivering aid and helicopters flying in and out of the region to transport the most critically wounded have further exacerbated the spread of dust and debris, upending already devastated communities just struggling to survive.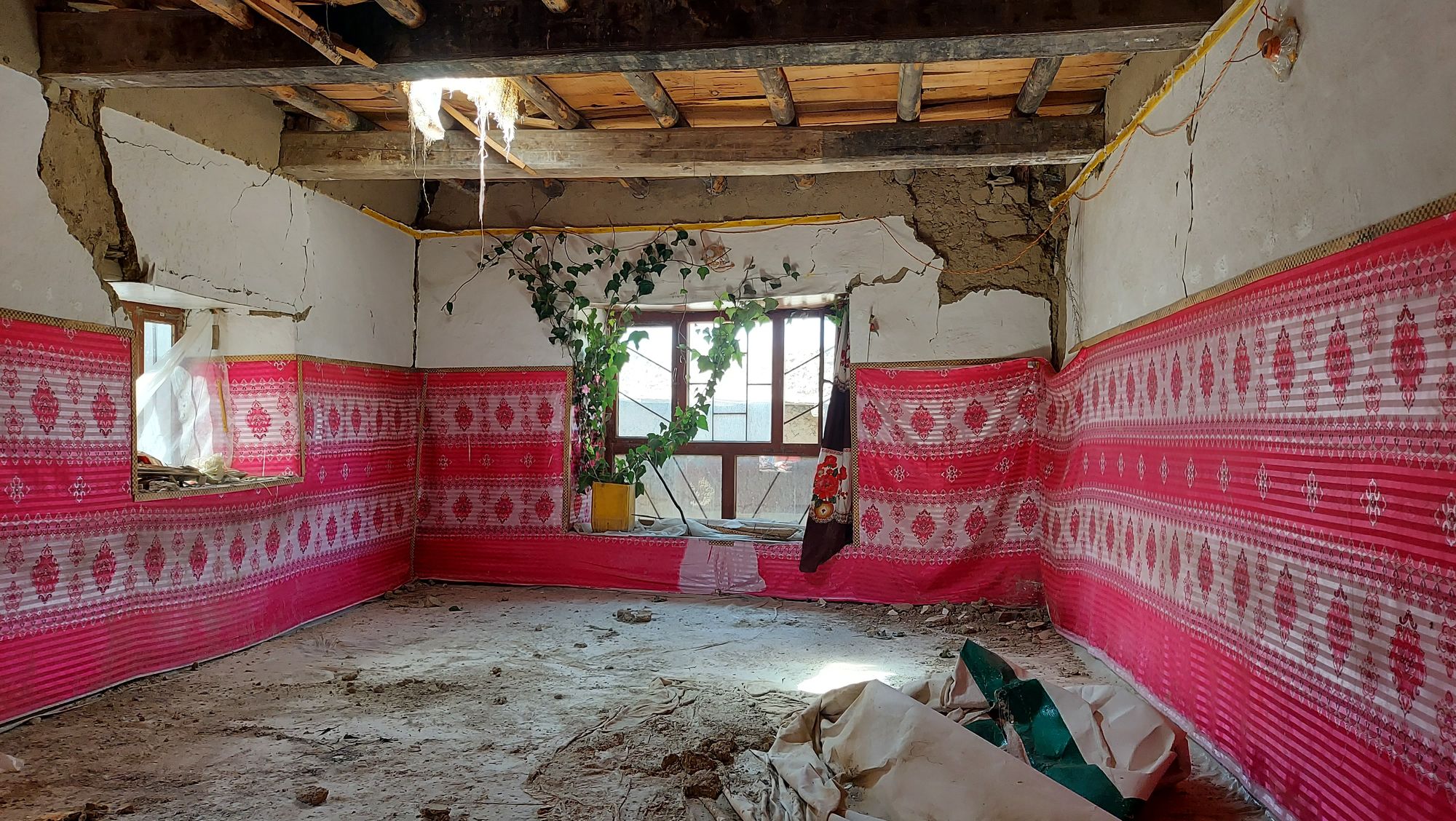 In addition to the ongoing tremors and the huge need, a number of the survivors lamented the disparity in the aid distribution process. Some told Alive in Afghanistan that aid is being disproportionately awarded to individuals with connections or influence, rather than given to those who need it most. Additionally, rather than distributing supplies equally, those same privileged individuals are being given more than they need.
Noor Mohammad, a Giyan resident, said aid was distributed to those with connections to the agencies providing it and demanded that authorities step in to ensure that aid is distributed more fairly.
"I witnessed people who are well off receiving aid. My request from the aid agencies is to go to the area themselves and conduct a survey in order to identify vulnerable families," Noor added.
Zamarrood, another resident of Giyan, came to a local cemetery in Giyan City to pray for family members he lost in the earthquake. Six of his family members were killed and seven others were wounded.
"255 people died in Giyan district but those receiving aid are individuals with influence and connections," he said. According to Zamarrood, "Some families have received 10 tents while mine has received none."
"A total of 34 people lost their lives in our village, 15 of them from one family," Zamarrood said, adding, "We need tents first and foremost because we are sleeping in the open air right now."
Mahmood, a resident of Ghara village in Giyan district said, "40 people were killed and 70 others were injured in our village. We have two or three tremors each day, which has everyone anxious to the point that we cannot sleep."
Five other sources  told Alive in Afghanistan they were frustrated by the disparity in aid distribution.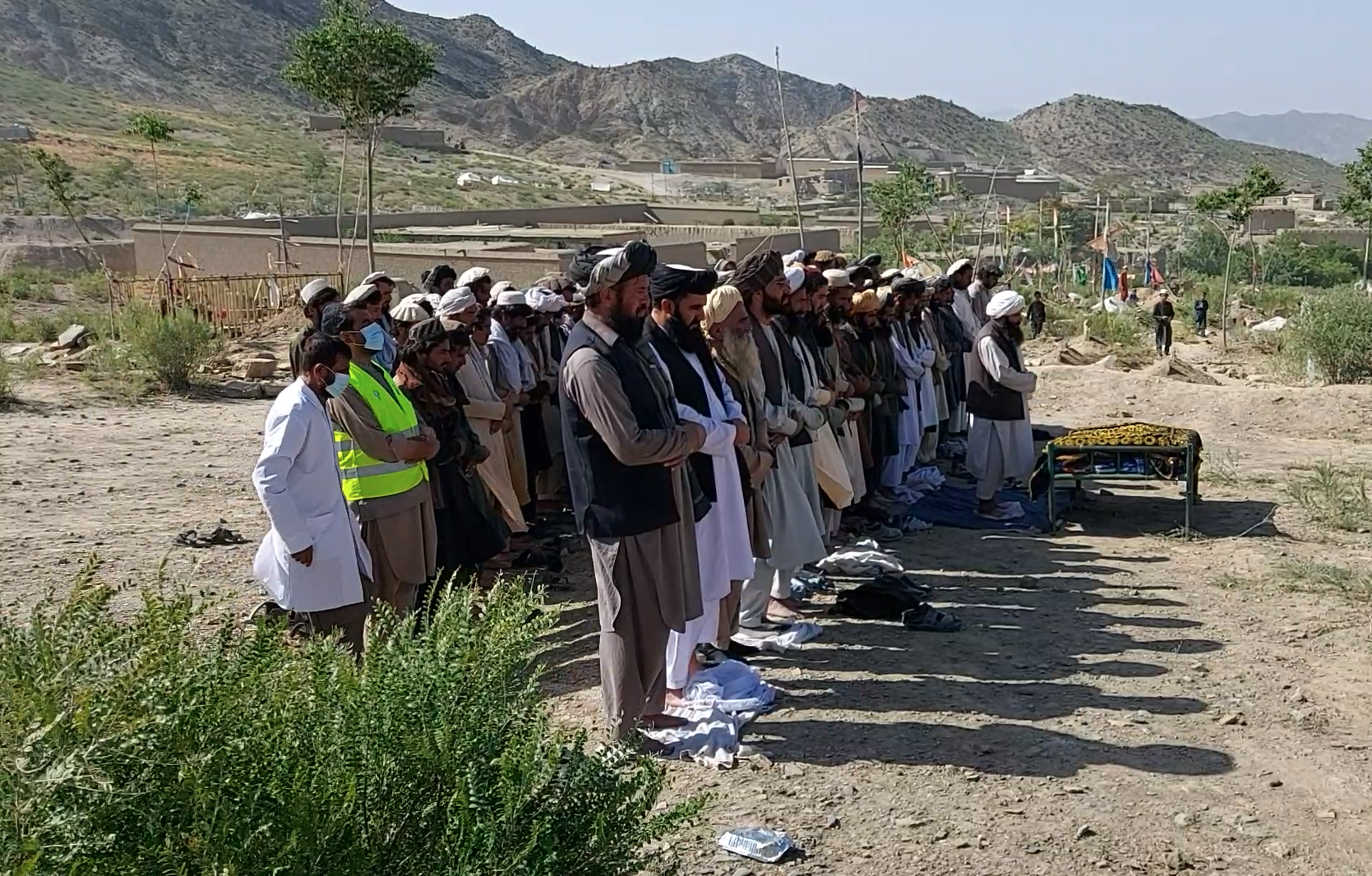 Faqirullah, another Giyan resident, has also come to the same cemetery in Giyan City to pay his respect to and pray for the family members he lost. "We have received no aid yet. I have no idea who is registering those in need and according to what standards."
A little girl walked barefoot through the area, surrounded by the rubble of the devastated village. With tears welling up in her eyes, she said her shoes were buried under their collapsed home. She shied  away from saying anything further.
Qasim from Shewaki Cheena village lost 18 of his family members while 10 others were wounded. "We lost all our livestock as well."
Dr. Maqbool Loqmanzai, Giyan's head of public health told Alive in Afghanistan, "675 people were killed and 970 others were wounded in Giyan district alone." According to Dr. Loqmanzai, the most affected villages are Digi, Islah Shah, Mazak, Wochkai, and Giyan city.
"The data is collected by our survey teams who have registered the patients and listed the deceased. This is the most accurate and real-time data there will be," Dr. Maqbool said.
The devastating earthquake in Afghanistan reminded the international community about the already dire situation in a country marred by poverty, worsened by an economic collapse and a humanitarian crisis that is worsening by the day.
Noor Wali, a resident of Wora village said, "We lost 11 family members, including my mother, father, two sisters, my sister-in-law, three nephews and three nieces. 33 family members were injured."
"We are five brothers living in the same house, one of our brothers who is working in the United Arab Emirates lost everyone in his immediate family, his wife, two sons and one daughter. My brother planned to come home to visit his family next month."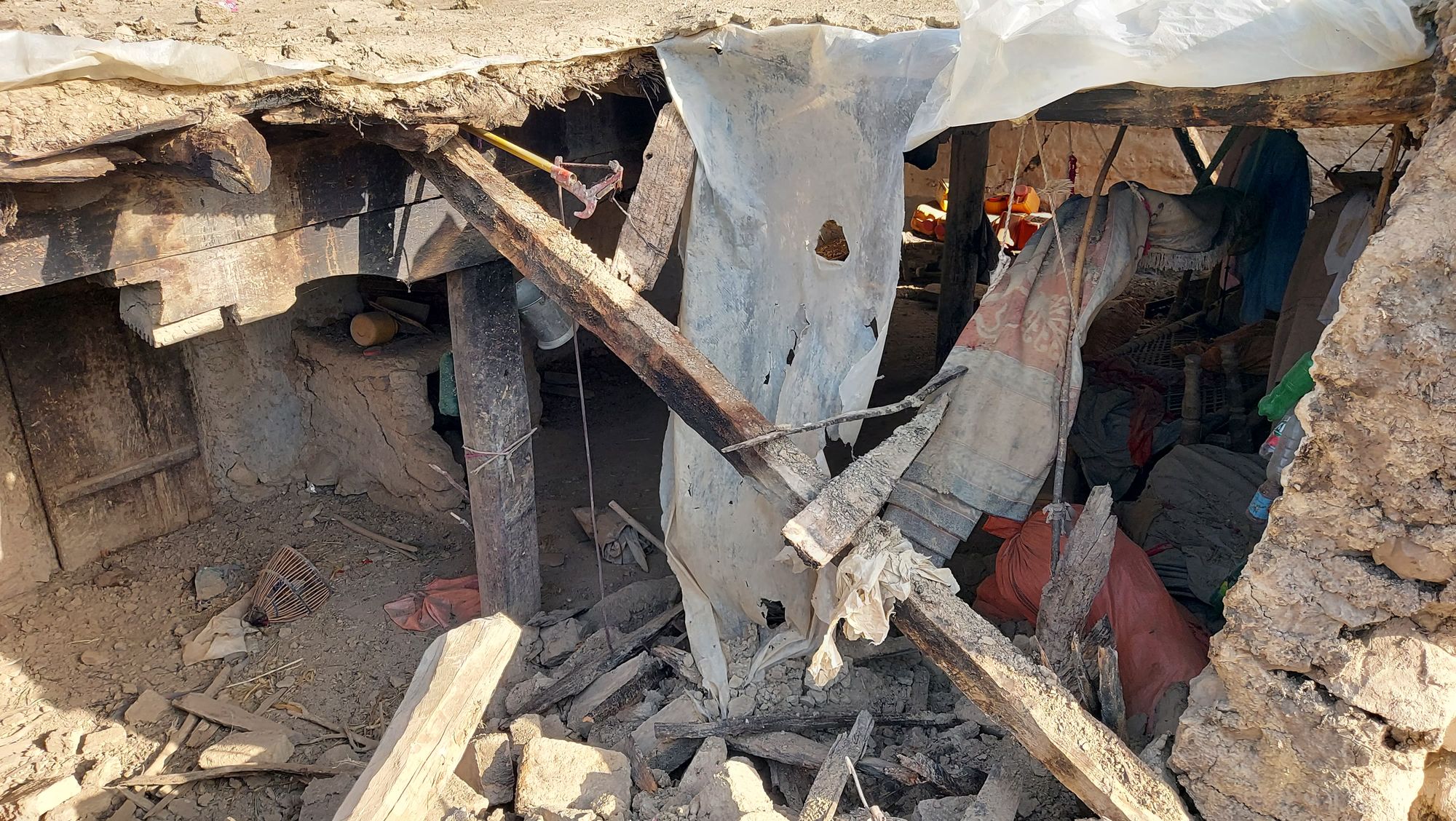 ---
If you are able to support our work financially, please click the button below.
---