After Al-Qa'eda, Life Returns to Hawr Rajab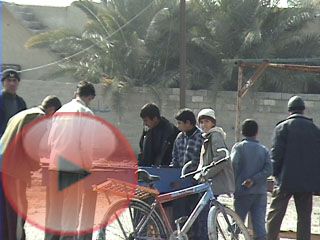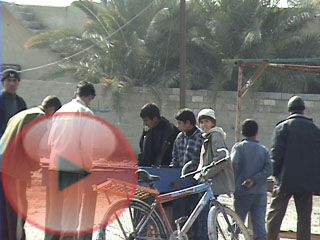 Produced by Nabeel Kamal
HAWR RAJAB, IRAQ– Civilians told horror stories of being afraid to leave their homes for fear of retribution. According to one member of the Sahwa, those who smoked regularly could have their fingers amputated or their tongue burned. Many other residents, Sunni and Shi'a alike, fled the neighborhood to other nearby areas, such as Abu Dsheer and Mahmoudiya. Shekih Al-Ma'eini told Nabeel Kamal that the residents of Abu Dsheer and other areas deserved great thanks for their willingness to support the residents of Hawr Rajab with shelter and food.
Once the situation had calmed, Sheikh Malik, the district representative of Hawr Rajab worked with Sheikh Al-Ma'eini and others to begin implementing a reconstruction plan for the area. Young men who formally fought against the United States or terrorized their neighbors are finding work clearing wreckage and paving main roads in the village.
Many of the men working for the Sahwa Councils, or "Concerned Local Citizens" as the United States military often calls them, openly admit they once fought the United States and Coalition Forces. One of the most interesting things happening in Hawr Rajab is that animosity against the United States appears to have been subsumed by a desire to attain real reconciliation within their communities.
Recently much of the media has focused either on the question of how long the "honeymoon" between Sunni fighters and the Coalition might last, or has provided a simplistic look at "brave Iraqis fighting the terrorists." Nabeel Kamal provides another report taking a closer look at the hopes and struggles of the Iraqis themselves. To hear about how residents of Hawr Rajab and Iraqi Army soldiers worked together to secure the neighborhood, please check out last week's episode.
archival reference: https://web.archive.org/web/20130706003837/http://aliveinbaghdad.org/2008/03/24/after-al-qaeda-life-returns-to-hawr-rajab/
Editor's Note: The concept for Alive-in/ began in 2005 with the launch of Alive in Baghdad. Many of the stories produced by our team of Iraqi reporters were taken offline with the closure of blip.tv.

In remembrance of the 20th anniversary of the United States war against Iraq, we are republishing as much of Alive in Baghdad's original content as possible here on Alive-in/. Each story has been given its original date so that these posts don't overwhelm our current stories, and tagged as relevant.