Afghanistan's Southern Kandahar, Known for Finest Embroidery Across the Country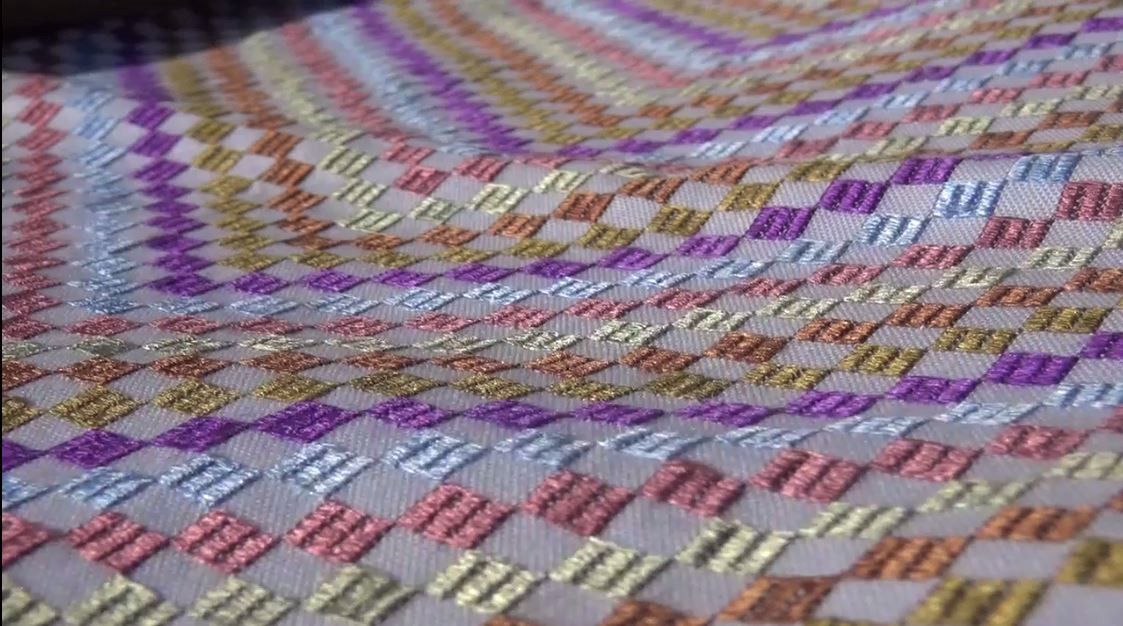 — One Day in Afghanistan —
Written by Nazar Mohammad Razmal Zaman, edited by Mohammad J. Alizada and Brian J. Conley
KANDAHAR — A small red radio set up against the wall plays a local station in the background while two women sit around it putting needles through pieces of brown and cream-colored cloth.
These women are making the traditional Afghan man-jammies with beautiful embroidered necklines. The necklines and designs vary widely–the finer the embroidery, the steeper the price.
Afghanistan's southern Kandahar province is famous for the finest type of clothing embroidery across Afghanistan. Called "Khamak" in Pashto, it consists of stitching intricate designs into shawls, the front of men's long, loose shirts called [shalwar kameez], as well as tablecloths and women's clothes.
For more information about female centered embroidery and handicrafts, read these previous articles, (Namad Bafi — a Handicraft for the Mountains), (Hard Work, Lost Hope of an Afghan Embroider), (Only the Dark Stops Her), and (Nowhere is Like Your Own Country).
The handicraft is not just famous across Afghanistan but among Afghans in other parts of the world such as Europe and the US. However, women who make the clothes do not profit as much as the shopkeepers who sell them do.
The women making the handicraft in Kandahar say that they are only being paid for the labor and most of the profits go to the shopkeepers or businessmen selling the product.
36 year-old Razia Marwa is a resident of the 9th district of Kandahar city, the capital of Kandahar province, who helps take care of her family by doing embroidery.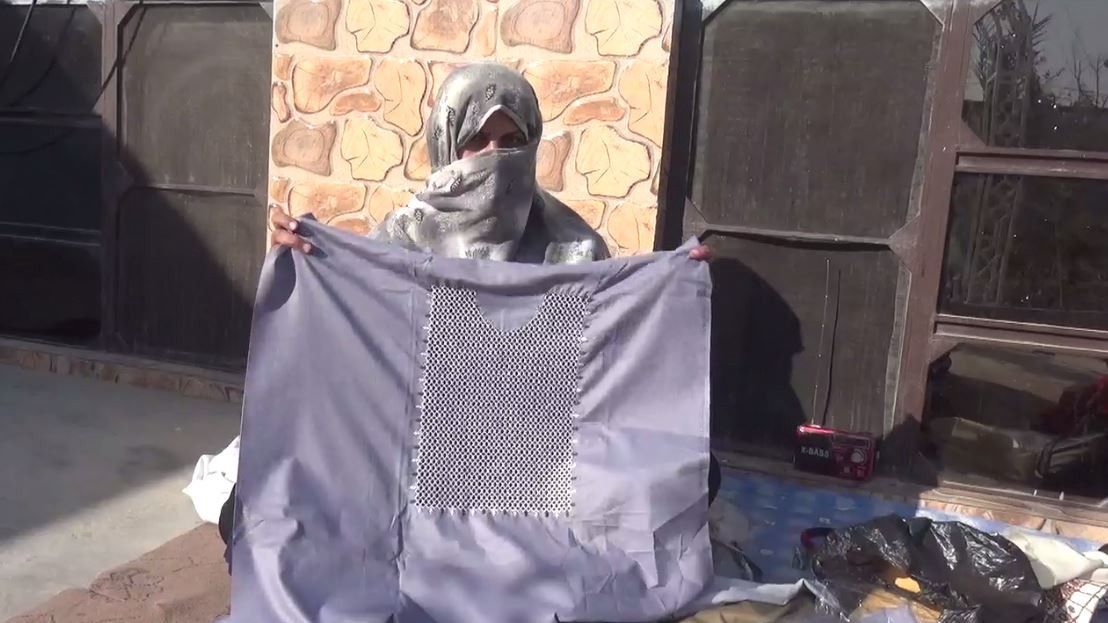 The time now is 8:30 and the men in this village, just like any other place in Afghanistan, have gone out to work in order to earn money for their family while the women remain in the house and take care of household chores.
Razia is just finished with her household chores as I knock on the door of the mud-brick built house.
A 5 year-old child opens the door after a moment, I introduce myself and am given permission to enter the home after he speaks to the women inside.
Ms. Marwa lives in the house with her two 5 year-old children, Zaheen Ahmad and Mobin Ahmad, her husband, 40 year-old Faiz Mohammad and her sister-in-law.
"My husband is a teacher, but his salary is not enough so I do embroidery to help with the household income," Razia tells Alive in Afghanistan.
The sun has slowly receded from the cold winter morning and is now spreading its rays from the walls of Razia's house to the floor of her courtyard.
Razia, who has wrapped herself with a large scarf, sits down next to the wall where the sun is shining.
She takes a brown piece of cloth out of a black plastic bag, she has worked on this embroidery for the past month. Razia takes out a needle and some thread, the same color as the piece of cloth, threads the needle and starts sewing.
The patterns she has stitched together over the past month are clearly visible as she continues working on the piece.
After a while she lifts her head from her work, lowers the volume on the radio sitting next to her, and with a sigh, says, "Clothing embroidery is an art form that is slow and requires a lot of work."
"Making one neckline can take up to 6 or 7 months, all this is one needle and thread at a time, and it has to be precise. If you get one point sewn wrong, the whole neckline is ruined," Razia says.
Razia says it can take a lot less time if the woman doing Khamak is not also busy with household chores, if she is taking care of kids and doing household chores in addition to the embroidery, it can take much more time.
It's now 10:30 am. Razia's twins, Zaheen and Mobin, bring their notebooks and pens and sit next to their mom.Razia puts away the piece of cloth that was on her knee and busies herself helping her children with their studies.
Although disappointed by the recent developments in Afghanistan, Razia says the small notebooks in her children's possession are a part of her dream, for them to be educated.
Razia has never gone to school, she says she went to her village madrassa when she was a child and learned how to read and write at that time.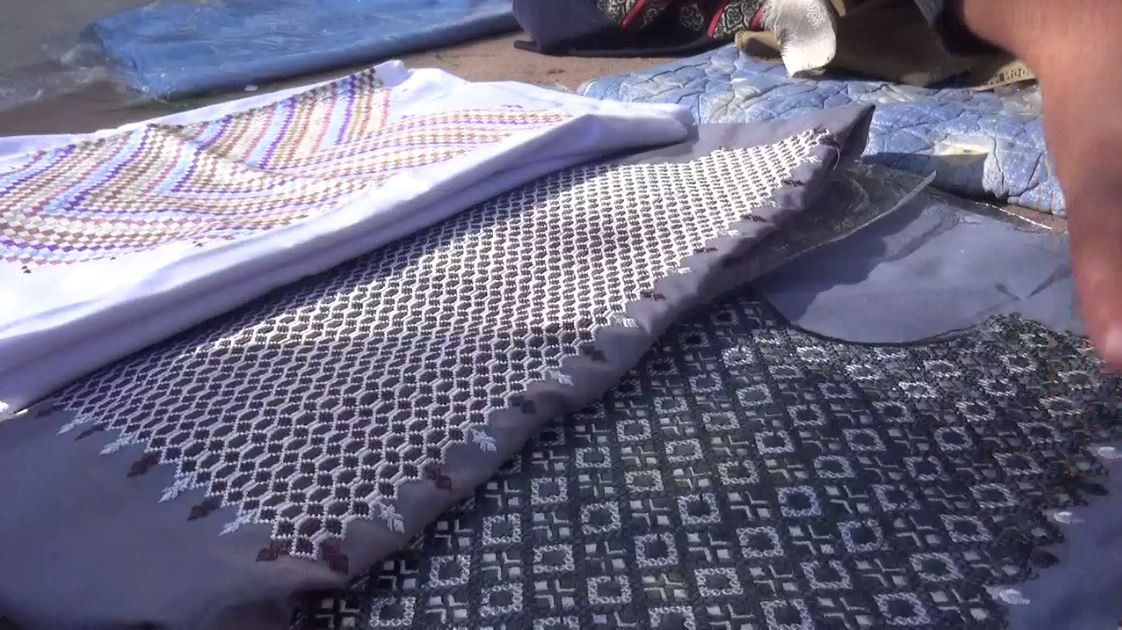 "Our lives are full of suffering and challenges, here people believe that women are either for home, or grave," Razia says. The proverb "Kor ya gor" — home or grave, is common and threaded through the history of Afghan women, depicting either the two places where she belongs.
Razia's family was against allowing girls to go to public school but sending them for religious studies was not an issue.
Conservative Afghan families have traditionally been against girls' receiving an education or going to work and now with the Taliban in power, schools for girls above 6th grade in most Afghan provinces are yet to open and women are not allowed to work in the public sector.
"My goal is to educate my children, allow them to go to school so they can brighten our family's future."
But despite all of the sad news, one thing that is true across Afghanistan is the hospitality towards guests, which makes one feel at ease.
After finishing their study time, being signalled by their aunt, the children bring me tea. Green tea is poured from a teapot for all of us and we drink it with little pieces of candy while the women return to inching through the pieces of cloth one thread at a time.
Razia learned this type of embroidery from her mother.
"Learning embroidery is very important for women here, it's considered shameful for women not to know embroidery and is considered a primary skill that women must possess. I was 10 when I learned embroidery from my mom. Embroidery can be very exciting at first but it's very monotonous and boring after a while," Razia says while busy working on the piece.
She takes her small phone out and looks at the time, with that, I look at mine and see that it's noon.
I excuse myself to go out to eat and pray, before I return to her house at around 2:30 pm.
This time Razia's husband, Faiz, opens the door. I met Faiz a couple of days ago while making an appointment to profile his wife's work, the famed Kandahari embroidery.
Faiz Mohammad, who has been a school teacher for almost six years now, greets me warmly while inviting me inside. Tea is already ready and we sit down to drink in the sunny yard where Razia has plopped down and is doing her embroidery.
Razia and Faiz agree that not only is embroidery hard work, it is also hard on the eyes of those doing the work.
"Shopkeepers buy it from us for about 6,000 to 7,000 Afghanis ($63 to $73 currently) per piece but sell it from 10,000 to 20,000 ($105 to $210) per piece," Razia says.
According to Razia, the real problem is that a market does not exist in Kandahar where women can sell the products they make on their own.
"It's very painful for us, we bear all the hard work and labor but men are the ones profiting from it."
Razia complains about the Women's Affairs Directorate of the previous government, which, despite many promises, failed to set up a market where women could sell their handicrafts.
"Women's economic situation in Kandahar will never improve if they are not able to sell the handicrafts they make," Razia emphasized.
Faiz adds that although women embroiderers are tired of the hard work, businessmen and shopkeepers are happy because of the fame it has, and the profit margin that comes from the low price they pay for the women's handiwork.
"We see people coming from all over Afghanistan to buy Khamak from Kandahar," Faiz says.
At this moment, the mosques' loudspeakers go off signalling afternoon prayer time, which during the short winter days is around 4 pm.
The sunset's rays have cast a golden hue over the walls of Razia's home.
Although my day profiling Razia and her work might have come to an end, Razia's work will continue. It may take another month for her to finish this piece alone, only to be sold for a small amount of money that may not be sufficient for her family's expenditures as prices for daily goods keep skyrocketing amid an economic collapse enveloping Afghanistan after the fall of the previous Afghan government.