Sugar Factories a Sweet Deal for Rural Villages
Afghan sugar producer employee 10 at his factory in Afghanistan's eastern Nangarhar province. Factory owner Amrullah Kamawal started the business some three years ago using his own funds to purchase the machinery and equipment needed.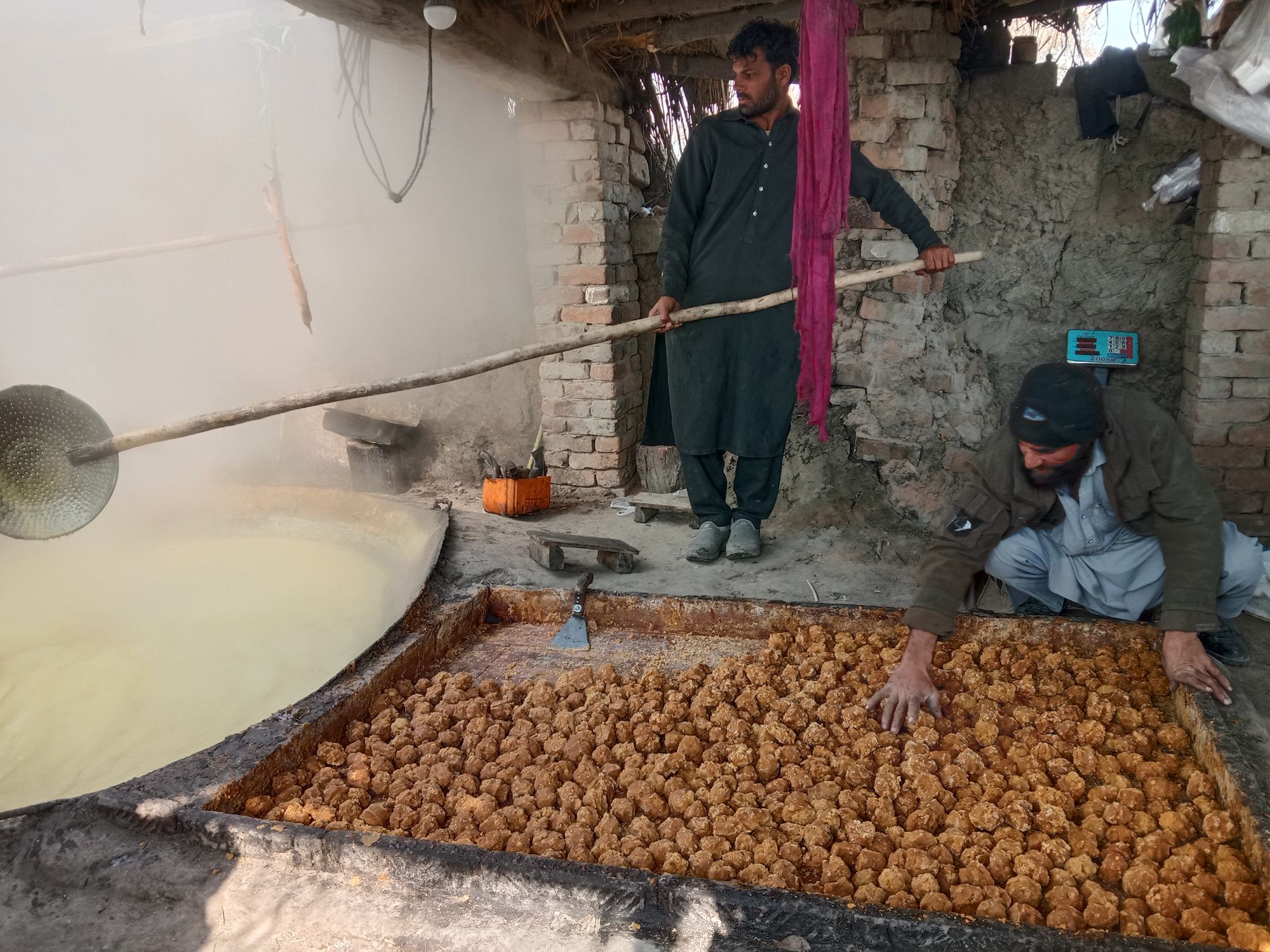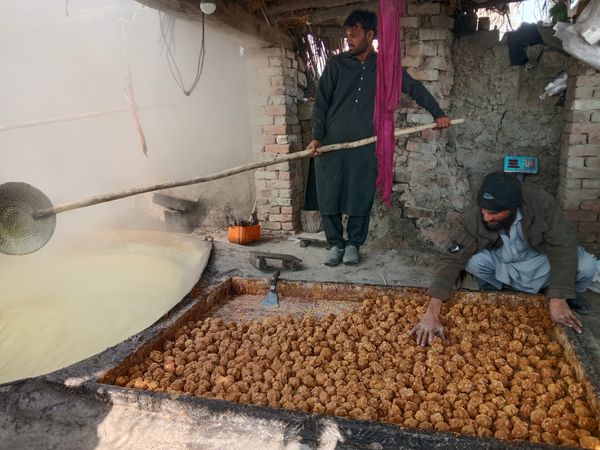 — One Day in Afghanistan —
Written by Ajmal Pardes, edited by Mohammad J. Alizada, and Brian J. Conley
KAMA - It's 7 am in the morning and I'm headed towards the Kama district of Afghanistan's eastern Nangarhar province to profile the owner of a factory that processes brown sugar. I get to the Qala-e Akhund village of Kama district after an hour on the road from Jalalabad, the capital of Nangarhar.
I call Amrullah Kamawal, the man I am supposed to meet, he guides me through the village on the phone and meets me in front of the village mosque. From there we head to his home, about 20 minutes of walking from the mosque.
In the traditional Afghan fashion, I am greeted with breakfast as soon as we get to his home. It's quite a spread for breakfast, including both black and green tea, heavy cream and freshly baked Afghan flatbread.
"You are our special guest," Amrullah told me. While we eat, Mr. Kamawal talks a little about his life.
"I am 40 years-old, when I was 22 I married  a woman my parents chose and I have a happy life now," Amruallh said.
Mr. Kamawal has 8 children, 7 of whom are boys and 1 is a girl. His oldest son, 17 year-old Fazlullah is a mechanic while his daughter and other children go to a school in the village.
"Fazlullah only went to school until 4th grade," Mr. Amrullah tells Alive in Afghanistan. His biggest dream for his children is that they finish school, go to a medical university and become doctors, "So they can serve their country and people that way."
Amrullah wants his daughter to go to school as well because he believes it is important for men and women to be educated and serve their country, "As well as compete on the same level with other countries."
Mr. Kamawal and I head out of his home and into a neighboring facility that serves as the sugar processing factory he owns.
The factory is really just a wide room surrounded by farmlands, including sugarcane farms. In the front, the canes are pressed for their juice, after which the juice is processed into cane sugar, or brown sugar. In the back of the factory there is a firepit with a square-meter wide cavity, canes already processed are brought here to be burnt in the fire that will make the sugar, reducing waste. One worker here keeps feeding the fire.
"I used to drive a three-wheeler around for transporting goods, but after some thought, I realized that I need to start my own business. I purchased the machinery to process cane into sugar with my personal funds for around 200,000 Afghanis," Amrullah said, adding that it has now been three years he is in the business, which has been a success, making him happy.
Mr. Kamawal was interested in owning a sugar cane processing factory for a while before he was finally able to own one.
"My hope was to have a factory that provided jobs for our people," Amrullah says.
Processing canes into sugar is pretty simple. Canes are purchased  from farmers who grow them in the Kama district, which lies east of where the Kabul and Kunar rivers meet.
The cane is transported to the factory, where a large conventional juicer squeezes the cane sticks so the juice comes out. From there the juice flows through a large plastic pipe into a room with a large square steel tub.
The juice is then cooked in another large round tub for hours while workers use shovels with large handles to keep the sugar from sticking to the pot before it's turned into solid brown sugar, which is transferred to a wooden tub to cool. Then walnuts are added to a section of it, while the other section remains clear. The walnuts are mixed in by the staff, then the sugar is rolled by hand, allowed to dry fully, bagged and sent away to customers.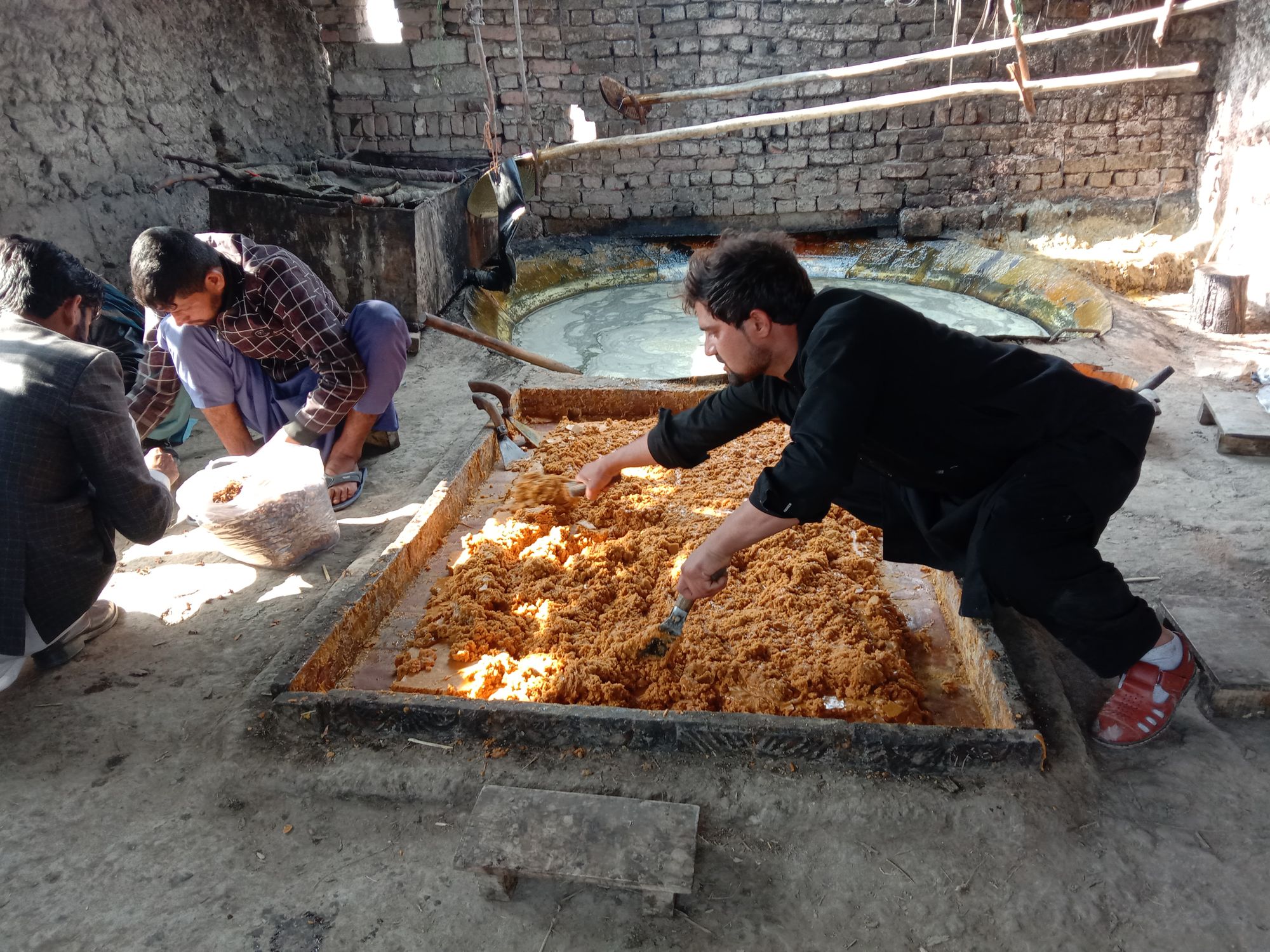 The remnants of the cane are then used as firewood to heat the large steel tub that produces the sugar.
At the moment the factory employs 10 people, paid a salary of 300 Afghanis (approximately $3) each per day. Mr. Kamawal's profits amount to around 2,000 Afghanis (about $22) per day. The factory can make about 560 kilograms of sugar every 24 hours.
The going rate for the product is just over 90 Afghanis per kilo. According to Amrullah, he sells around 500 kilos of sugar per day.
"Lately in Kama ice cream made from sugarcane has gained popularity, at the same time, brown sugar from the district has also gained popularity among customers," Mr. Kamawal says.
According to Amrullah, the popularity of the sugar products produced in Kama is because they add no artificial sweeteners to it, it is made from pure sugarcane.
With the advancement of sugarcane processing technology in Afghanistan, the method of getting cane juice has also transformed. Producers used animals to turn the wheels for squeezing the juice out of sugarcanes but now use generators.
There are 26 brown sugar processing factories in Kama currently, up from 15 last year. People travel to Kama from other provinces just to get real Kama-made brown sugar, as well as spend a day in the district doing picnics by the riverside, cooking, fishing and playing games.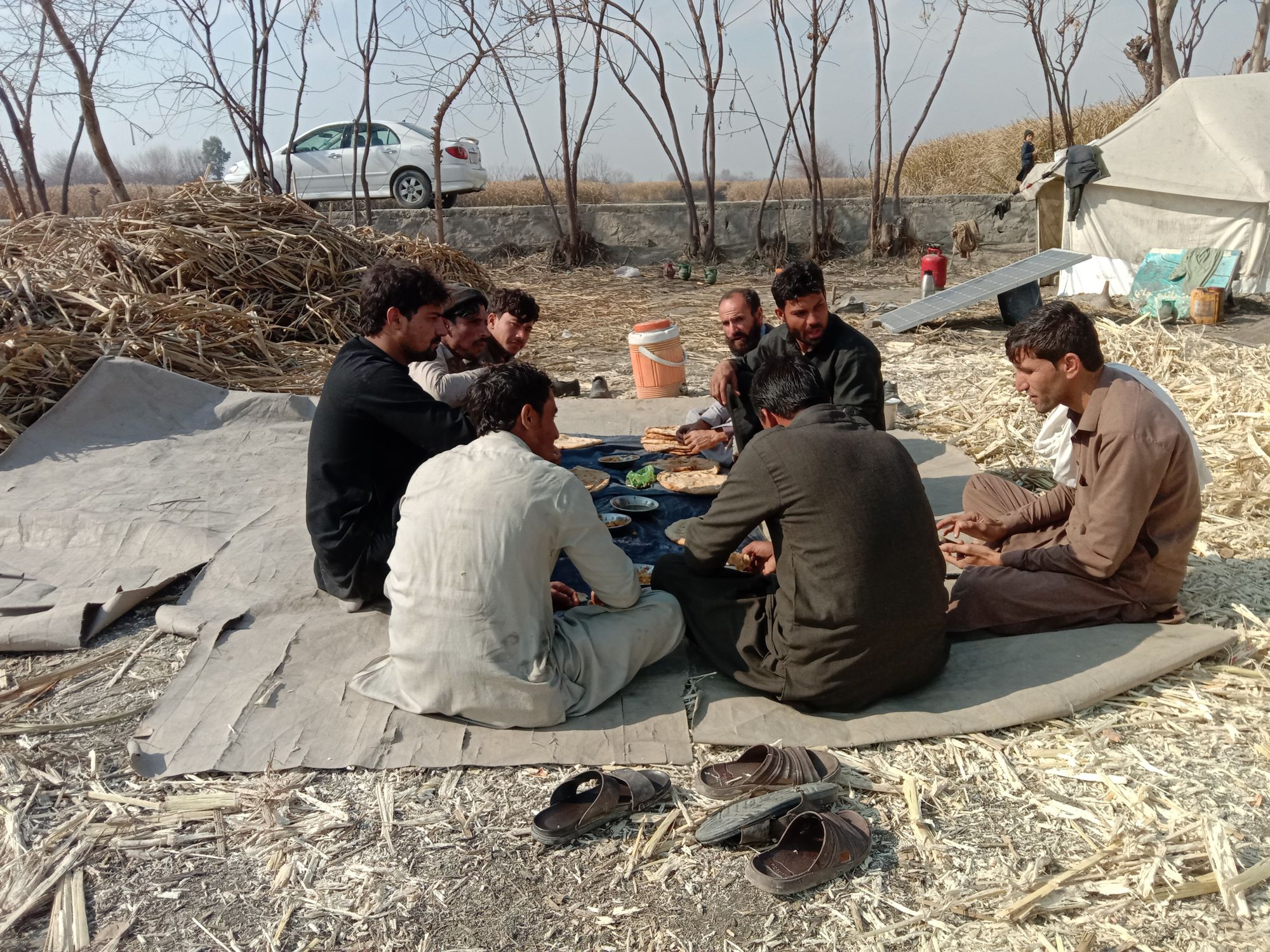 The time now is 2 pm, and lunch is ready. We sit outside on a khaki tarp with a black linen spread out in the middle, sticks and the remnants of sugar cane surround us. During lunch one of Amrullah's customers and friend calls him to order 14 kilos of brown sugar to be sent to Kabul.
The 9 men, including the staff members, Amrullah and I sat around the linen, fresh bread, cornbread, eggs, milk, yogurt, and chicken lined up on the linen were served for lunch, which we chowed down with gusto–everyone was hungry after the hard work of the first half of the day.
Conversation during lunch turns personal, Amrullah says he spends his days off, usually only Fridays, doing different things. Sometimes he goes to weddings his family has been invited to, attending funerals, or going to Jalalabad to buy household necessities not found in Kama.
"I also spend some Fridays here playing Ludo with friends and colleagues," Amrullah says.
Ludo is a strategy board game for two to four players, in which the players race their four tokens from start to finish according to the roll of a single die. Like other cross and circle games, Ludo is derived from the Indian game Pachisi.
Other hobbies during off times or days includes cricket, especially in this region of Afghanistan. Here cricket is the dominating game preferred by everyone, including Amrullah, and the staff.
"My favorite players are Rashid Khan and Mohammad Nabi," Amrullah says. He likes to watch cricket with his brother.
Mohammad Nabi and Rashid Khan are members of Afghanistan's national cricket team, they have also played in several Indian and Australian leagues.
After eating all of us prepared for prayer and prayed on the tarp. Following prayers, Amrullah spoke about the perils of the job following the Taliban takeover in mid-August of last year.
One of the changes that came after the Taliban takeover has been that the prices for raw material have increased, while on the flip side, the price customers pay for Amrullah's products has decreased, and he is not making as much profit as he used to. The factory also does not have the quantity of sales that it did prior to the collapse of Afghanistan's western-backed government.
These changes have left Mr. Kamawal concerned about Afghanistan's economic situation and hoping that this issue is resolved quickly.
Despite all this, Amrullah and staff members are hopeful that Afghanistan's situation will change. 20 year-old Kamran, one of Amrullah's staff members hopes to have his own processing factory as well some day, if he can collect the funds necessary to do so.
Before the collapse Amrullah's factory would sell whatever they made, but they sell just below 500 kilos per day now. Business plummeted during the initial weeks of collapse and Taliban takeover, but has been on an upward trajectory lately.