Afghan Sells Family's Clothes to Feed Her Children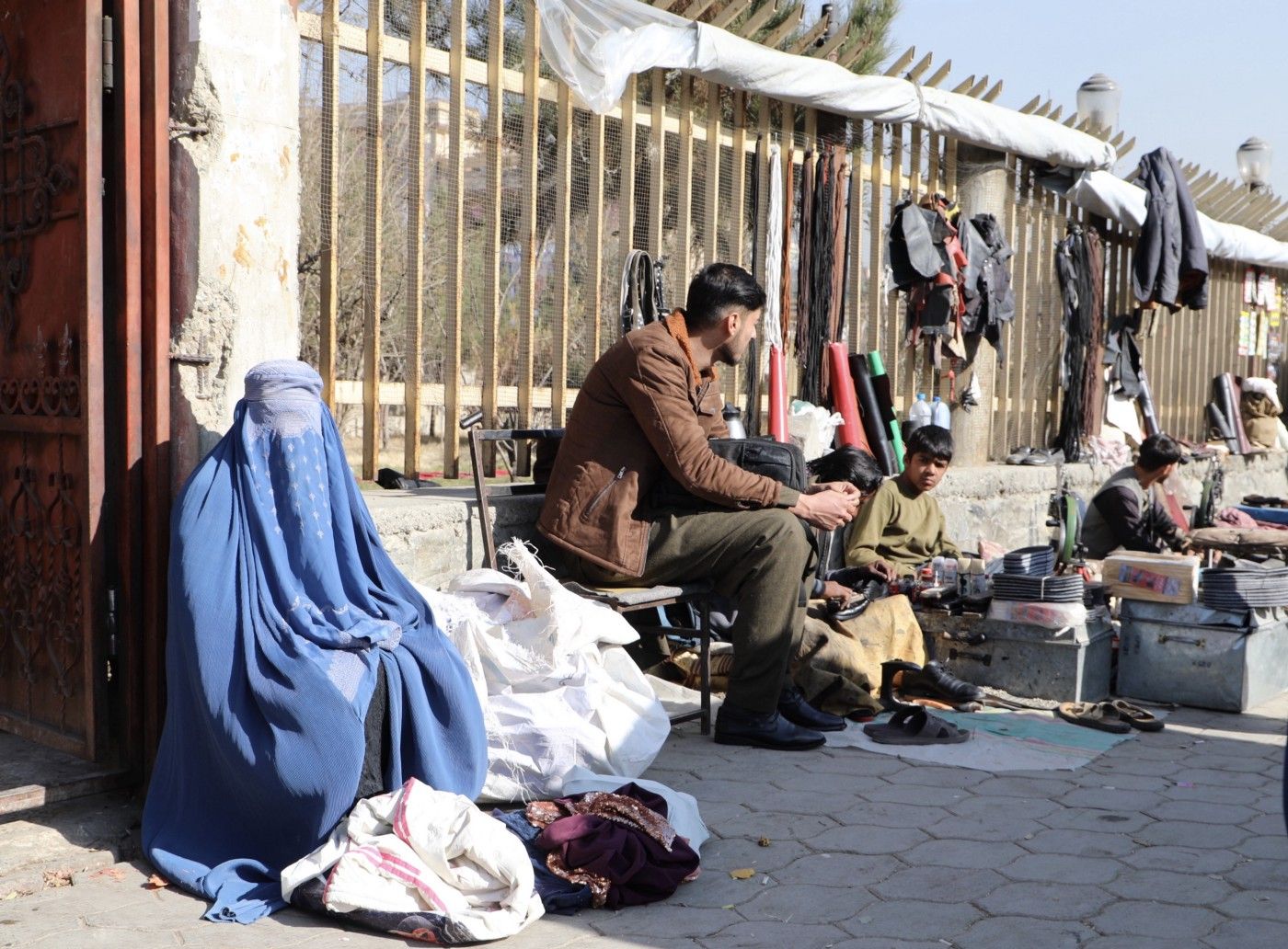 Written by Abdul Ahad Poya, edited by Mohammad J. Alizada and Brian J. Conley
The red polka-dot dress is hers, the white suit is her husband's and the white track suit with black lines belongs to one of her sons. She has laid out her belongings on a walkway in one of Kabul's busiest markets as she waits patiently for customers. The woman is covered in a burqa because she doesn't want her relatives to see her selling her belongings.
Her name is Nargis Sultani and she is 54 years old. She says, "We have been combating poverty for the past two months and it's been two weeks since we have barely had anything to eat."
Ms. Sultani's landlord has told her family that they must vacate their house soon if they are unable to pay rent.
Nargis's husband, Zia Sultani, used to be a construction worker who quit his job a couple of months before Afghanistan's collapse because he could no longer work due to old age and health issues. Zia has chronic back pain which makes it difficult for him to walk and to manage the back-breaking work of construction.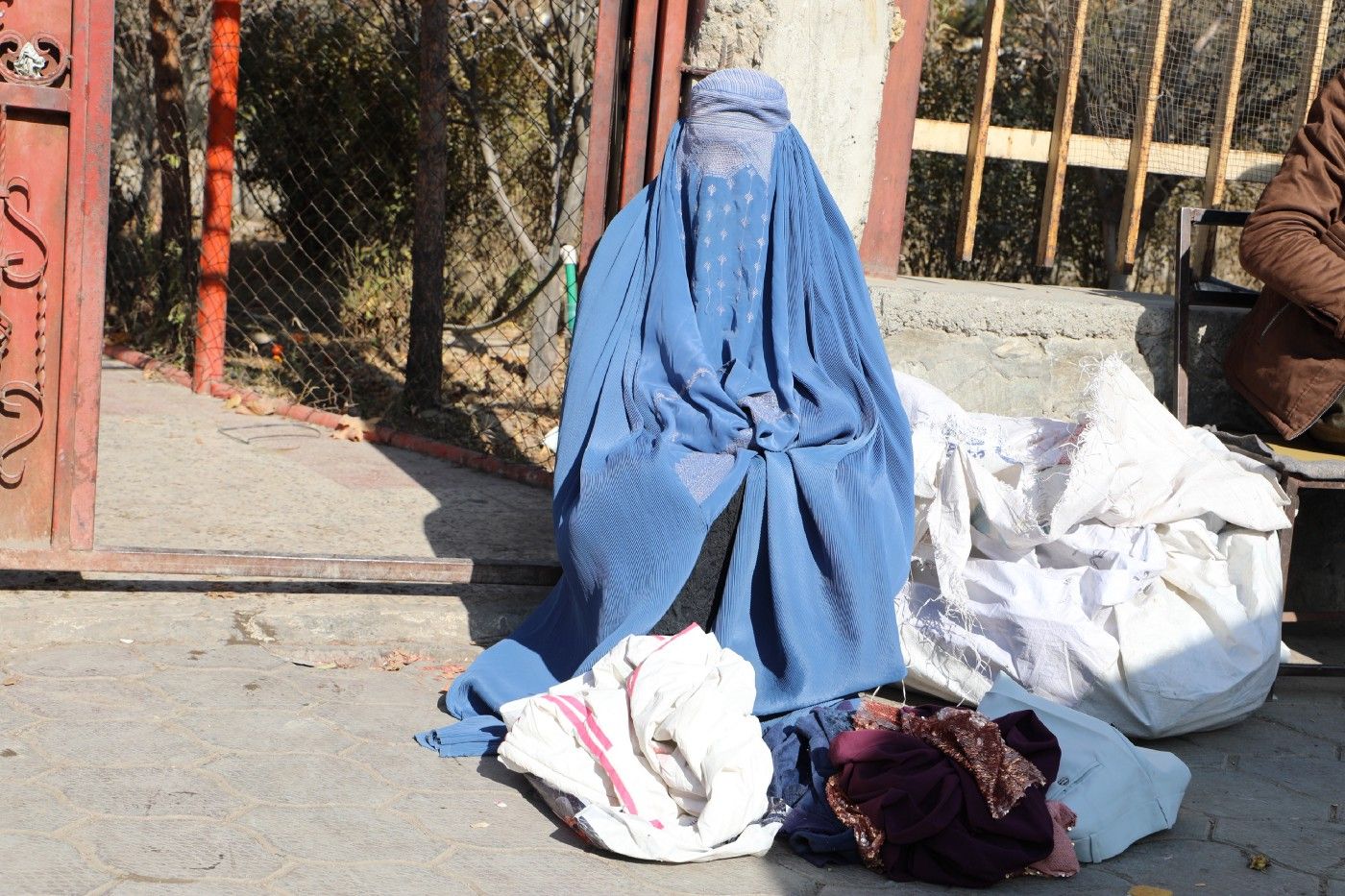 The couple has eight children. The oldest is just nine years old. The oldest girl, Nazanin, sells plastic bags in the market but doesn't earn enough for the family. According to Nargis, Nazanin earns between 30 to 80 Afghanis ($0.23 to $0.61) per day, an income that is not permanent and can go away during the winter months.
"The uncertain future and the arrival of winter has put us in a terrible situation, I have no choice but to sell the clothes my family and I were wearing to have enough to eat," Nargis tells Alive in Afghanistan.
Poverty and unemployment have skyrocketed since the Taliban seized power following the collapse of Afghanistan's internationally recognized government in mid-August. Following the takeover, the United States froze Afghanistan's assets, and the small amount of funds trickling in is not nearly enough to cover the needs of millions of Afghans, many of whom are battling hunger.
22.8 million people — half of the population — face acute food insecurity starting in November, including 8.7 million at risk of famine-like conditions, a recent survey by World Food Programme (WFP) shows.
The value of Afghanistan's currency has seen a significant drop from 75 against the dollar just before the collapse of the previous government in mid-August to 130 against the dollar as of Tuesday, almost half the previous value.
This is while the price of daily goods and transportation are on the rise. The cost of a piece of flatbread has risen from 10 Afghanis to 15 in capital Kabul and western Herat provinces while it has doubled in central Daikundi.
Although a number of Nargis' relatives and neighbors are helping her family, it's not nearly enough for a family of 10, forcing her to sell her belongings. Ms. Sultani has also started cooking bread for her neighbors after her husband stopped working but following the Taliban takeover and the economic collapse, the number of customers has fallen, forcing her to shut down the small business.
It's now 1:30 pm and Ms. Sultani has been here since this morning but has only sold four articles of her kids clothing for a total of 40 Afghanis ($0.30), an amount that won't even pay for the bread she needs to buy for her kids.
"Yesterday a man asked me about my situation and gave me 500 Afghanis ($3.84)," Nargis said. But it's not every day people are generous and Ms. Sultani returns home empty-handed, while her hungry children await.