Afghan Glassblower Keeps Art From Dying
Ghulam Sakhi has been a glassblower in western Afghanistan's Herat province for 40 years, but this craft has been a part of his family for generations. Sakhi now harbors the fear that the artform will perish with him; his final wish, after his passing, is for the art to survive.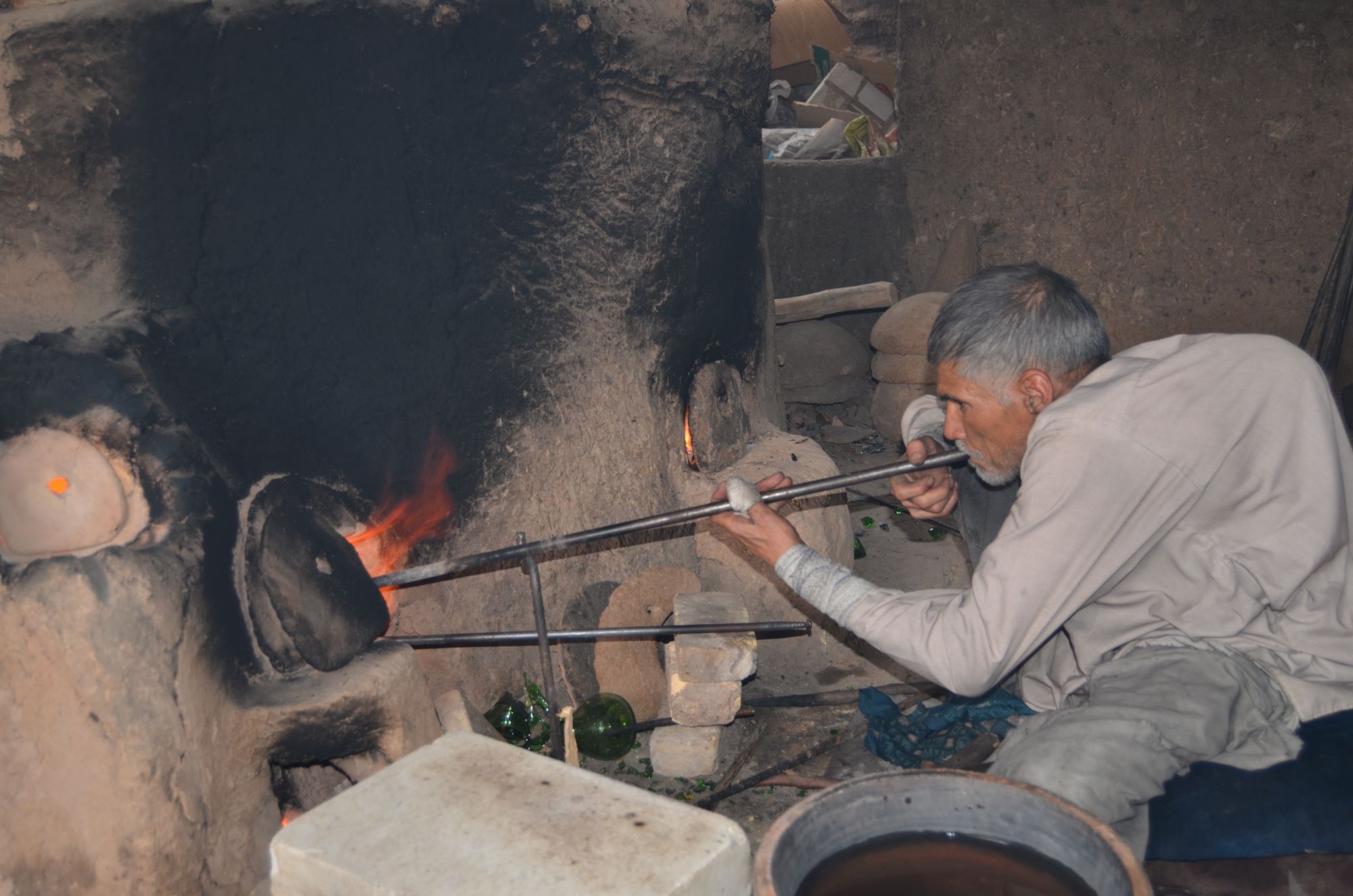 Written by: Abdul Karim Azim
HERAT CITY, HERAT — In today's episode of "One Day in Afghanistan," Abdul Karim Azim documents a day in the life of Khalifa Ghulam Sakhi, a glassblower who is preserving the artform in Herat City, the capital of western Afghanistan's Herat province. In Afghanistan, the term "Khalifa" is used to refer to individuals who are masters of their craft.
Around 8:30 in the morning, I take a taxi to Herat's old city, which encompasses the city's famous ancient Citadel "Qala-e Ikhtiyar ud-Din," built in 1305 AD. Despite the Taliban's ban on music in public spaces, the famous Afghan singer Ahmad Zahir's "If Spring Comes, I Will Sing" plays on the radio. We navigate the bustling city streets until we reach "Arg Street," where the historic castle dominates the view.
The mud buildings that house the glassblowing workshop are located on the south side of the castle. Most of the interior of the shop is blackened by smoke from the wood-fired annealer. A stack of wood is situated beside the large traditional brick oven. Fire and smoke emanate from the small, 5 to 6-inch round holes as Ghulam Sakhi sits beside it.
Ghulam Sakhi believes he is between 50 to 53 years old; he does not know his exact age. He is the head of a family of eight. Sakhi wears a brown shalwar kameez, has gray hair, and a hunched back. Music plays on a speaker in the background. The man, who has been working as a glassblower for the past four decades, dedicates his time to preserving the artform from extinction.
Blue and green glass items are showcased throughout the workshop, drawing the attention of those interested in the valuable artifacts of the western Afghan province. Ghulam Sakhi is one of the few remaining glassblowers who can endure temperatures exceeding 50 degrees Celsius in the summer. Glassblowing has been a tradition in Ghulam Sakhi's family for generations, with his two sons also serving as apprentices.
Ghulam Sakhi's workshop, which is part of Qala-e Ikhtiyar ud-Din and government property, is provided rent-free by the Information and Culture Department. Prior to the Taliban's takeover, he used to work in Herat Arg Square and paid a monthly rent of 3,500 Afghanis ($44.63).
As Sakhi continues to work, he says, "The heat in the annealer is so intense that only my apprentices and I can endure it. The outside temperature in the summer exceeds 50 degrees Celsius, and the temperature inside the annealer reaches 1250 degrees Celsius. This extreme heat melts the glass; if we place steel inside the furnace, it melts instantly."
Currently, Ghulam Sakhi's glass making furnace operates twice a month and produces various glassware in blue and green colors. In the previous regime, it used to run every other day with a higher production volume.
"We had good production in the republic era. At least five people worked here. People would visit us to buy and order a variety of products. Foreigners would come and buy from us. Residents and other store owners would visit both to see the workshop and order products, but the situation is completely different now. We only turn the annealer on two to three times a month because there are no sales, nor are any foreigners visiting us anymore," Ghulam Sakhi tells Alive in Afghanistan. The republic era Sakhi refers to is the previous Western-backed Afghan government that collapsed in August of 2021.
According to Ghulam Sakhi, between 3 to 5 foreign citizens, a majority of whom were from Australia and France, would visit the workshop every month, purchasing a significant portion of the produced goods.
It's 10:00 AM, and Ghulam Sakhi is placing an iron rod into the molten glass pot inside the annealer. He rotates and shapes it meticulously with hand tools. He says, "This art requires specific skills that take a long time working under a master like Khalifa to learn. You need to understand how to regulate the furnace temperature, how to place the wood and glass inside the annealer, and how to heat it properly.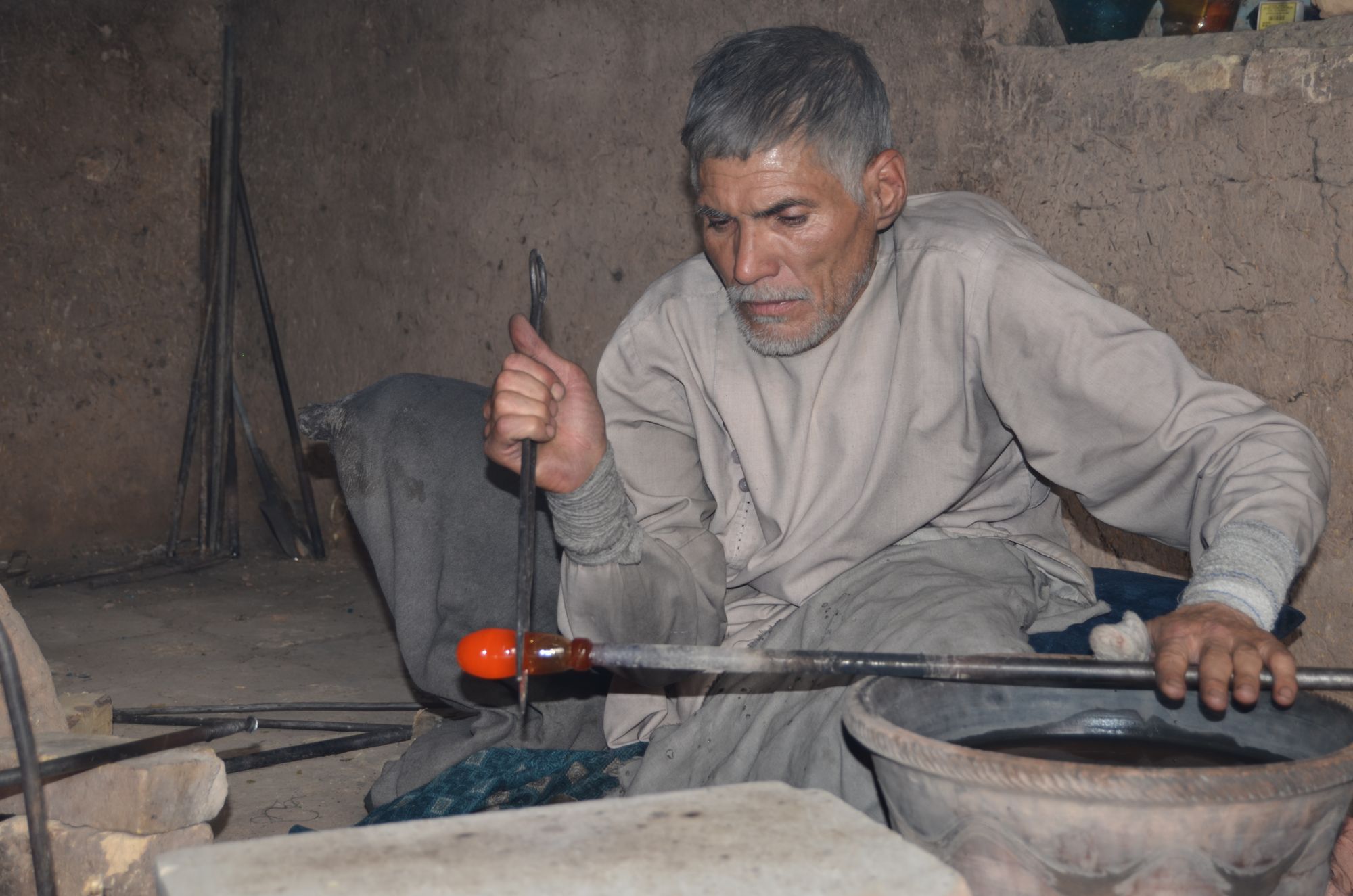 When the old glass inside the annealer turns into liquid, you need the skill to pull it out and shape it. If you overheat the melted glass, it will burn, leaving no trace of it. Additionally, when it comes to coloring the finished products, it requires attention and a special skill."
Today, he plans to make 50 flower pots for an antique seller who had placed an order earlier in the week. Additionally, he will make five more vases for another customer. The price for each vase he produces is 70 Afghanis ($0.88).
According to Sakhi, he doesn't fire up the annealer until he receives orders because the fuel consumption is high, and he can't afford it. The raw materials he uses are discarded glass and glass waste, which are readily available in Herat at a negligible cost. Only when it comes to coloring materials (copper and iron powder) does he sometimes face difficulties because he has to request these materials from neighboring Iran and Pakistan, which can take one to two months to arrive.
"We collect unused glass and glass bottles from shops. Gathering discarded glass doesn't cost much; we pay for the rickshaw rental and buy the collected bottles at a low price. Once we put the glass in the annealer, we increase the heat until it melts, then we add copper and iron powder to change its color," Ghulam Sakhi says.
As one of the only traditional glassblowers in Herat, he says, "This profession has been passed down to me from my ancestors. Most of the glass industry workers in Herat are my relatives; some have passed away, and others have switched professions due to the industry's stagnation. However, due to my deep interest in this art, I've decided to continue it until my last breath and prevent its name from being permanently removed from the list of the country's industries."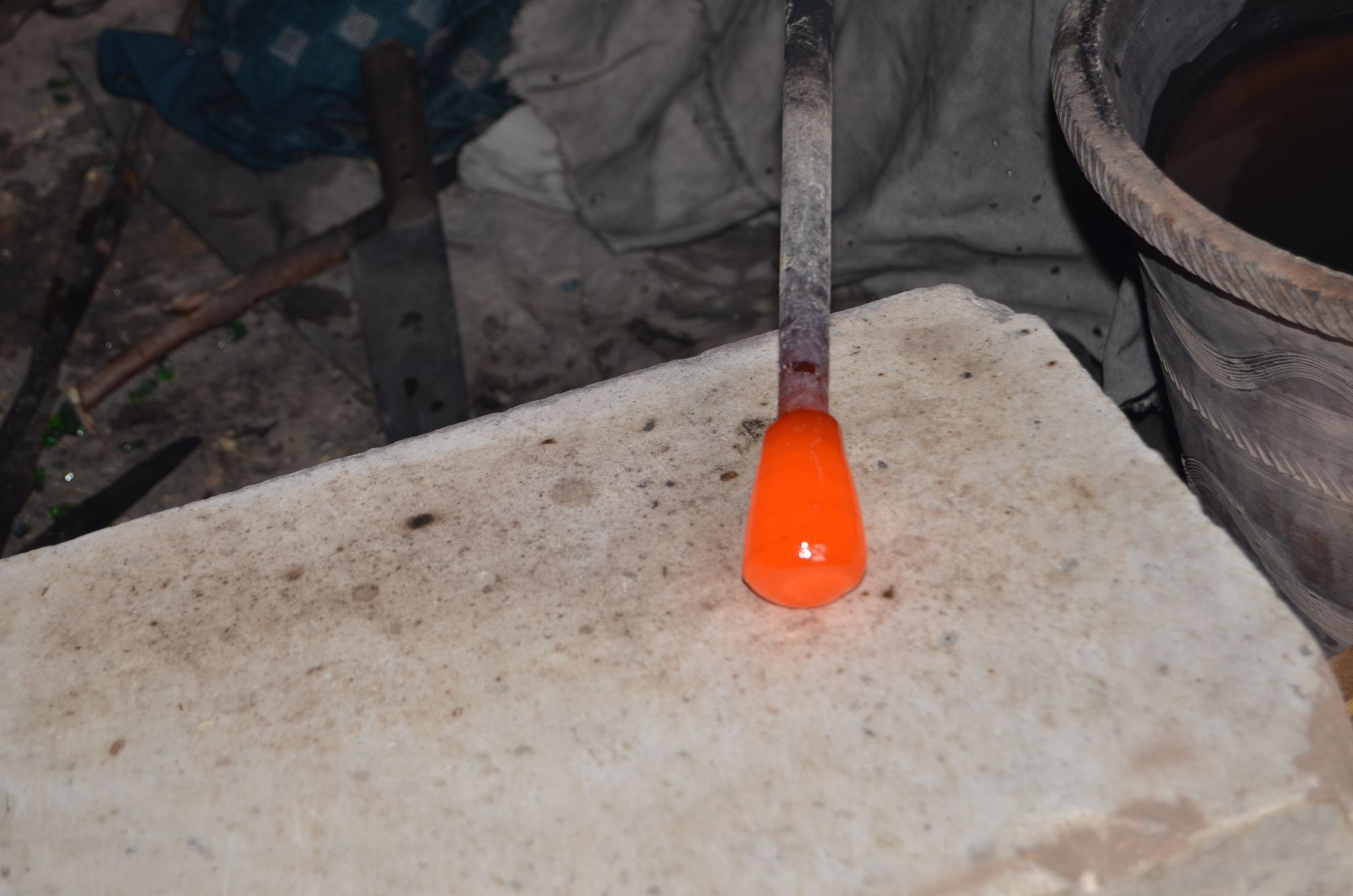 "I started working under my father when I was five years old, and I've been working as a master in this profession for 30 years. I've trained many apprentices, but unfortunately, some of them migrated to Iran due to unfavorable circumstances, and now five of my apprentices are working in Iran. Three of them are working in Iranian glass factories, and luckily, they are doing well. Most of the time, they contact me and say, 'Master, come to Iran; they need masters like you.' But I tell them, 'No, I'll stay in my homeland, even if I'm hungry. Perhaps one day, things will turn out well here as well," Ghulam Sakhi adds.
The man holding the dying torch for the artform laments Afghan governments, both past and present, for making empty promises of support that never materialized. He says, "They promised us a lot but didn't support us in developing this industry, training apprentices, or exporting our products abroad, which would have boosted our sales. On the other hand, there are times when we work hard to produce items only to sell them at half price because we have to make ends meet."
According to Khalifa Ghulam Sakhi, the decline in glassmaking and the market collapse began with the COVID-19 pandemic, resulting in reduced exports to foreign countries and discouraging foreigners from visiting Afghanistan.
Ghulam Sakhi says, "I have a variety of skills in this art. I produce various glassware such as glasses, water jugs, plates, pots, flower vases, cigarette holders, pen holders, and sugar bowls, and I decorate them with miniature designs."
He calls on foreign organizations and supporters of this industry to collaborate to ensure the survival of this art.
My phone shows 1:00 in the afternoon, and it's time for lunch. I want to go to one of the restaurants for a meal, but Mr. Sakhi doesn't allow it.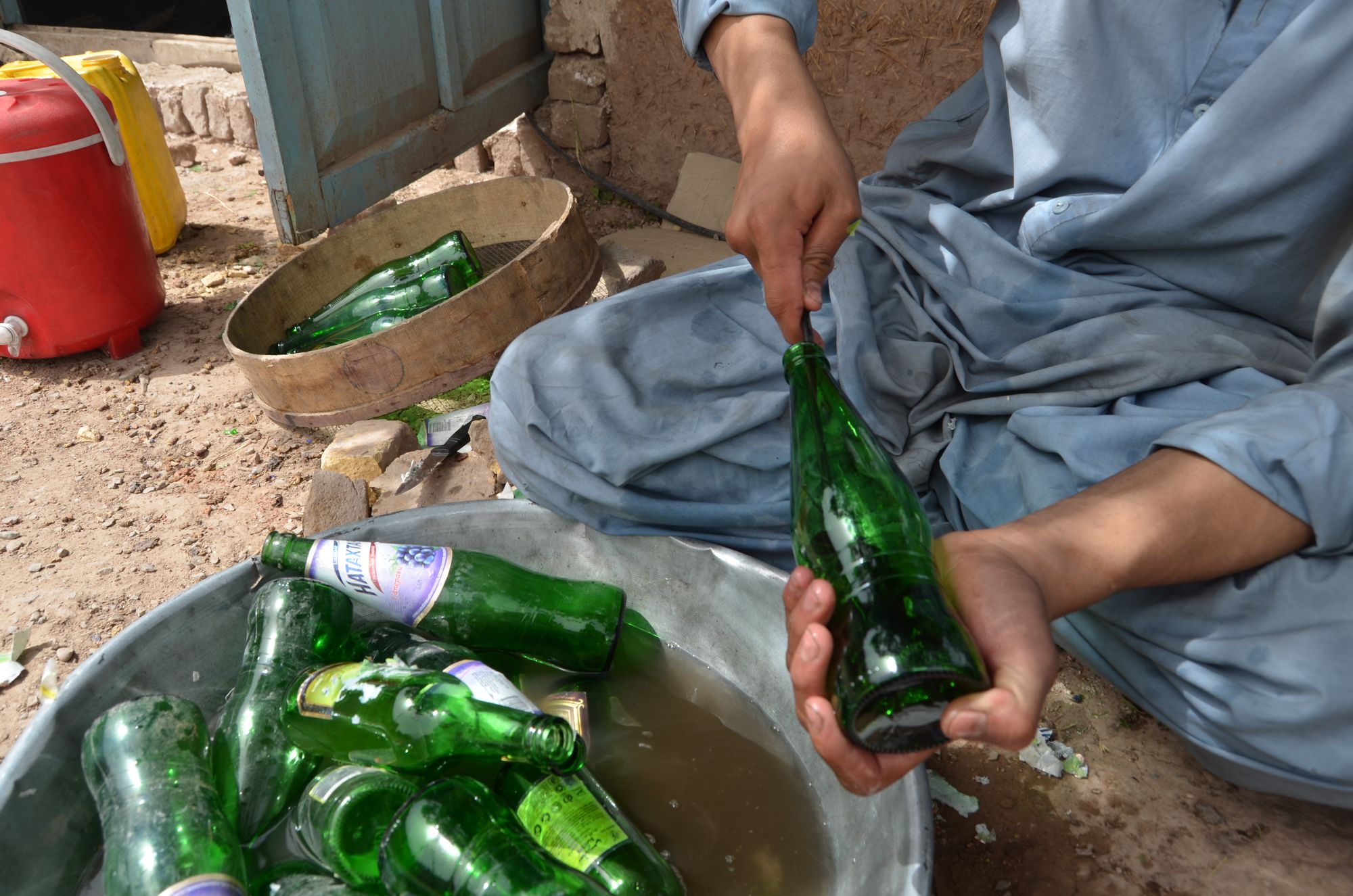 One of his sons places the soup pot he brought from home on the gas stove to reheat it, and we share the "Shorba" for lunch. Shorba is a traditional meat soup where you fill a single-sized serving bowl with bread and pour the Shorba over it.
It's 2:30 in the afternoon. The skilled and well-known glassblower continues his work while expressing his concern about the unfavorable state of the glassmaking art, saying, "Above all, my wish is for this art not to die. My only wish after my death is for this art to survive."
While Sakhi continues working, one of his sons sits outside removing the adhesive wrap from glass bottles with his hand and a knife and putting the clean ones in a metal bowl.
"It's been almost forty years, and I'm waiting for the situation to improve. I tell myself that God is great, and perhaps the country's situation will improve one day, and the economic condition of the people will get better, which will at least have some positive impact on our work. But it's all been in vain," Sakhi continues.
In the past, in addition to Iran, Ghulam Sakhi has traveled to the European Union, where he received appreciation from enthusiasts of the craft.
"I traveled to several European countries, including Italy, Germany, and France. During President Karzai's government, many foreigners came to Afghanistan. Some French people came to see my workshop and purchased the products. These visits led me to visit France through connections and take some of my works there, for which I have received letters of appreciation from France. I was also invited to Iran twice, where there are historical makers, and they receive government support," Ghulam Sakhi says.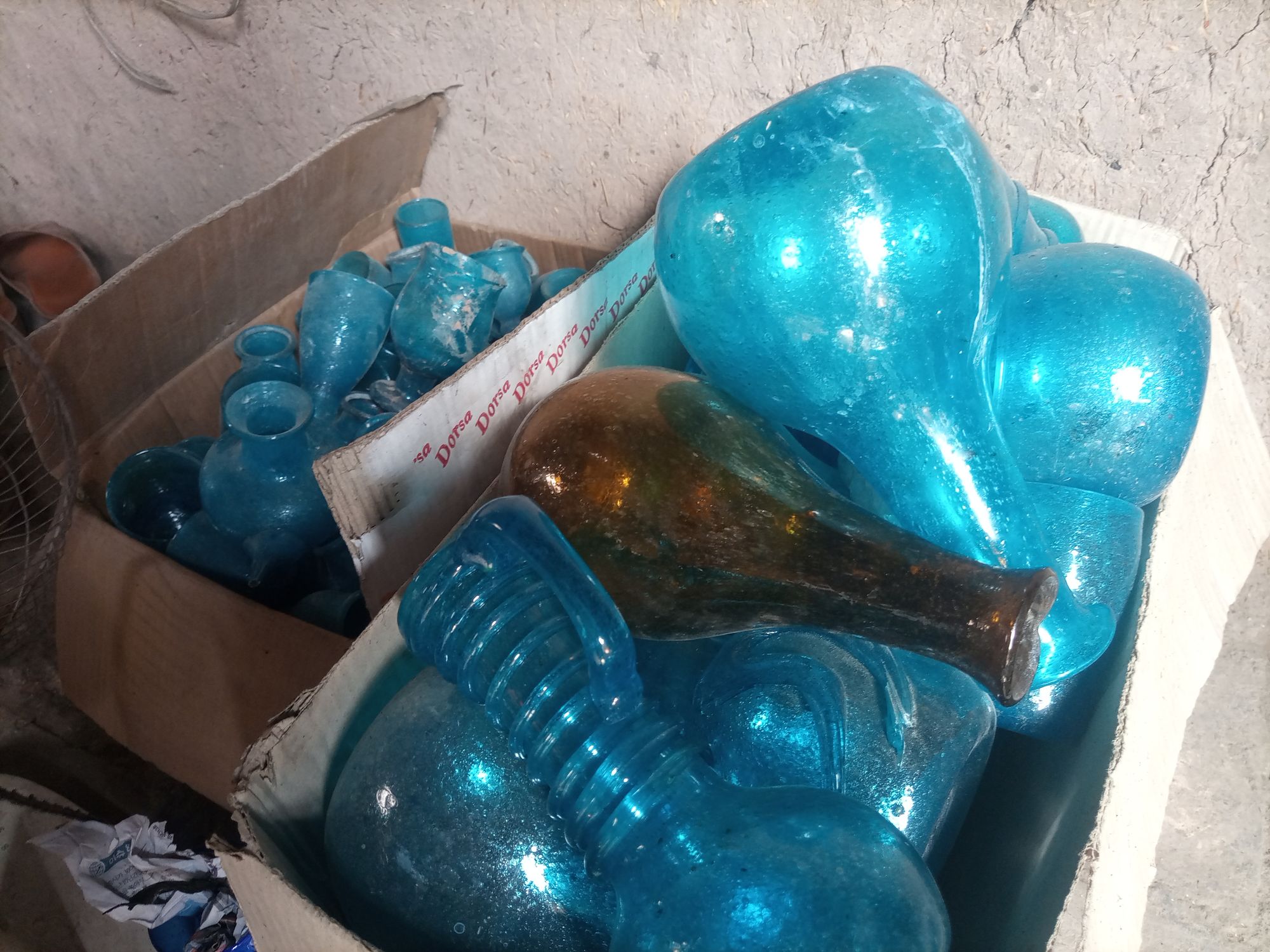 The encouragement and support for his work make him very happy. He says, "One day, a foreigner came and praised my work and products. He told his translator that Afghans are truly hardworking and talented. I was very happy that day, and it remains a memory for me."
Ghulam Sakhi currently earns about 10,000 to 12,000 Afghanis per month ($127 to $152), whereas before the Taliban took over, this amount reached 30,000 to 40,000 Afghanis per month ($382 to $509). He attributes the reduction in his income to the absence of foreign tourists visiting Afghanistan, who were previously his best customers, even though their numbers varied from month to month. Currently, most of his customers are from Herat, mainly ordering flower vases.
He had to let go of the last of his non-family staff about two months ago. His two sons drive tuk-tuks when the shop is closed.
At 3 PM, Sakhi finally finishes producing the order of 55 flower vases. According to him, the last glassblower, except for himself, stopped operations just recently. He says there are no glassblowers in other provinces as far as he knows, and the artform is facing extinction.