Adhamiya Residents Describe Katyusha Attack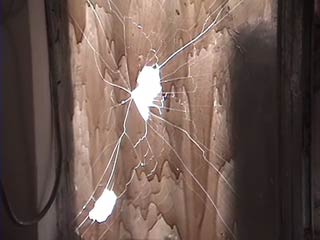 Produced by Isam Rasheed
BAGHDAD–The Coalition forces have recently named the Adhamiya district as one of four major hotspots in Baghdad, which they will be attempting to calm with an injection of forces. Unfortunately Adhamiya is not just a source of violence in Baghdad, but exists within the complex nature of the conflict in Baghdad, and must be viewed in this fashion.
In our tenth "episode" Isam Rasheed takes us to the home of a family who's house was struck by a Katyusha rocket last month-the video was shot shortly after the attack. Katyushas are the same rockets that have gained infamy in the hands of Hezbollah, and are a known piece of the Mahdi Army's arsenal.
Given this fact, it is difficult to understand why Shi'a militias appear to be such a low priority in the newest operation to "retake Baghdad."
archival reference: https://web.archive.org/web/20130121033712/http://aliveinbaghdad.org/2006/08/17/node249/
Editor's Note: The concept for Alive-in/ began in 2005 with the launch of Alive in Baghdad. Many of the stories produced by our team of Iraqi reporters were taken offline with the closure of blip.tv.

In remembrance of the 20th anniversary of the United States war against Iraq, we are republishing as much of Alive in Baghdad's original content as possible here on Alive-in/. Each story has been given its original date so that these posts don't overwhelm our current stories, and tagged as relevant.