A Symbol of Resistance, Pakhols Stay in the Afghan Market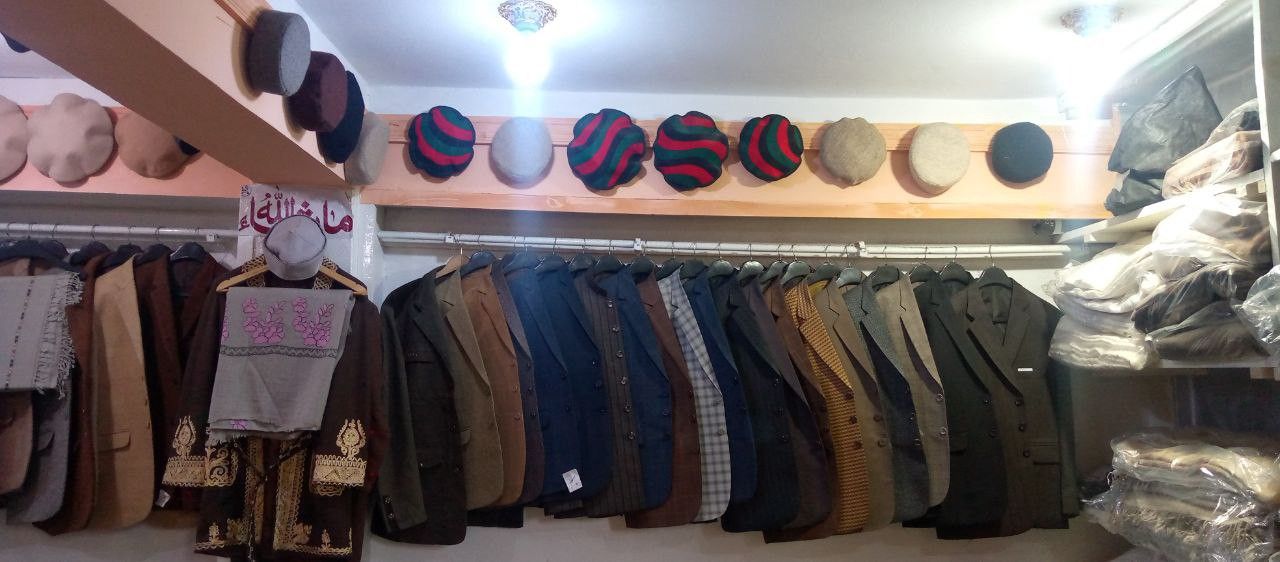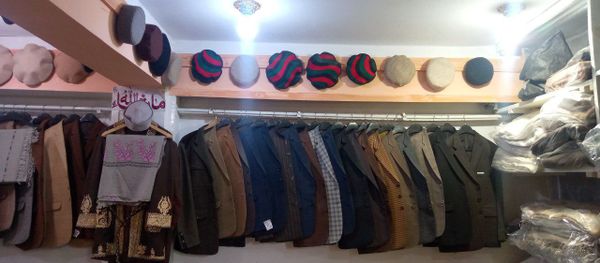 — One Day in Afghanistan —
Reporting by Khalid Khadim, written by Abdul Ahad Poya and M. Jawad Alizada, edited by Brian J. Conley
ASADABAD — In a blue-tiled room jammed with sewing machines and pictures of natural spaces the eyes of several men dart between the TV and work as the cricket match between Adelaide Strikers and Sydney Thunder playing in the Australian Big Bash League continues. The excited fans can't keep control of their glee every time their favorite player, Rashid Khan, comes up to bowl.
But the fans are not sipping drinks at a sports bar in Australia, they are tailors working at a store in Afghanistan's eastern province of Kunar, some 250 kilometers east of capital Kabul. The tailors are watching the cricket match with such enthusiasm that one feels like they are in the stadium.
Rashid Khan is a famous leg spinner from Afghanistan playing for Adelaide Strikers in the Big Bash League and is a member of the Afghan National Cricket Team.
"I only watch when he comes on, otherwise I have to concentrate on work," says Zalmay, as he works on a brown pakhol, his sewing machine adorned with an Afghan flag He adds that Rashid Khan is one of the reasons Afghanistan is known across the world.
Pakhols are similar to berets and are worn in different parts of Afghanistan. It is said that pakhols are a symbol of resistance in the war-torn country as fighters of the Northern Alliance, including their late leader Ahmad Shah Masood used to always wear one.
In this episode of One Day in Afghanistan, we meet Haji Dawood, the most famous pakhol merchant in Asadabad, as well as document how pakhols are made. Haji Dawood is a cheerful 44 year-old man who runs the tailoring shop together with two of his sons, 24 year-old Mohammad Arif and 20 year-old Mohammad Akram.
Dawood started this business 26 years ago starting from a small store. His workshop and store now occupies the entire basement and part of the third floor of the market. Dawood employs 20 men including his sons Arif and Akram. Before the collapse of Afghanistan's previous government his employees made between 500 to 600 Afghanis ($6.66 to $8) per day. Following the Taliban's takeover of Afghanistan, they could only make between 150 to 200 Afghanis ($1.42 to $1.90) The reduction in their salaries resulted in some staff leaving the job. Fortunately the amount they make now is on an upward trend as the market bounces back.
The Taliban took over Afghanistan after the previous, western-backed government fell in mid-August of last year. According to Haji Dawood, business decreased after the fall but is now somewhat back to normal.
Since the collapse, the value of the Afghani has dropped significantly against the dollar. As of Wednesday this week, 105 Afghanis were exchanged against the dollar, the lowest since the American intervention. Just before the collapse, the Afghani was exchanged 75 against the dollar.
Haji Dawood's store doesn't only produce and sell pakhols, they also make vests, coats, and Afghan shalwar kameez.
The time is now 9:18. One of Haji Dawood's employees brings us tea with two glasses as we sit down to talk about his life and work. Haji Dawood is the head of a family of 13, including 11 sons and daughters and his favorite child is 8 year-old Mustafa.
"He is the baby of the family, so he is everyone's favorite. Plus, he is our lucky charm." Haji Dawood says. On weekends the family either tends to their farm, visit relatives or stay home.
Speaking about what he does when not at work, Haji Dawwod says, "I have built a small gym in the corner of my farm and try to stay fit when I am off, Mustafa and my little girls also play cricket with the neighbors' kids."
Dawood was forced to leave Afghanistan for neighboring Pakistan during the Russian occupation of Afghanistan and stayed there for 11 years of the occupation from 1979 until 1989. During his years of exile in Pakistan Haji Dawood became a tailor and learned how to make pakhols.
After the Soviet Union withdrew its forces from the country, Haji Dawood and his family returned to Afghanistan.
"I saw that getting into the pakhol business alongside tailoring might be beneficial so I started doing that," Haji Dawood said. He was already a tailor and knew how to make pakhols so starting the business from a small store was not difficult.
My attention is drawn to the pakhols, coats, vests and the shalwar kameez. The pakhols are lined up neatly on the upper part of the wall, in different colors of white, beige, brown, black and others.
Haji Dawood imports the raw material for pakhols from Chatral of Pakistan and makes different designs by order or according to the market trend. The sewing machines for making the pakhols are on the third floor of the market, which we will head to later.
The time now is 10:25, when Mohammad Shinwari, a resident of neighboring Nangarhar province, who is a long-time, regular customer, enters the store. He looks at the pakhols, chooses one and asks for the price.
"It's 350 Afghanis," Hajid Dawood says.
"I am buying it for my son Haji, I will give you 250," Mr. Shinwari says.
"How about 300 (about $2.80) for the last price?" They shake hands and the pakhol is sold.
Bargaining is usual in Afghanistan, nothing is purchased without bargaining for it first.
Mohammad traveled from Nangarhar, about 2 hours away, just to buy a pakhol from Haji and see Asadabad.
"I travel here because of the good quality, reasonable prices and the fame of Kunari made pakhols," Mohammad says before he bids goodbye to Haji and exits the store.
After his exit, Akram, one of Haji's sons, wants to show me the workshop on the third floor so we start heading there. Two groups of 7 men are busy cutting and sewing the pakhols. The sewing machines are lined up in order with a TV hanging on the wall across them so the staff can watch something on breaks.
It's 11:45 am now. The tailors first cut the pieces of cloth in round and rectangle shapes with the required measurements, then sew them together and pile it up in the closet on top of each other. Then Haji Dawood puts the pakhols in a frame, irons around it, knots the edges of the cloth by turning it clockwise while pulling on the cloth making the bottom edge look like a rope. To make the edges stand the way he wants, Haji Dawood must also sprinkle bits of water to keep the cloth wet while he knots it.
As the process of making pakhols goes on, time is moving quickly and it's now 12:24. We enter another part of the workshop where employees have adorned their sewing machines with small Afghan flags, they are also busy making pakhols.
Seeing this side of Afghanistan, cricket matches or Pashto-dubbed Turkish soap operas playing on TV, Afghan flags showcased on sewing machines, makes one feel like the Taliban don't exist. TV was banned and no flags, other than the Taliban's black and white, were allowed to fly during their first rule of Afghanistan from 1996 to 2001.
Akram enters the workshop and lets us know that lunch is ready. As usual with Afghan hospitality, I cannot say no to my host, so we head down to eat. Lunch is potato curry made by Haji Dawood and served with Afghan bread and yogurt. A little salty, but still tasty.
After lunch we head to the nearby mosque for noon prayers and return to Haji Dawood's shop just after 2 pm. Tea is ready and I am handed a glass, since I really like green tea, I down two in no time while Haji Dawood talks about his kids.
"Arif has a bachelor's degree in computer science and Akram just finished high school while Mustafa is in 4th grade," Haji says. He doesn't mention his daughters as it's against culture and tradition.
"Knowing how to read and write is enough, most people who have university degrees are unemployed right now while their degrees gather dust on a shelf," Akram says. The high school graduate is not interested in pursuing higher education and is more interested in working with his dad.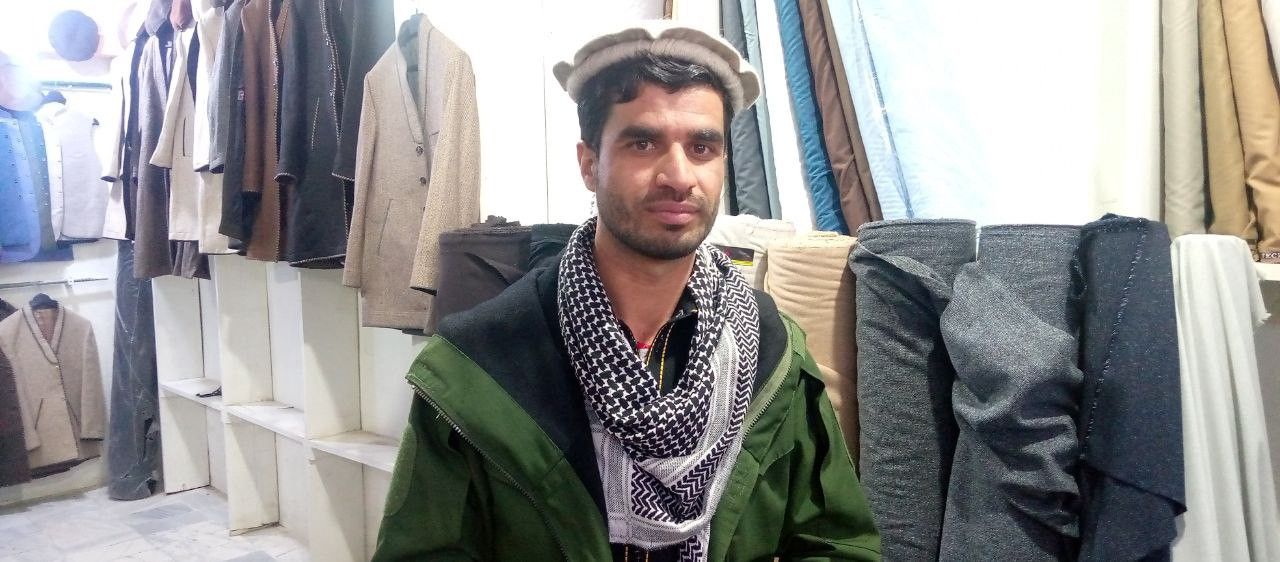 Our conversation returns back to Haji Dawood and why his pakhols have attracted a lot of customers.
"I think the secret is that we pay attention to our customer's interests, we like what we do, and we import quality products," Haji Dawood says. The store makes six types of pakhols ranging in price and quality. Customers who order pakhols can choose the cloth it's made of.
"Mashreqi residents wear a different type of pakhol, residents of Khost and Paktia wear another type, while residents of the northern region wear another kind," Haji Dawood says about the different types of pakhols they make.
"Mashreqi" is a term used for residents of eastern Afghanistan. Khost and Paktia are located in Afghanistan's southeastern region.
The pakhols range from 200 to 1,000 Afghanis with Haji Dawood making a profit of 800 to 1,000 Afghanis per day, the workshop makes about 20 pakhols daily, but the sales depend on customer orders.
"Our pakhols are sold in northern Kunduz, Balkh, Khost, Paktia and abroad as well," Haji Dawood says.
According to Haji Dawood, elders wear pakhol more than young men, elders wear mostly brown while white, black and other colors are most common among young men.
Another customer buying a pakhol for his father enters Haji Dawood's store. "My dad has liked Hajid Dawood's pakhols and has been a regular customer here for years, so I am going to gift him another one today and make him happy," the customer says.