A Hope For Afghan Children
Afghan businessman opens two learning centers serving 1,000 underprivileged children in his home province of Logar. The schools are located in areas where none existed before.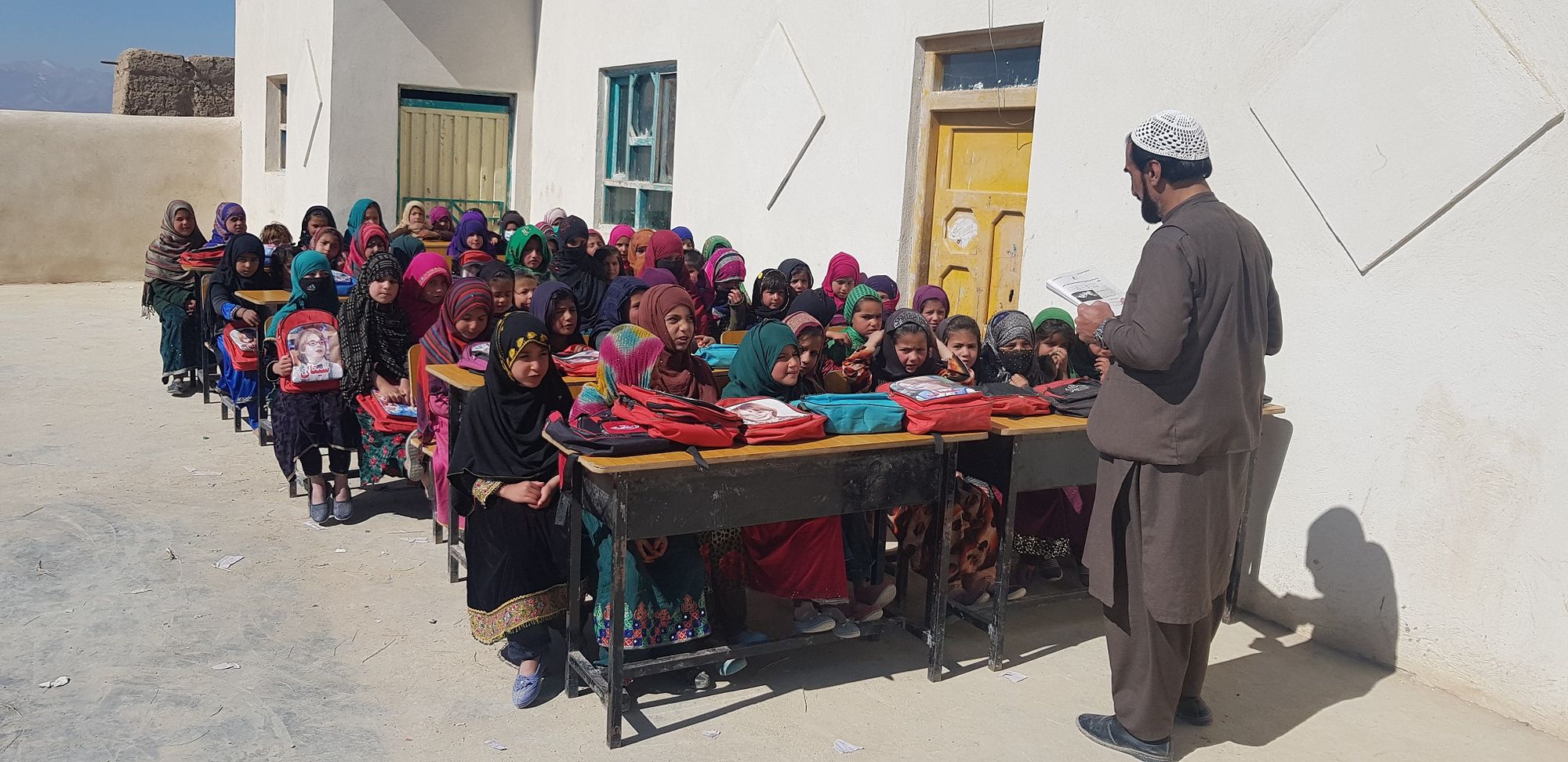 Written by Khan Wali Ahmadzai
ALTAMOR/BEDAK, LOGAR — Approximately 30,000 school-age children, both boys and girls, in eastern Afghanistan's Logar province, located just 70 kilometers south of the capital Kabul, are unable to access education. This is because there were no schools in their villages before Afghanistan's previous government fell in August of 2021.
The continuous war and insecurity over the past two decades have made it impossible to build schools in volatile areas. This has played a significant role in hindering Afghan children's ability to pursue education, Shahpoor Arab, the spokesman for the Provincial Education Directorate, told Alive in Afghanistan.
The Taliban's takeover of Afghanistan exacerbated the problem further, as the group prevented girls above the 6th grade in most parts of the country from seeking education.
Nevertheless, in response to the lack of education in their communities, several Afghans took the initiative to open educational centers using their own resources. To learn more, please read Alive in Afghanistan's articles on Afghans taking the initiative in southern Helmand, and Oruzgan.
In this episode of One Day in Afghanistan, Khan Wali Ahmadzai, spends a day documenting educational centers supported by Mohammad Akbar Atal, a local businessman who established the facilities in regions of Pul-e Alam, the capital of Logar province, where there was no school previously. The two centers collectively host 1,000 students, including 300 girls.
At 8:40 AM, the Logar sky is a mix of blue and gray with clouds scattered across the sky above. I take a taxi from Pul-e Alam to Altamor, a town on the city's outskirts, to meet Akbar. As I approach my destination, I notice groups of children walking toward a building in an organized manner, yet I can't help feeling that their orderliness is more for my benefit than a regular practice.
After disembarking from the taxi, children continue to enter the school, some smiling at my camera while others are so busy observing me they almost stumble over the doorstep. Meanwhile, distant sounds of students echoing their lessons after their teacher can be heard amid stomping feet and snatches of conversations as the procession of students streams into their designated classrooms.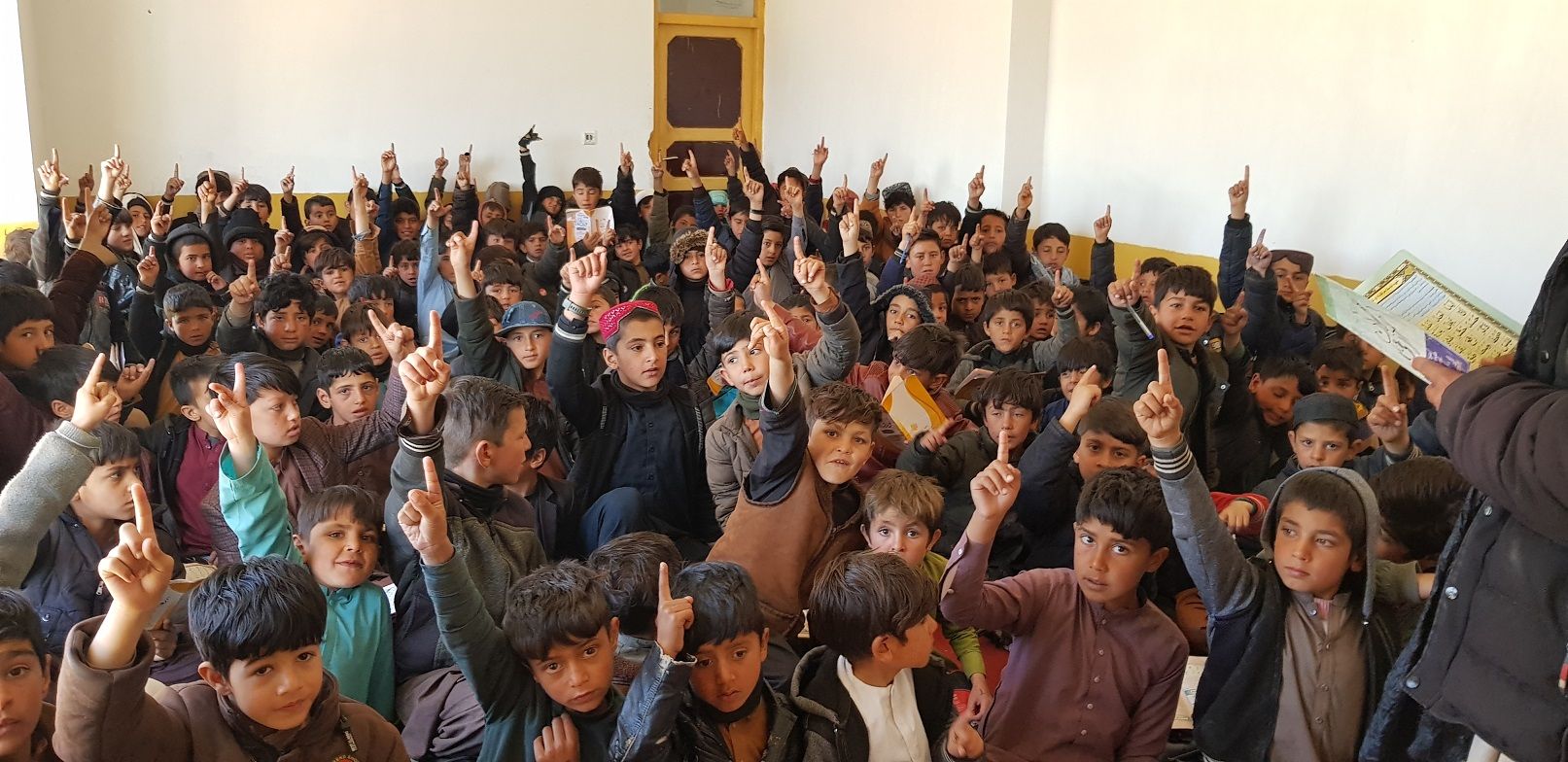 Mr. Atal, informed of my visit, comes to welcome me to the Altamor Learning Center, leading me to their administrative office. A number of parents from a neighboring village are sitting in the office to speak with Atal about their children and the possibility of registering them in the school.
Akbar explains that he established these educational centers around 8 months ago. The facilities aim to serve school-age students, including girls below the 6th grade, who cannot afford the monthly fees charged by private institutions within a 15-kilometer radius. Akbar pays a monthly rent of 10,000 Afghanis ($120) for the building.
Altamor is adjacent to a madrassa where students from the surrounding area, including students from the facility, learn religious subjects after they finish their classes at the learning center.
"Education can build people's future, especially the youth. Every Afghan must contribute to this cause," Mr. Atal tells Alive in Afghanistan.
According to Mr. Atal, he has collaborated with other Afghan youths to establish learning environments for the new generation throughout his home province. Mr. Atal established these facilities as a tribute to his late parents.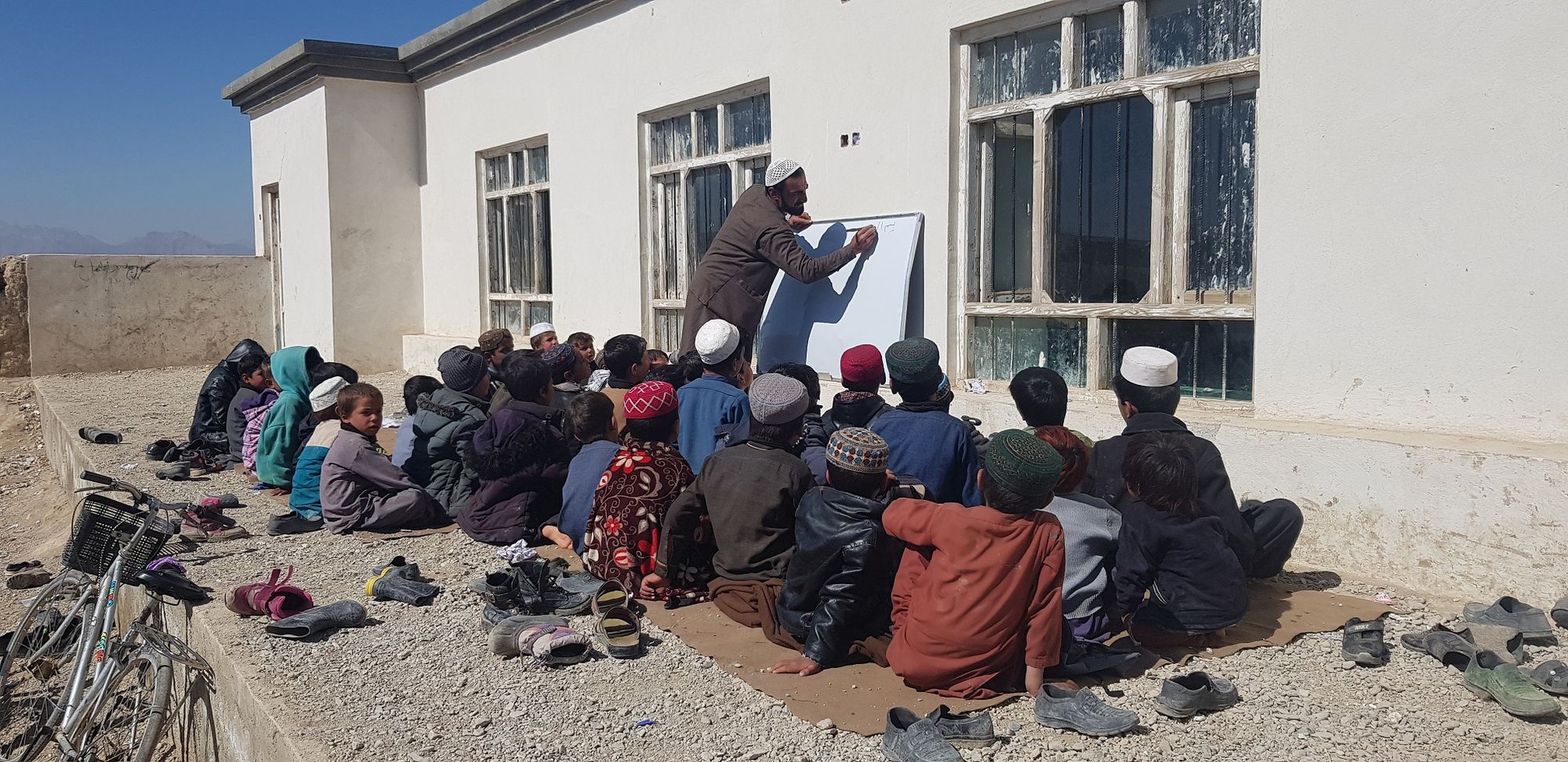 Inside the building, the classrooms buzz with activity as we approach 11 AM. I proceed to the first class where 40 male students aged 10 to 18 are actively engaged in learning English and computer skills.
I start my conversation with 15-year-old Asadullah, who has been attending the school for a month since its opening. Asadullah bikes 12 kilometers each way to reach the school.
"The educational center offers a significant opportunity for many disadvantaged students like me," Asadullah explains. He hopes that Mr. Atal expands the initiative to other remote areas of Logar, stating, "Boys and girls who have been deprived of educational opportunities can also learn."
After my chat with Asadullah, I move to the second classroom. Here, about 50 students are immersed in learning the Holy Quran. As their teacher recites verses, students seated on plastic mattresses repeat after him. Observing the class briefly, I proceed to the third classroom where around 40 students are studying chemistry.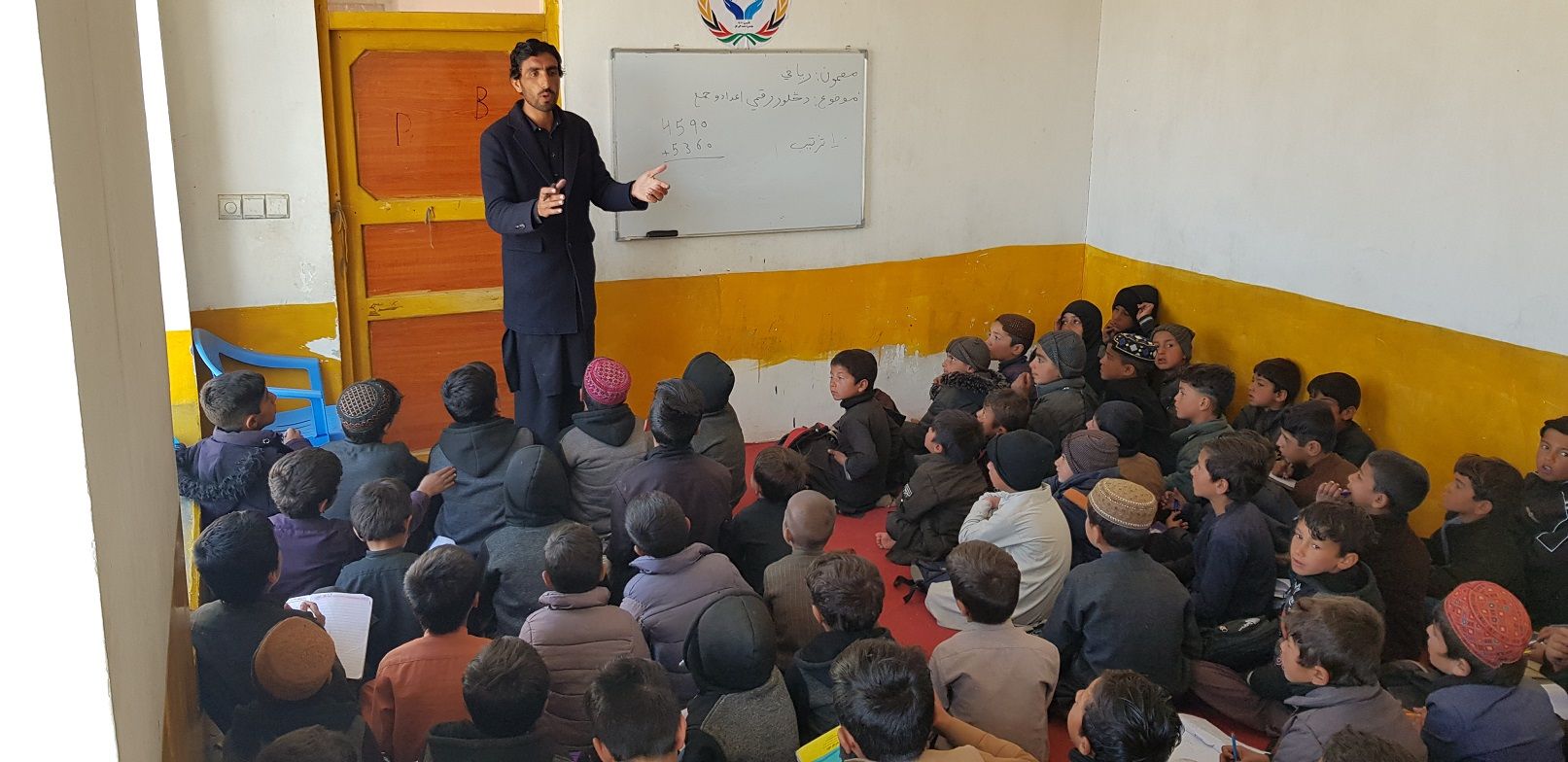 Sher Ali, who has been teaching at the facility since its inception, expresses his satisfaction in educating underprivileged children. He mentions that Altamor operates from 7 AM to noon, offering subjects such as Chemistry, the Holy Quran, English, and Computer skills.
"Hundreds of boys and girls receive free education at the two facilities supported by Mr. Atal. Additionally, students in need are provided with school supplies and winter clothing," Mr. Sher Ali tells Alive in Afghanistan.
Around 11:30 AM, we head to the second facility, located about 40 kilometers from Pul-e Alam. Our journey takes us along a dirt road, some sections damaged or washed away due to snow and flash floods.
The Bedak Learning Center is another rented space for which Mr. Atal pays a monthly fee of 6,000 Afghanis ($72). This center accommodates a total of 150 girls under 15, divided into three separate classes. One class is conducted outdoors without any shade. The outside classroom is a mix of blue, red, green, black, checkered, and purple headscarves, some adorned with embroidered flower patterns.
One student introduces herself as Maryam and expresses her happiness about the learning opportunity. She voices, "I am delighted to study. The Taliban should allow girls' schools to reopen so that Afghan girls can receive education like girls in other countries and contribute to their community!"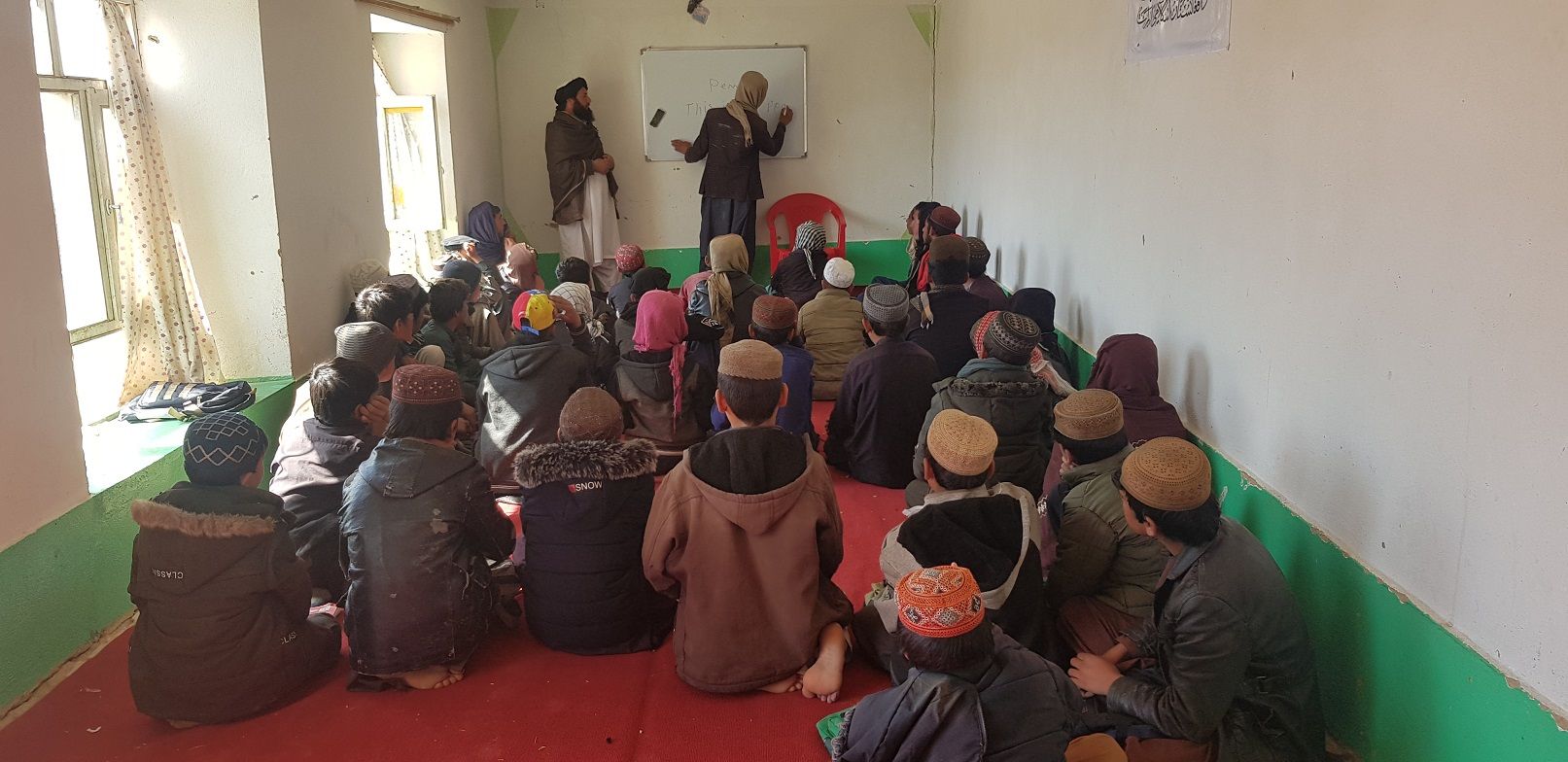 Salima, attending Bedak from a nearby village, emphasizes, "There are no girls' schools in our village, but girls and women are eager to learn to read and write."
Salima urges her government not only to reopen girls' schools but also to establish a girls' school in her village.
"When the government reopens girls' schools, I aspire to study and become a doctor, using my knowledge to serve the girls and women in my deprived-of-education village," Salima shares with Alive in Afghanistan.
Farooq Farooqi, the girls' teacher, remarks, "Numerous parents in this area hope for their daughters to receive education!"
Mr. Farooqi urges the Taliban government to reopen girls' schools and allow Afghan girls to access education similar to girls and women in countries worldwide.
These learning centers have thus far generated employment for 15 individuals. Teachers are compensated between 6,000 to 10,000 Afghanis ($72 to $120). Mr. Atal plans to open other learning centers in Logar's remote areas.
Khairullah Danish, a local cultural activist, commends Mr. Atal's initiative and calls upon residents and the local government to encourage entrepreneurs to establish similar facilities across Logar province.
"My province has endured significant suffering due to past years of war. It is crucial for the government and international organizations to take substantial steps in this direction," Mr. Danish tells Alive in Afghanistan.