A Farmer's Day
Abdul Basir Baqizada has been a farmer since he was 15. He has provided for his family's expenses through this trade/skill for the past 25 years.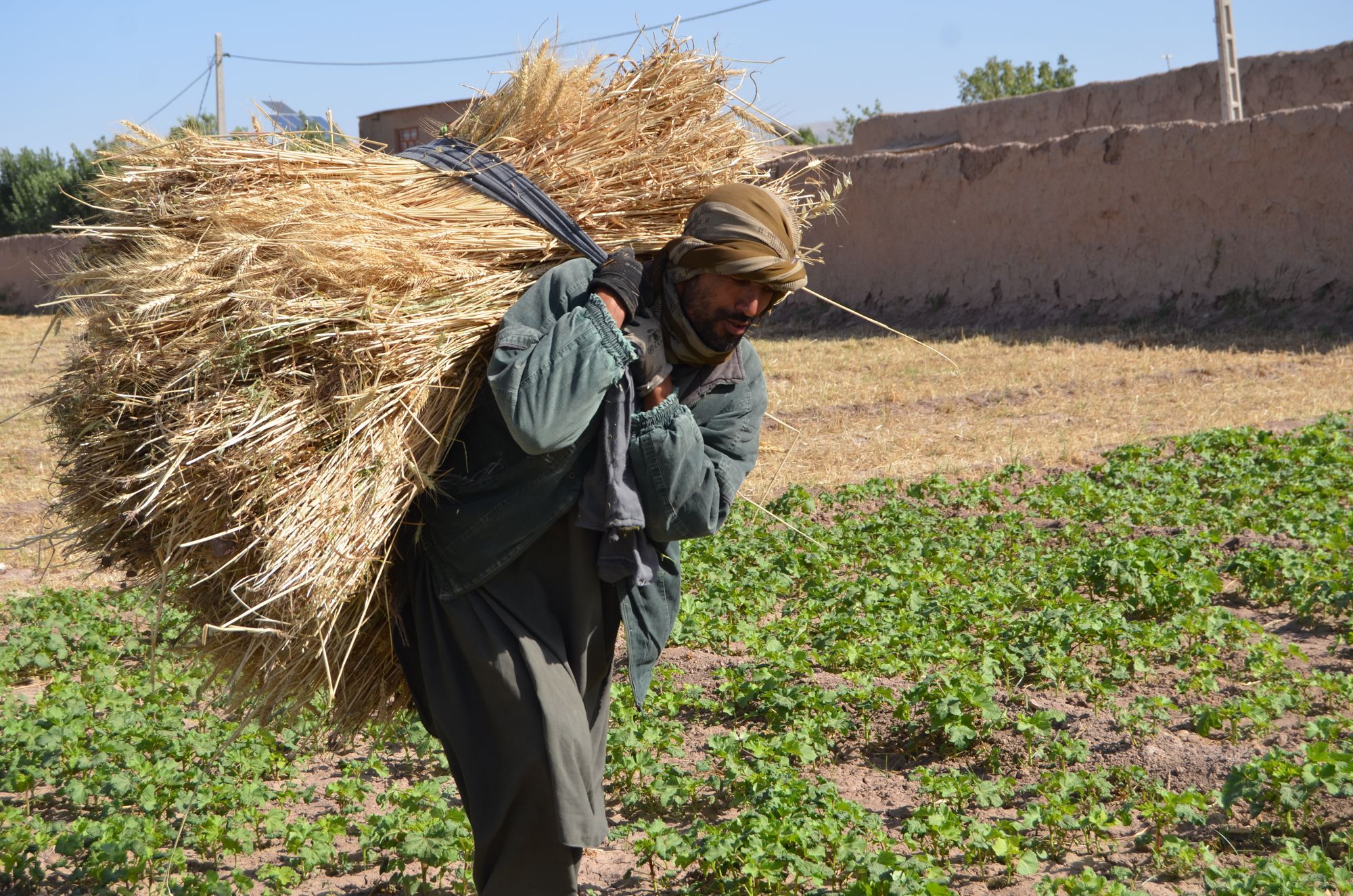 — One Day in Afghanistan —
Written by Abdul  Karim Azim
QALA-E AZIM KHAN, HERAT — In today's One Day in Afghanistan episode, Alive in Afghanistan's Abdul Karim Azim documents a day in the life of Abdul Basir Baqizada, a 40 year-old farmer living in Qala-e Azim Khan of Enjil district in Afghanistan's western Herat province. Mr. Baqizada is married to 30 year-old Shakila. The couple have four children together, two boys and two girls.
Agriculture and livestock are the main sources of revenue in rural Afghanistan. According to statistics by the Ministry of Agriculture, 80 percent of Afghanistan's workforce were engaged in livestock and agricultural work during the year, with both businesses accounting for 31 percent of the country's gross domestic product. Although exports from Afghanistan are not particularly high, agricultural products still make up a large portion of the country's exports.
Our meeting already fixed, I leave Herat for Enjil around 8 am. I rent a yellow rickshaw and head towards the village, about 7.5 kilometers southeast of Herat city, the capital of the province. Once there, I hop off and head towards the farm where Abdul Basir works. Basir has prepared tea that he serves with Herati Dashlama (hard candy).
As the harvest season has arrived in Herat, we are surrounded by fields of wheat in various stages of harvest. Abdul Basir starts to cut the wheat with a sickle while singing a song by Afghanistan's most famous singer, late Ahmad Zahir.
"هر جا که سفر کردم
تو همسفرم بودی
وز هر طرفی رفتم
تو راهبرم بودی."
"Wherever I travel
You are my companion,
Whatever direction I took
You were my guide."
Click here to listen to the song by Ahmad Zahir on Youtube.
Basir continues to sing as he cuts wheat, piling it up near him as I  drink my tea and record visuals of his work. According to my watch; the time is 9:30 am.
"Cutting wheat is not for everyone, it requires courage. I cut about 18 kg of wheat seeds every day," Basir says. For his labor, Basir is paid about 500 Afghanis ($5.63) per day.
During the harvest season Abdul Basir's typical work day begins early in the morning. He wakes up to pray at 4 am, then heads to the wheat fields. He works until lunchtime, goes home to eat, prays, and returns to the farm after a two hour break.
Mr. Baqizada has been a farmer since he was 15, and has developed a set of skills covering every aspect of farming. He uses his vast knowledge to provide for his family traveling from farm to farm to assist with the process from planting to harvest.
Basir is a farmer who loves music. He has a boisterous voice and sings songs by Afghan singers including Ahmad Zahir and Ustad Sarahang while he is doing his job. Basir has a positive attitude, and a great sense of humor. In addition to singing, he likes to make jokes while working.
It is now 10:30 am. When I ask Basir about the weather in his village, he says, "I would not exchange all the high rises and buildings of the city for one hour worth of clean air in a village. I cannot live in a city."
Basir laments Afghanistan's governments saying, "No government in the past or present has done anything for farmers, although farmers have a host of issues including the lack of fertilizers and enough water to irrigate their farms."
But what Basir might not know is that Afghanistan is experiencing one of the worst droughts of the last two decades.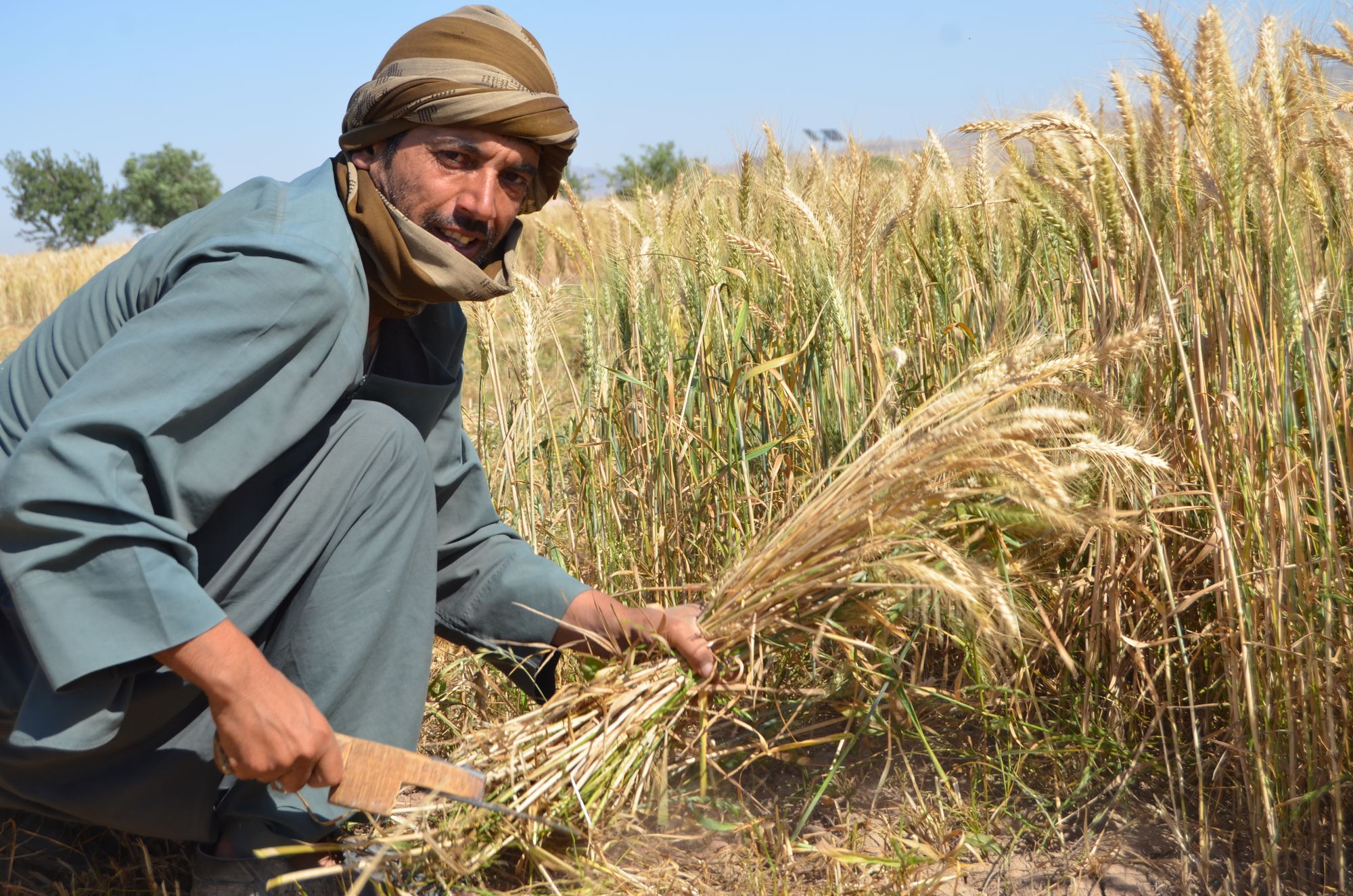 "Afghanistan is in the grip of one of the worst droughts and food shortage crises in decades," the International Federation of Red Cross (IFRC), said in a statement last December, adding that the drought is threatening to unleash an unrivaled humanitarian catastrophe.
The statement said, "Severe drought has hit more than 80 percent of the country, crippling food production and forcing people from their land."
This is while another report by the Food and Agriculture Organization (FAO) of the United Nations states that by 2030, annual droughts in many parts of Afghanistan will likely become common as weather prediction models warn of continued drought conditions in 2022.

According to a report by the Afghanistan Analysts Network (AAN), published in June 2022,  "Conditions are particularly severe in the south, western and northwestern parts of the country. Water resources in these regions are severely reduced."
At about 11:30 am I hear the sound of another sickle cutting wheat on the other side of the farm. The wheat is being cut by an old man wearing a white turban and a baggy shalwar-kameez. Kaka (uncle) Gul Ahmad is around 60 years-old and assists Basir on this farm.
He earns 250 Afghanis ($2.81) per day to care for his family of nine. One of his sons works in neighboring Iran and sends his wages home regularly.
"I have engaged in farming and daily labor since I was young," Gul Ahmad tells Alive in Afghanistan.
His request from the international community and Afghanistan's current government is to help people with employment and get them out of this miserable situation.
Afghanistan is in the grips of an economic collapse since the fall of the previous, western-backed government in August 2021. The economic collapse has fueled a growing unemployment crisis. In addition to that, there are virtually no programs to help the elderly live their lives without working or living with their children.
For more information about Afghanistan's economic situation, read Alive in Afghanistan's articles on Economy.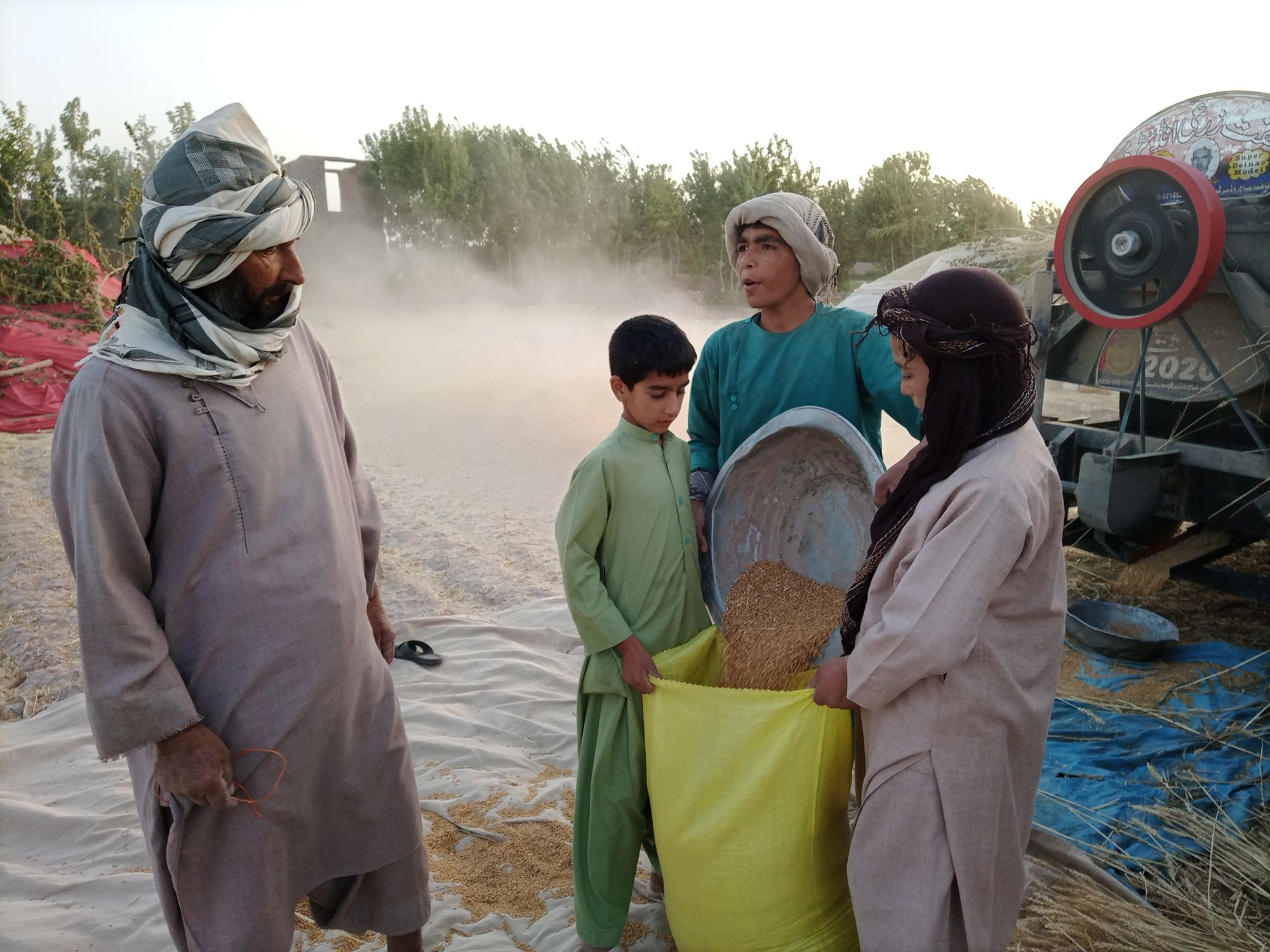 At 12:30 pm, I take a lunch break, after which I visit Herat's Directorate of Agriculture. I have a meeting with Haji Bashir Ahmad Ahmadi, the head of the directorate.
"Our average production has been between 600 to 650 thousand metric tons of wheat annually. Our yield so far this year has been better in comparison to last year," Haji Ahmadi tells Alive in Afghanistan. According to Mr. Ahmadi, approximately 180 to 200 thousand hectares of land is used to grow wheat in the western province.  
Mr. Ahmadi also adds that no significant issues, neither pests nor diseases, have affected agriculture in Herat this year. Mr. Ahmadi's team has assisted farmers and provided methods on how to eliminate locusts in districts where the insects have been seen.
At 3 pm I leave Haji Bashir Ahmad's office to go home as Abdul Basir will soon be gone for the day. I return to the farm Abdul Basir works at after four days. The wheat cutting process is complete, the wheat pile looks like a tiny hill as an electric grain winnower separates the wheat from the husk.
Basir, his brother Abdul Aziz and some of their neighbors feed the wheat into the winnower. Since the winnower costs 1,000 Afghanis ($11.25) per hour, the team wants to get the job done as soon as possible.
While one team helps feed the winnower, the other gathers the wheat seeds from the other side and bags them up. All together it takes about two hours to go through the pile. In the end, the winnower owner is paid 2,000 Afghanis ($22.47) and 20 kg of wheat. It is customary in Herat that winnower operators are paid a separate "deyak" fee in addition to the charge for the grain winnower. In this case the deyak is paid in wheat.
The result of this year's harvest is 1,200 kg of wheat. At 4 pm, with the harvest and winnowing over Abdul Basir Baqizada heads to another farm owned by another villager to run his wheat through the winnower as I say goodbye to the team and head home.