A Day with a Broom Maker
Mah Sultan is a woman making the brooms in southwestern Afghanistan's Nimroz province in order to help take care of her family. She barely makes enough from the business, but has no choice in the matter.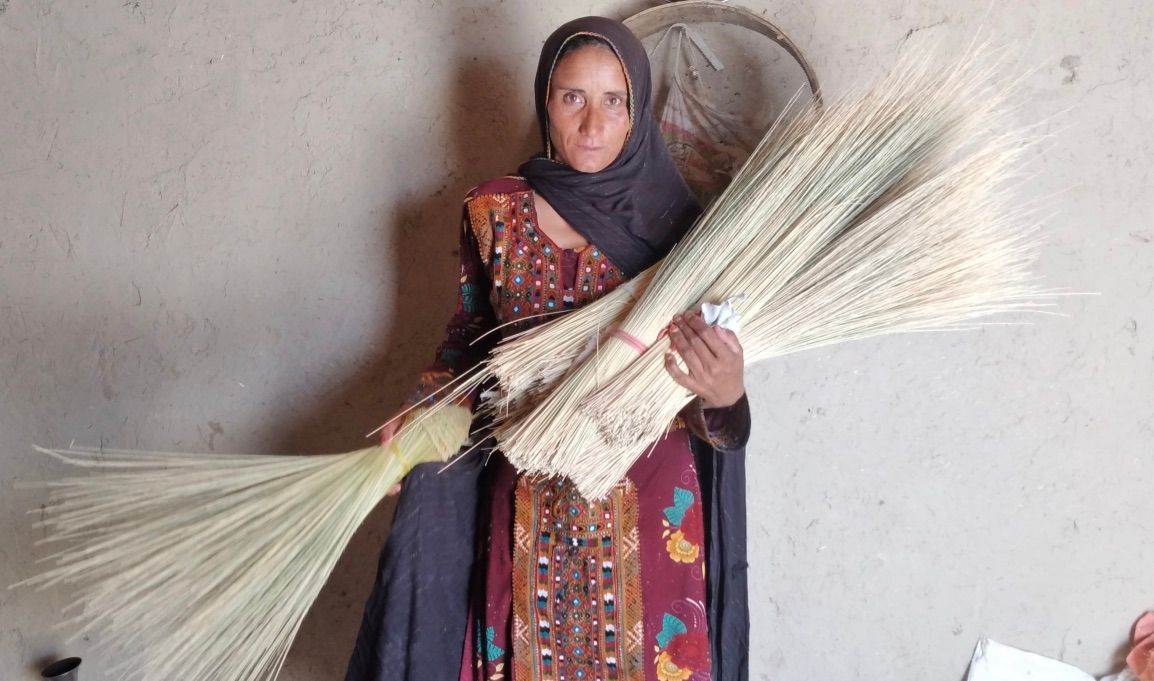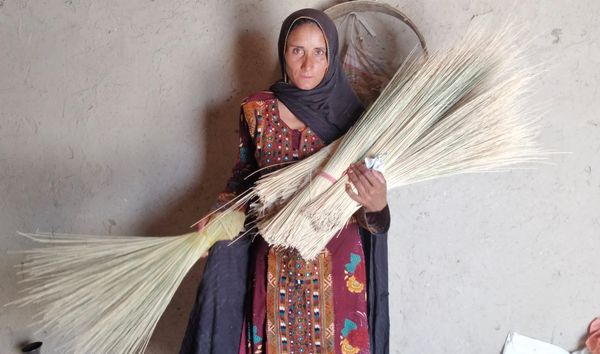 — One Day in Afghanistan —

Written by Shaima Seddiqi
ASL-E CHAKHANSUR, NIMROZ — Nimroz, like the rest of Afghanistan, has been in the grip of one the worst droughts in decades. The drought has crippled agriculture, one of rural Afghanistan's primary industries, causing severe food shortages.
According to an International Federation of Red Cross (IFRC) statement published last December, "Severe drought has hit more than 80 percent of the country, crippling food production and forcing people from their land."
Previously a report by the Food and Agriculture Organization (FAO) of the United Nations stated that by 2030, annual droughts in many parts of Afghanistan will likely become even more common as weather prediction models warn of continued drought conditions in 2022.
In today's One Day in Afghanistan episode, Shaima Seddiqi documents the life of 35-year-old Mah Sultan, a woman making brooms in the Hussain village of Asl-e Chakhansur (also known as Chakhansur) district to provide for her family.
My husband and I leave Nimroz's capital of Zaranj in the morning, cross the scorching wastelands of the Margo desert, and arrive at the Hussain Khan village at 9 am after traveling a distance of 70 kilometers. The temperature outside is 49 degrees Celsius (120.2 Fahrenheit)–it feels like we have entered the gates of hell itself.
After making some phone calls we find Mah Sultan's house. Upon arrival we are guided to their guest room and treated to freshly-baked bread made by Mah Sultan just before our arrival. The blue, solar-powered swamp cooler is running, but not really cooling the room.
Mah Sultan married 50-year-old Ahmad Ali 22 years ago. The couple moved to Iran a year after their marriage to escape poverty and unemployment, but returned to Afghanistan some 14 years ago. They have seven children, three girls and four boys.
Two of their children, 20-year-old Golsoom and 16-year-old Amir Hussain immigrated to Iran for work just before the fall of Afghanistan's previous government. Golsoom now works at a fruit packaging factory and Amir for a construction business. The sister and brother send money back home occasionally, according to their mother.
"The drought and conflict has taken everything from us," Mah Sultan says while sitting in one of the other rooms serving as storage. She lights a hookah and inhales from the pipe as she talks.
"My husband is too weak to work, and two of my children are in Iran. I miss them a lot, but they send money for us to spend," Mah Sultan tells Alive in Afghanistan, adding that her children's financial support means she worries less about some of her problems.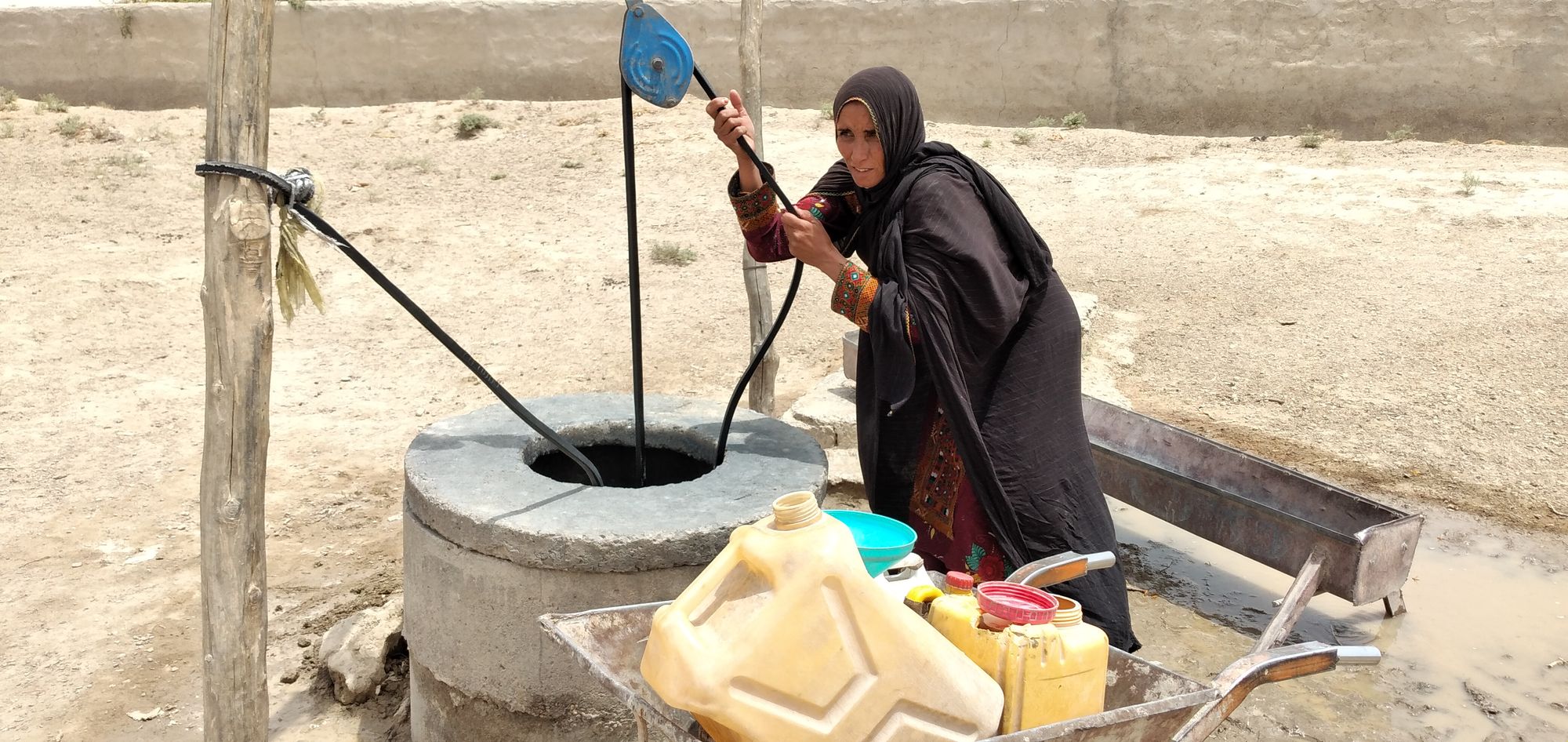 It's now 9:45 am, and Mah Sultan is about to start her daily routine, wandering the desert to gather broom sticks. As she moves out of her house, I follow her. We walk about 200 meters to reach the closest area where she can gather the branches.
The dried canal in front of us looks as though water has not run through it for a while, but hardy desert bushes occupy both sides as Mah Sultan bends at her waist to cut branches from a few. These branches will be bound together to make a broom.
The canal is about 3 meters deep and I have to climb down to find a better angle for photographing her. She works quickly because the heat is making us sweat a lot. She carefully looks everywhere and often talks to me while working.
"This is quite difficult work, sometimes my hand goes inside a bees nest, while other times I am fighting off snake bites, but I have no choice. I have to deal with these dangers to make a living," Mah Sultan says.
Gathering enough branches to make a single broom is very time-consuming. She can only gather enough branches to make two or three brooms a day, this is only possible  if she doesn't do any house chores that day.
She searches for about an hour to gather enough branches to make the first broom, despite the pain of spiky desert plants piercing through her skin and the unbearable heat along the way, it almost appears like she is used to it.
"The canals would be filled with broom bushes if there was water and there would be enough to gather for months," she says.
Mah Sultan tells me, "I wove 700 brooms with the help of my daughters last year because it rained and we had enough water. I sold each broom for 15 Afghanis ($0.17 at the current exchange rate), but I was only able to make 30 brooms this year."
According to her, what she calls broom bushes grow long and thick with enough water and therefore, "Less broom sticks are needed to make a single broom. Because of the drought this year, the bushes grew smaller and more fragile, therefore I have to gather more of them to make a broom. Meanwhile, broom prices have decreased dramatically."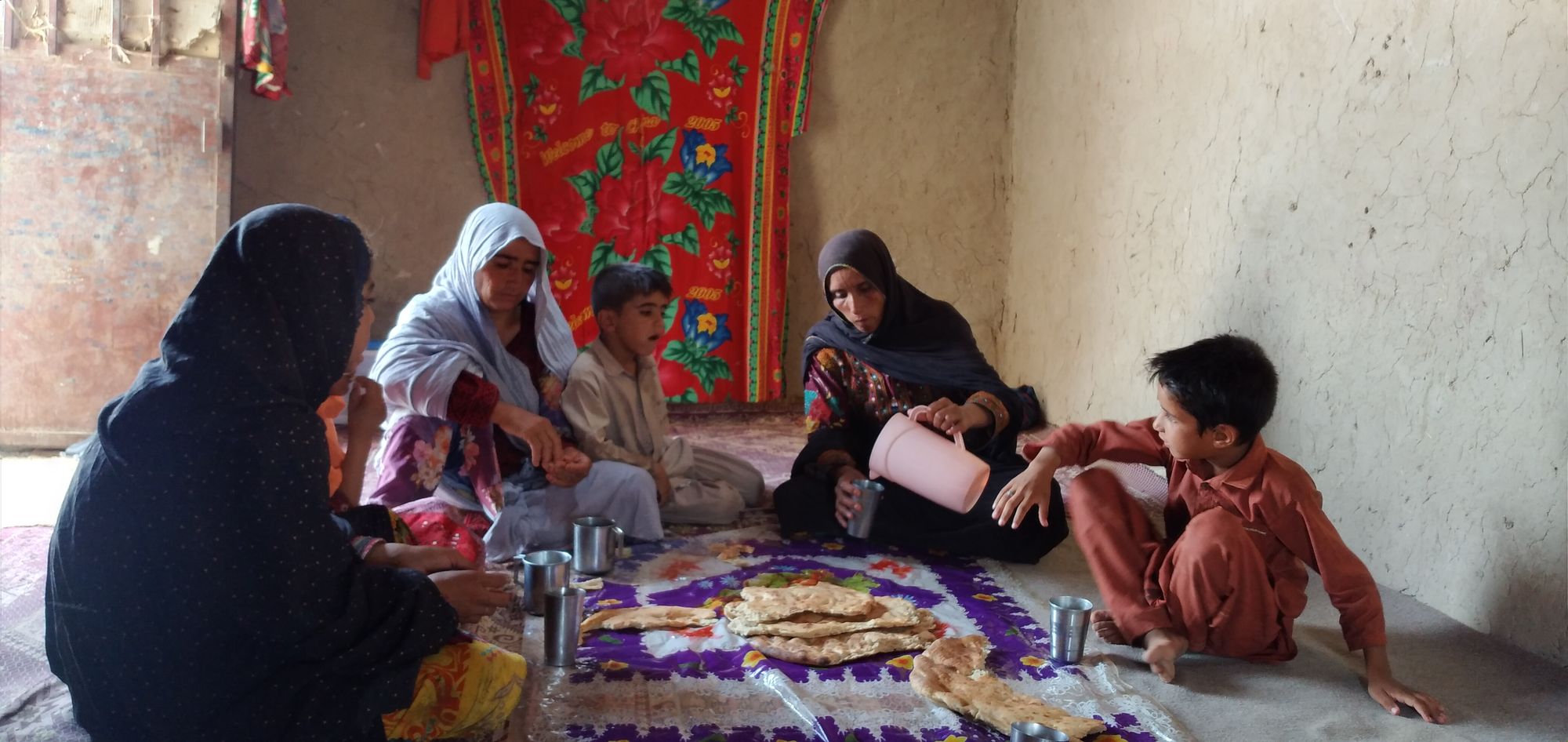 Less water also means the bushes themselves are more fragile, making the broom weaker, ultimately selling for a lower price. She crosses crevasses carefully, her body is visibly trembling because, according to her, "Snakes live in those."
At 10:45 am, we walk the 15 minutes back to her house, after gathering enough branches to make a single broom. She lays the sticks in the sun to dry and her son Asif, gathers previously dried ones from the roof to show to me.
"Broom making consists of 4 steps, gathering the branches, drying, smashing and finally weaving the sticks together," she says.
The branches are left in the sun for 10 days to completely dry, she then smashes the ends with a hammer so it gets softer and more leveled. The branches are then soaked in water for 24 hours, after which they are ready to be woven.
She spends the next 40 minutes smashing the branches. According to her, "This step is harder than weaving them."
The blisters on her hands speak to how hard this woman works to support her family. As she puts a handful of smashed branches into water for soaking, she takes a handful of others out to weave.
It's now 11:45 am. Mah Sultan puts the branches near her right leg, ties a thin yellow rope around her toe, takes 4 or 5 branches and ties their ends to the rope, she repeats this process. Weaving the broom is just like braiding human hair, except that the rope that is tied to the broom rather than a person's head.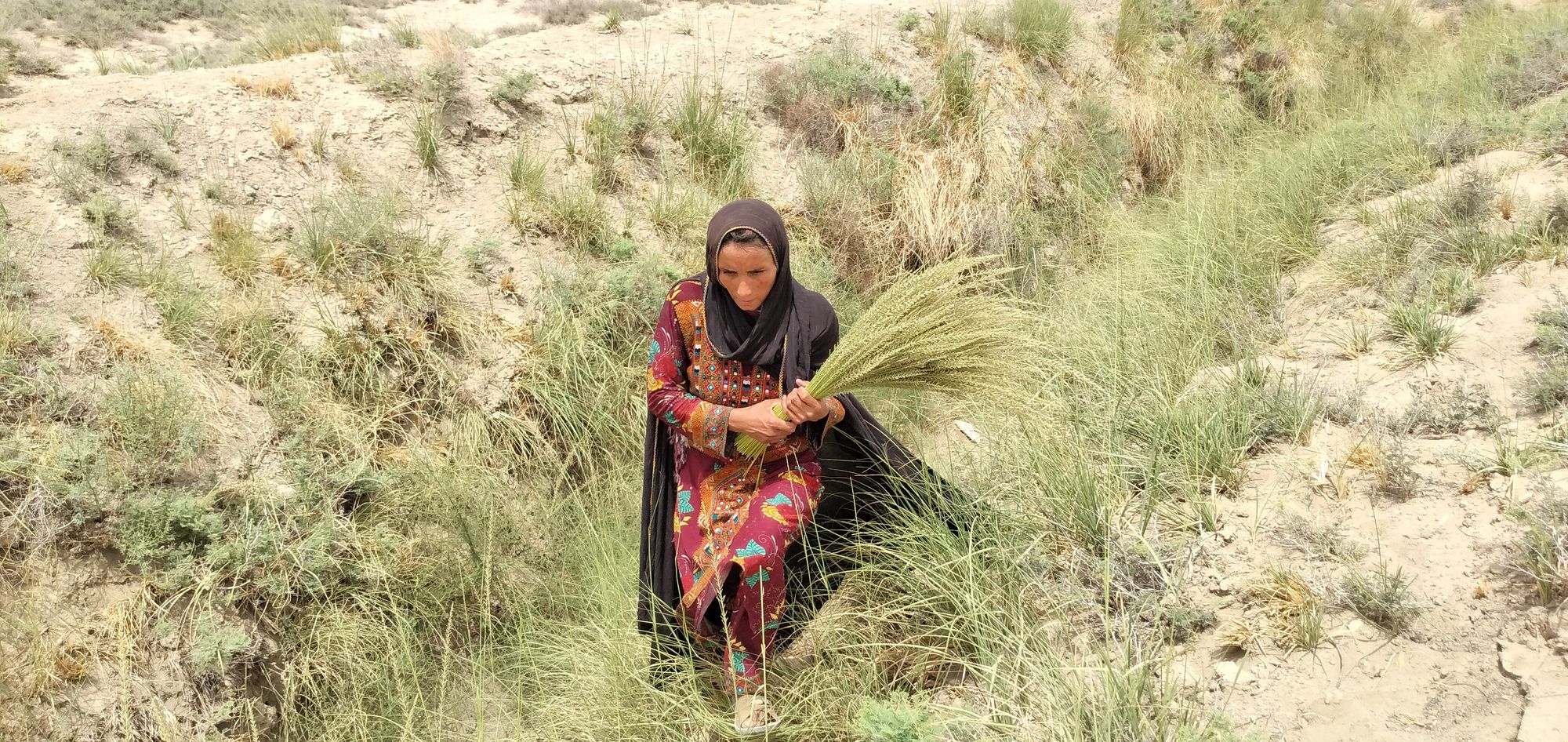 After half an hour, one broom is done. She rolls the woven material together, cuts the rope with a knife and ties the ends together tightly. The broom is now ready to use. Almost every single household in Afghanistan uses brooms like these for sweeping.
"My daughters learned from me and they also make brooms in order to help me out. We would make 5 to 10 brooms a day in total. We would take the brooms to the Chakhansur bazaar using a mule," Mah Sultan says. Unfortunately after Afghanistan's economy collapsed, she no longer has so many customers–which is just as well since it is a challenge to gather enough materials, due to the drought.
The time is now 12:30 and her children return, hungry from playing outside in the heat. Mah Sultan lays down a linen and brings a jug of yogurt with a few glasses. The yogurt helps wash down the dry bread, which is more or less their daily meal and the only thing they can afford to eat at most times.
Mah Sultan's husband does not join us for lunch. She says he has chronic back pain and is lying down in the other room. I head in there to talk to him for a while.
Upon seeing me he sits up as a sign of respect. His back is curved, some of his hair has gone white and he appears to be in pain.
"I am very sick and cannot afford to go to the doctor," Mr. Ahmad Ali tells me after we sit down, adding that he only eats once every 24 hours because he has a herniated disk and has to lie down all day long.
"I can only take our animals grazing once in a while," Ali says.
Around 1 pm I leave Mah Sultan's home to go out for lunch, returning around 2 pm. When I arrive, Mah Sultan is busy cutting leftover honeydew melon to feed their calf and cow.
"We do not have as many livestock as other ranchers in Chakhansur. We have a cow and calf. We keep the cow for its milk, it's one of our only sources of food," Mah Sultan says.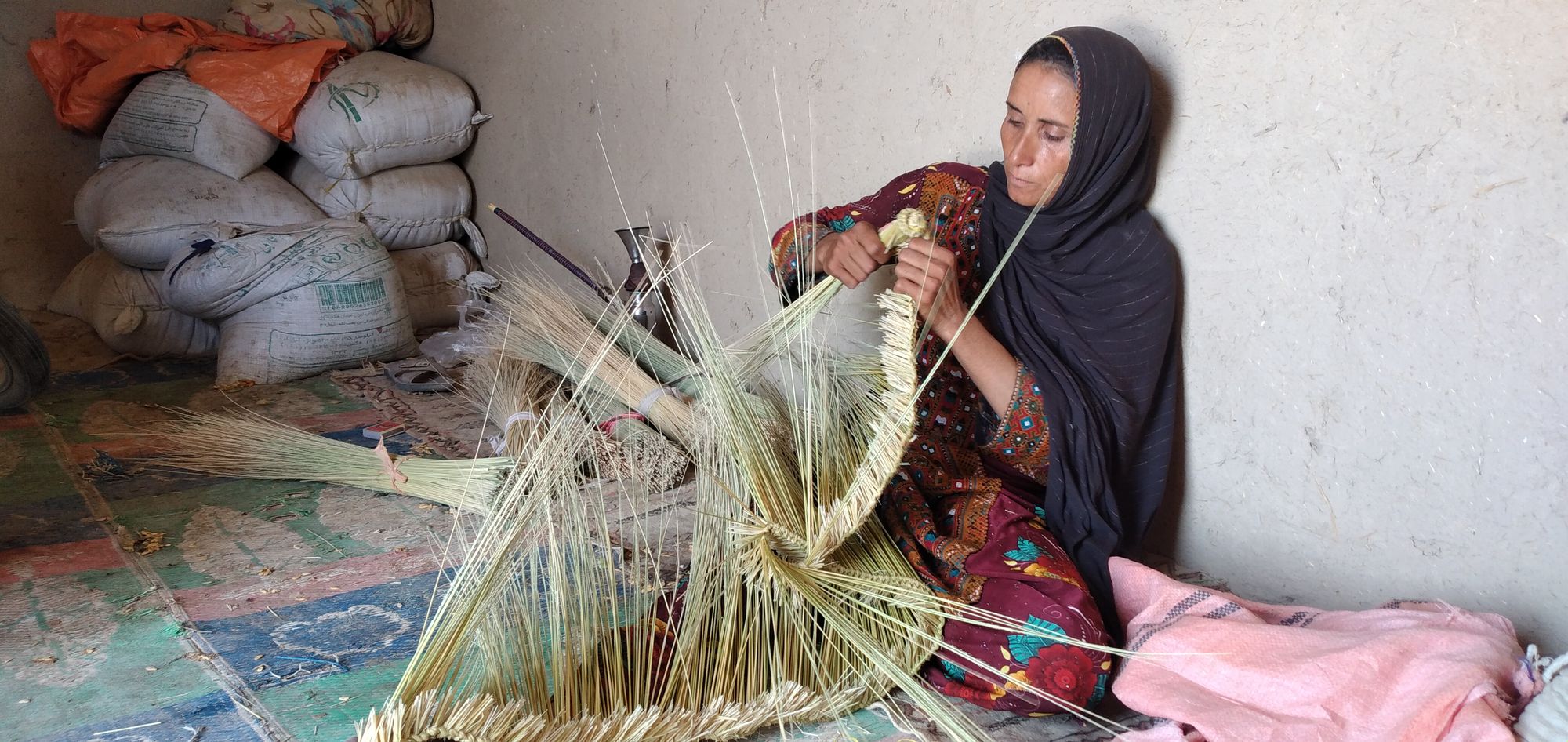 She fills a giant dish with the leftovers and makes her way towards the stable with me in tow. The stable is a five minute walk from their home.
"I take the cow grazing myself but it doesn't produce much milk at all," Mah Sultan says, adding that the cow produces about a jug of milk every day. The family has no choice but to cope as food prices are skyrocketing and the closest bazaar to their home is about 15 kilometers away.
When she returns home, she takes the empty water cans, and puts them in a wheelbarrow so she can fill them at the nearby well. Once at the well, she fills the cans one by one, putting them back into the wheelbarrow once filled.
"All villagers use this well. The water is fresh and drinkable, but everyone fears it might dry up soon," she says.
We drink a little water from the well and say our goodbyes around 3 pm to leave for Zaranj, leaving the Hussain Khan village behind.