A Conversation with an Iraqi Policeman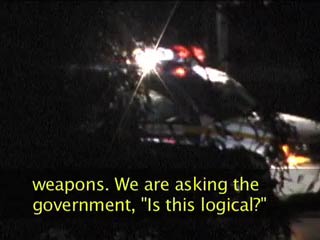 Produced by Omar Abdullah
BAGHDAD–Just who are the Iraqi Police? How do they think? What are there positions on the war and the occupation? Alive in Baghdad was able to speak to one officer on camera, but he was afraid to reveal his real name or show his face. His is just one opinion, but the complex perspective he demonstrates should give anyone a little insight into the nuances of Iraqi opinion.
This interview was produced by one of our Iraqi correspondents, please consider making a donation to support the project as a whole, or him in particular.
archival reference: https://web.archive.org/web/20151019184756/http://aliveinbaghdad.org/2006/08/25/node250/
Editor's Note: The concept for Alive-in/ began in 2005 with the launch of Alive in Baghdad. Many of the stories produced by our team of Iraqi reporters were taken offline with the closure of blip.tv.

In remembrance of the 20th anniversary of the United States war against Iraq, we are republishing as much of Alive in Baghdad's original content as possible here on Alive-in/. Each story has been given its original date so that these posts don't overwhelm our current stories, and tagged as relevant.