A Blind Mother's Single Wish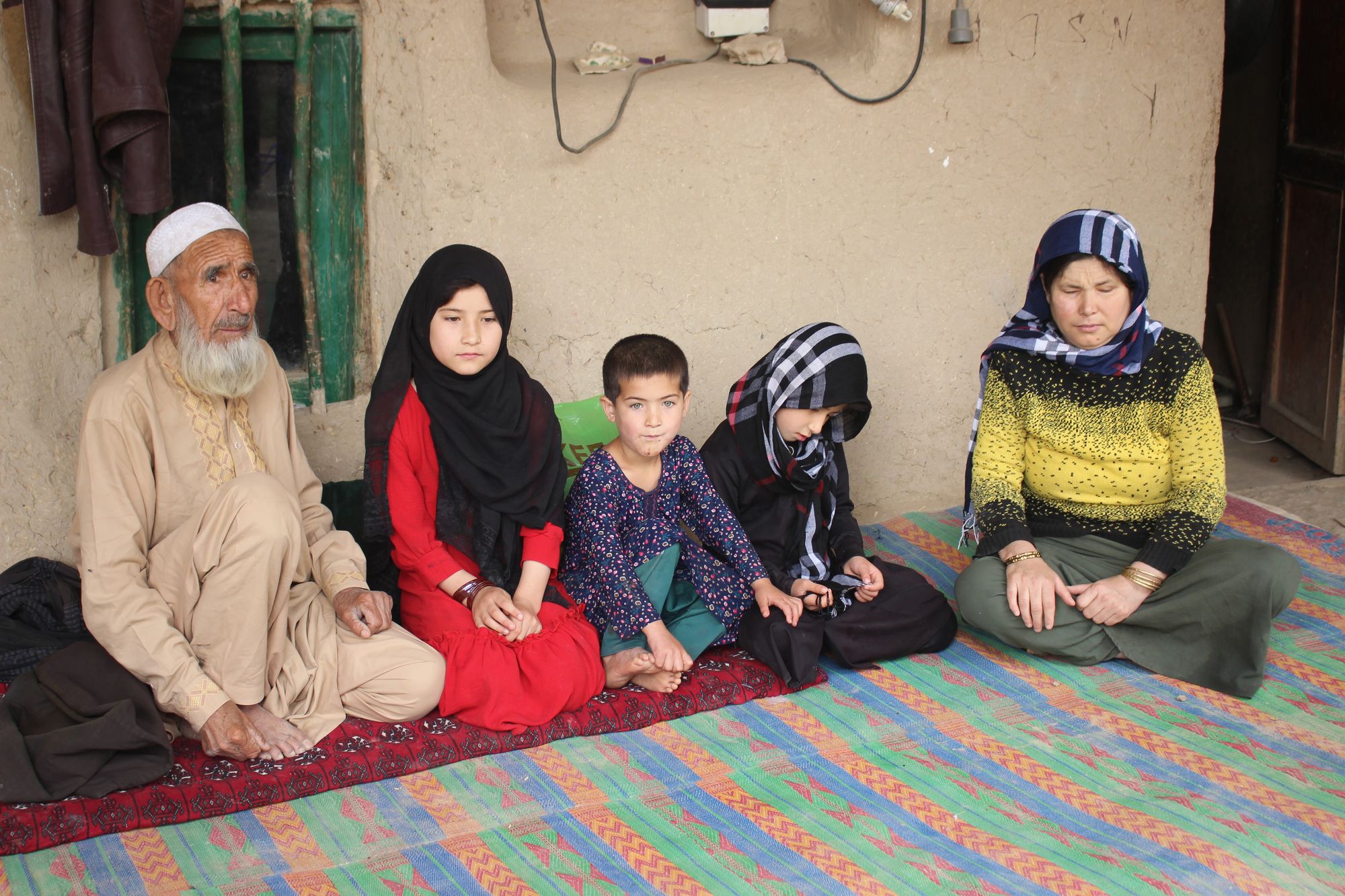 Written by Zarghuna Akbari
SHEBERGHAN, JAWZJAN — "Life without eyesight is very challenging; not being able to see your children even once, not being able to recognize their faces, and always depending on others. Without eyesight, the world is a dark place for a human being," 40 year-old Zahra, a blind mother of five from the "Jin" Karteh area of Sheberghan City, the capital of northern Afghanistan's Jawzjan province, tells Alive in Afghanistan.
In this episode of One Day in Afghanistan, Zarghuna Akbari spends a day with Zahra and her 86 year-old husband, Juma Khan. The couple's children range from 4 to 17 years old in age. The couple's only son, Mohammad Kamal, left to work in Iran around 7 months ago.
At 7:40 AM, I set off for Zahra's house, which is located about 20 kilometers away. For most of the journey, I rely on a taxi; however, to reach her home I need to disembark and traverse a series of narrow alleys by foot.
As I approach the house, two girls are preparing to play hopscotch, with one using a stick to draw lines on the ground. I ask them about Zahra and one of the girls, with short hair, brown eyes, and a worn red dress, introduces herself as Gul Shirin. She exclaims, "I am her daughter!"
Gul Shirin takes me by the hand and together we walk to her house. Upon entering their courtyard, my attention is immediately drawn to Zahra. She is of average height and engrossed in washing dishes in a tub with her eyes closed.
The disarray in the courtyard and within the rooms reflects the challenges that Zahra confronts in maintaining organization and tidiness in her home. Various items are strewn around, while some are hung on the doors and walls of the house. Juma Khan reclines under the morning sunlight on a plastic mat on the balcony in front of the rooms. His hunched back hinders his mobility and prevents him from working.
After a brief introduction, Zahra returns to her tasks, diligently washing the glasses, spoons, and plates that remain from the previous night. Subsequently, she prepares a simple breakfast of tea and dry bread. She sees her two youngest daughters off to school,  having fed them breakfast about half an hour earlier.
"Even though my eyes can't see, I prepare what my daughters and husband need. Sometimes my head hits a wall, or I fall, but try to not be a burden on my daughters," Zahra says with determination.
While her daughters lend a hand with household chores, Zahra, as a mother, undertakes certain tasks and bears the weight of responsibilities. Often, when she rises, one of her daughters either takes her hand or aids her in putting on her shoes.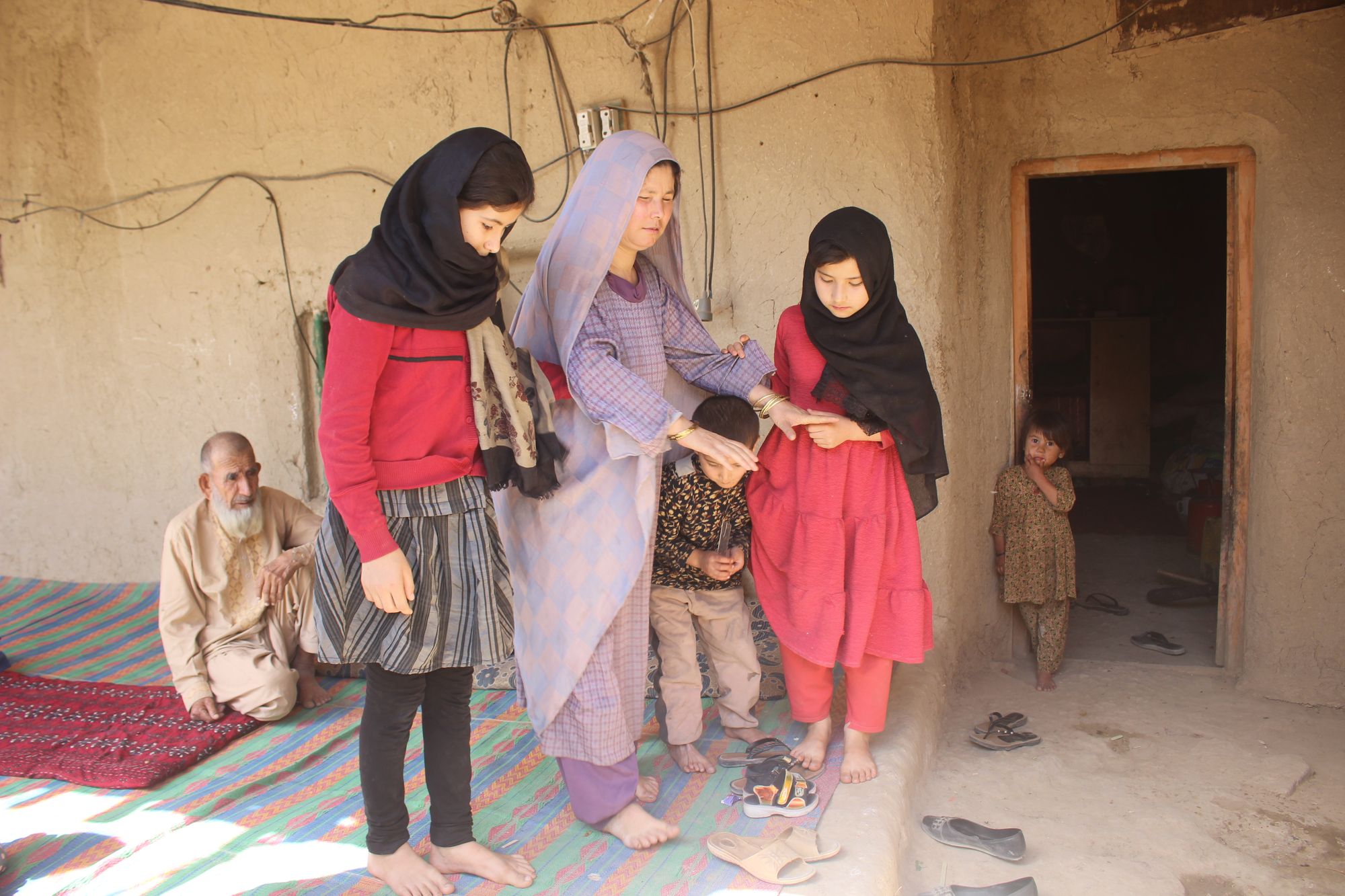 Jamila, a 14-year-old girl and the eldest daughter of this family, shares a common fate with thousands of other girls in the country. Jamila would have been in the seventh grade, but the Taliban have barred girls above 6th grade from attending school in most of Afghanistan. Zahra's primary concern revolves around the education of her four daughters.
"My daughters, God bless them, are intelligent and very active. I had high hopes that my daughters would study and one day become the support system for their blind parents. However, the current government has closed the doors of schools and educational centers for girls. May God show mercy to the hearts of the Taliban and allow these girls to continue their studies," Zahra says hopefully as she raises her hands in prayer.
Juma Khan is blind in his left eye. Although he lost his vision entirely five years ago, he managed to regain sight in his right eye through surgery performed by Turkish physicians in Jawzjan approximately four years ago.
Both Mrs. Zahra and Juma Khan are illiterate, which is why she is resolute in preventing her daughters from enduring the same fate. At the age of 20, Zahra was wedded to a 66-year-old man by her economically struggling father. However, marriage to a significantly older man has not only failed to alleviate her challenges but, according to Zahra, has exacerbated them over time.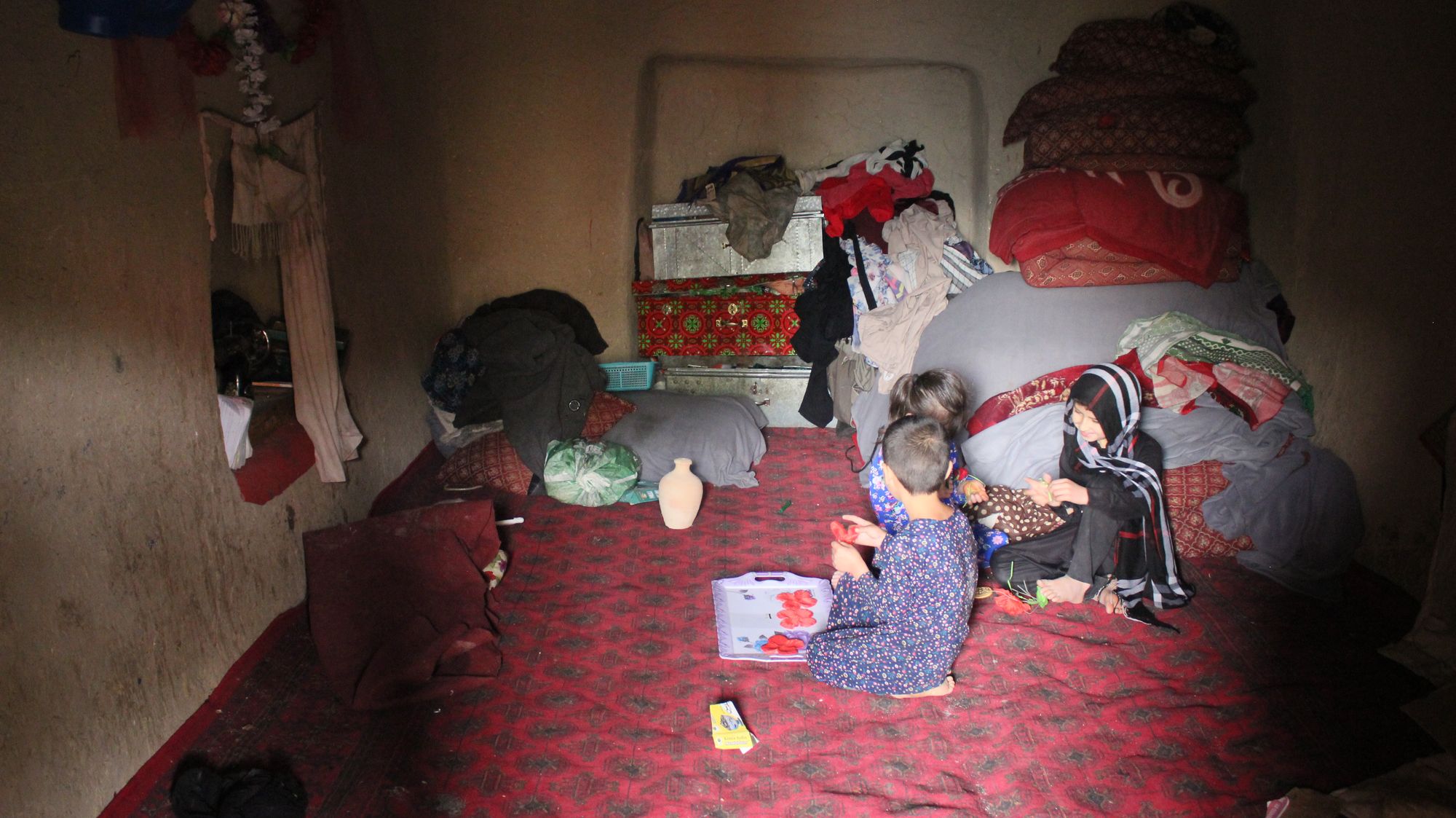 "I raised my children in the midst of financial hardship while suffering from visual impairment. My husband initially sold vegetables on a pushcart, earning about 100 to 150 Afghanis ($1.14 to $1.71) per day," Zahra says. However, a decade into their marriage, he lost his ability to work due to old age and hasn't worked since. Currently, Juma Khan can only occasionally make his way to the local mosque with a walking stick.  
"When my son was born, I couldn't nurse him because I was sustaining myself on dry bread and boiled water. From where could I obtain milk? I couldn't even manage to purchase formula for him. Thus, I would soak the bread in water until it softened and feed it to him. Occasionally, when my neighbors had cows, they would provide me with milk, which I would give to him. However, this often caused his stomach to bloat, and he would cry throughout the night," Zahra recounts.
Caring for her children while dealing with her own blindness has not been easy for Zahra.
"At times, while feeding my child in the cradle, I would accidentally place the spoon in his nose instead of his mouth. I had no one to lend a hand; my husband, due to his old age and illness, was unable to offer assistance," Zahra tells Alive in Afghanistan.
It's now 9:30 in the morning. Mrs. Zahra steadies herself against the walls and then takes the broom from beside the door nearby to sweep the interior of their combined living and sleeping space. The family unit has two rooms, is compact, and quite dim. The single window opening into the courtyard in the room on the right is more of a window pane than a full window. An aging, 14-inch television sits atop a wooden table, with tangled electrical wires connected in a somewhat disorderly manner.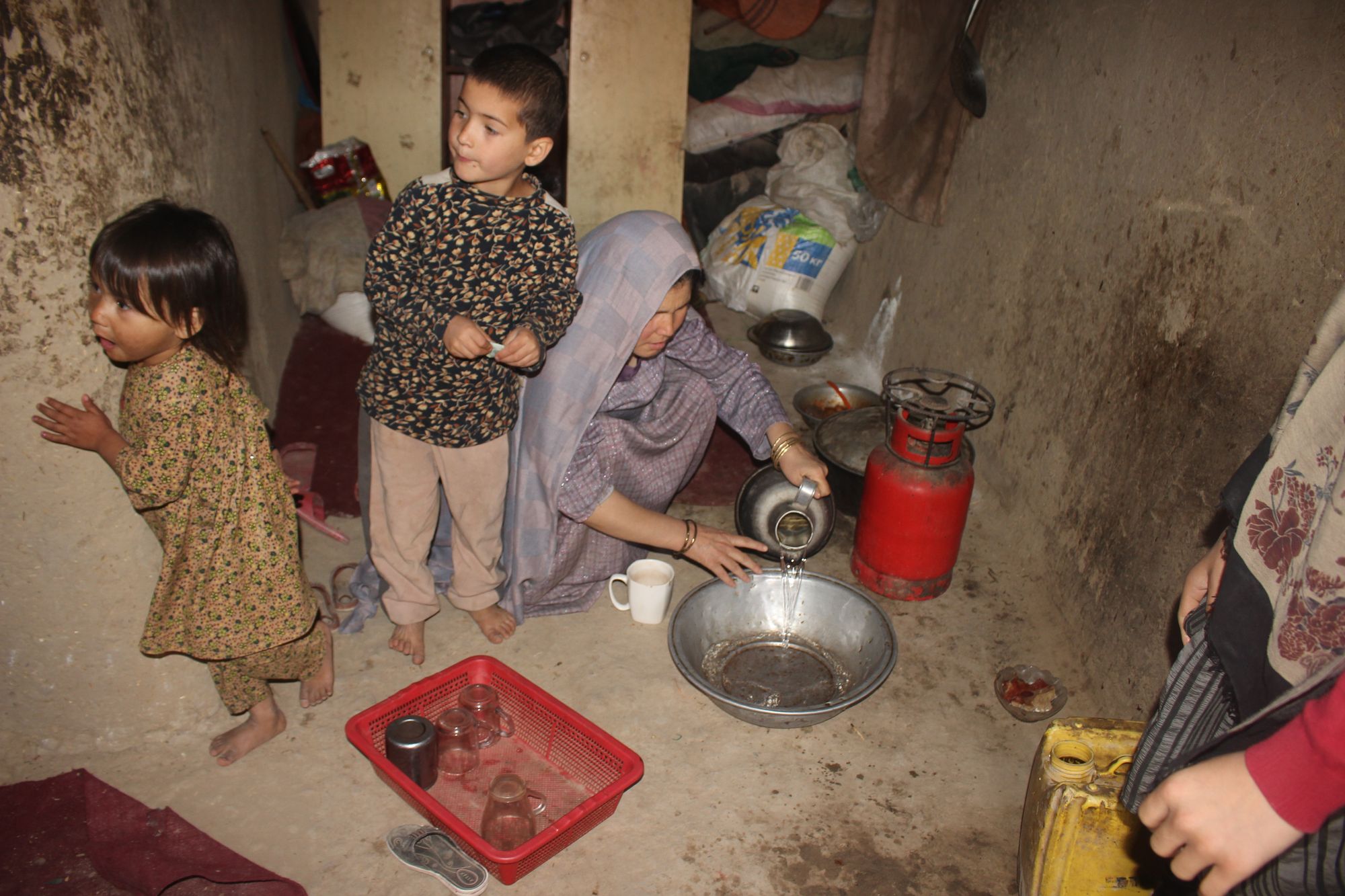 "I sweep the house every morning, even though I can't sweep properly. I sit down, sweep once, and then use my other hand to touch the area I swept to see if it feels clean or not," Zahra explains while she begins sweeping, starting from the right of the TV on the opposite end of the room.
Burdened by the sorrow of her son's absence, Zahra laments, "After Mohammad Kamal went to Iran, he started working at a mechanic shop, earning 200 Afghanis ($2.29) per day. It was satisfactory but not enough for us. He went to Iran to earn more money. It's been a while since I heard from him."
"I spoke to him once a couple of months ago using our neighbor's phone. He said he is working but still hasn't been able to repay the smuggler's debt," Zahra reveals. The human smuggler facilitated Kamal's crossing into Iran and guided him to his destination, with the expectation of repayment once Kamal began earning.
Around 11:30 AM, Zahra takes a seat to rest after sweeping the living quarters, the improvised kitchen adjacent to the living room, and the balcony. While seated, she reflects on life's challenges, her own disability, and how she has managed to conquer these obstacles.
Fifteen years ago, she experienced the heartbreak of losing her six-month-old son, Mohammad Omar, due to poverty. Omar fell ill, and the family lacked the means to seek treatment.
"Omar became sick, and there was no money at home. My husband was old. By the morning of the next day, I lost my son," Zahra says, her eyes welling up as she recounts the painful memory of losing one of her children.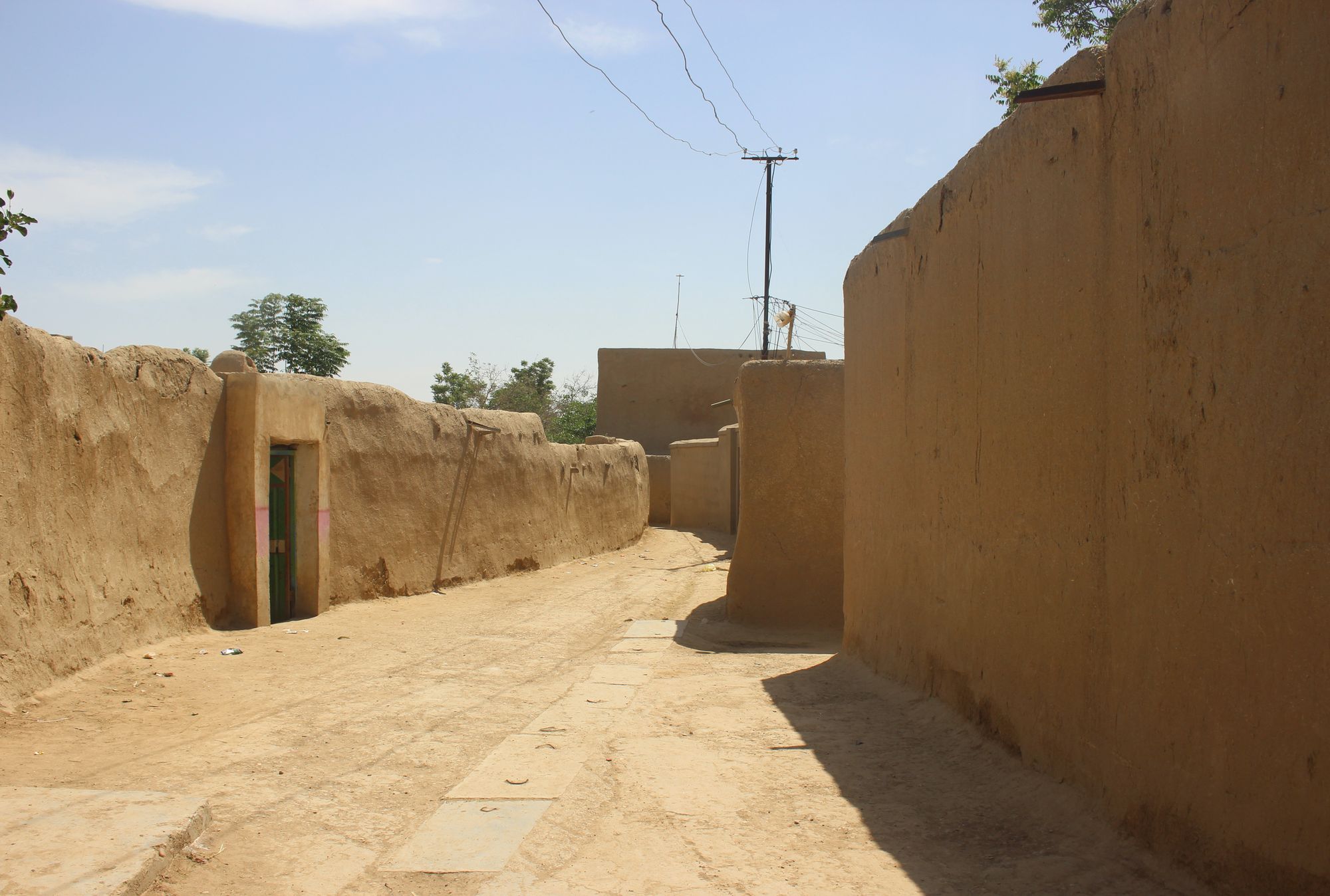 She reminisces about often sleeping on an empty stomach with her children and visiting relatives' homes using various excuses to seek assistance.
"Many nights we have gotten by with just half a piece of bread. If there was any bread, I gave it to my daughters, and I had a glass of boiling water before sleeping. I can endure hunger during the night, but my daughters cannot," Zahra says.
Nonetheless, the sole source of her optimism and hope in life remains her children. Her son is now capable of contributing to the family's finances, and her daughters are evolving into sturdy pillars of support for their disabled mother.
One sign of her daughters growing support for their disabled mother is evident in the responsibilities taken on by Jamila. These are tasks that Zahra previously struggled with due to her blindness. For instance, kneading dough and cooking bread posed challenges for Zahra, but now Jamila manages all these tasks.
"Though we're often short on flour and food ingredients, there were times when we did have flour. I would attempt to knead the dough, but it would turn lumpy, or the dough might become too salty or watery. Similar struggles happened during cooking. Sometimes, it would burn right under my hands. Initially, my husband used to handle the kneading and cooking, but now it's my young daughter who takes care of it. She's become my helper," Zahra says.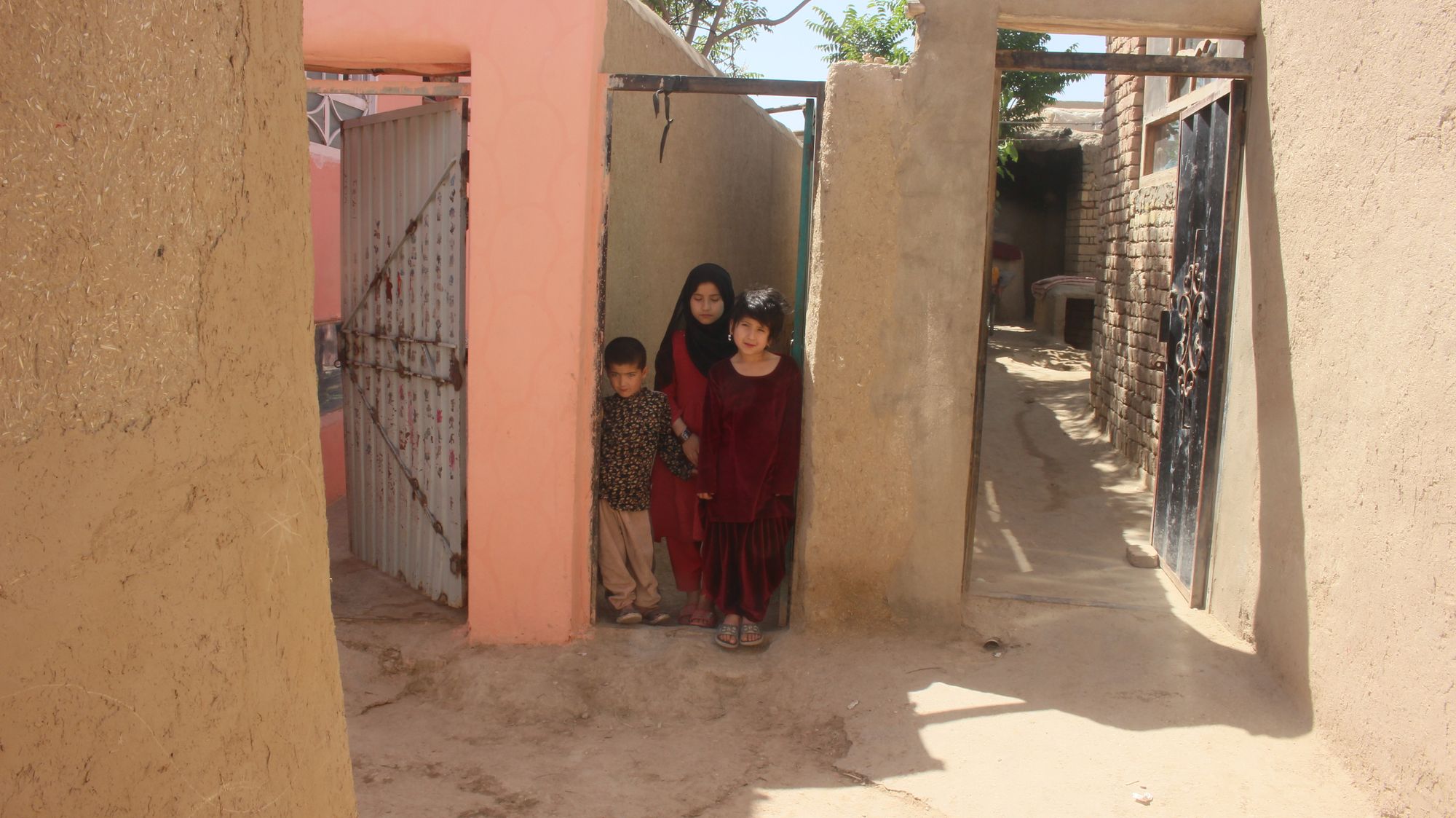 Mrs. Zahra's stories encompass both sweetness and pain. As I listen to her words, I can't help but notice the passage of time. My watch indicates that it's around 12:00 PM, marking lunchtime.
Mrs. Zahra instructs Jamila to prepare tea for her sisters, who are returning from school, as they only have dry bread at home.
Finally, the girls arrive back from school and start eating their lunch. I leave the family to themselves for an hour. Upon returning around 1:30 PM, I find Zahra gently touching Gul Shirin's small foot and using gestures, Zahra recounts how Gul Shirin burnt her foot.
"Gul Shirin was one year old and crawling. Her sisters had placed a thermos of boiling water on the floor. She went and pushed the thermos over onto her foot. Gul Shirin screamed, and I rushed to her, initially struggling to locate her amid her echoing screams. When I did find her, I touched her feet and felt the skin peel off. One of her feet was completely burned," Zahra recounts.
Mrs. Zahra promptly summoned her neighbor to help take them to a doctor. However, due to insufficient funds, Gul Shirin couldn't receive adequate treatment. Consequently, she now limps as she walks.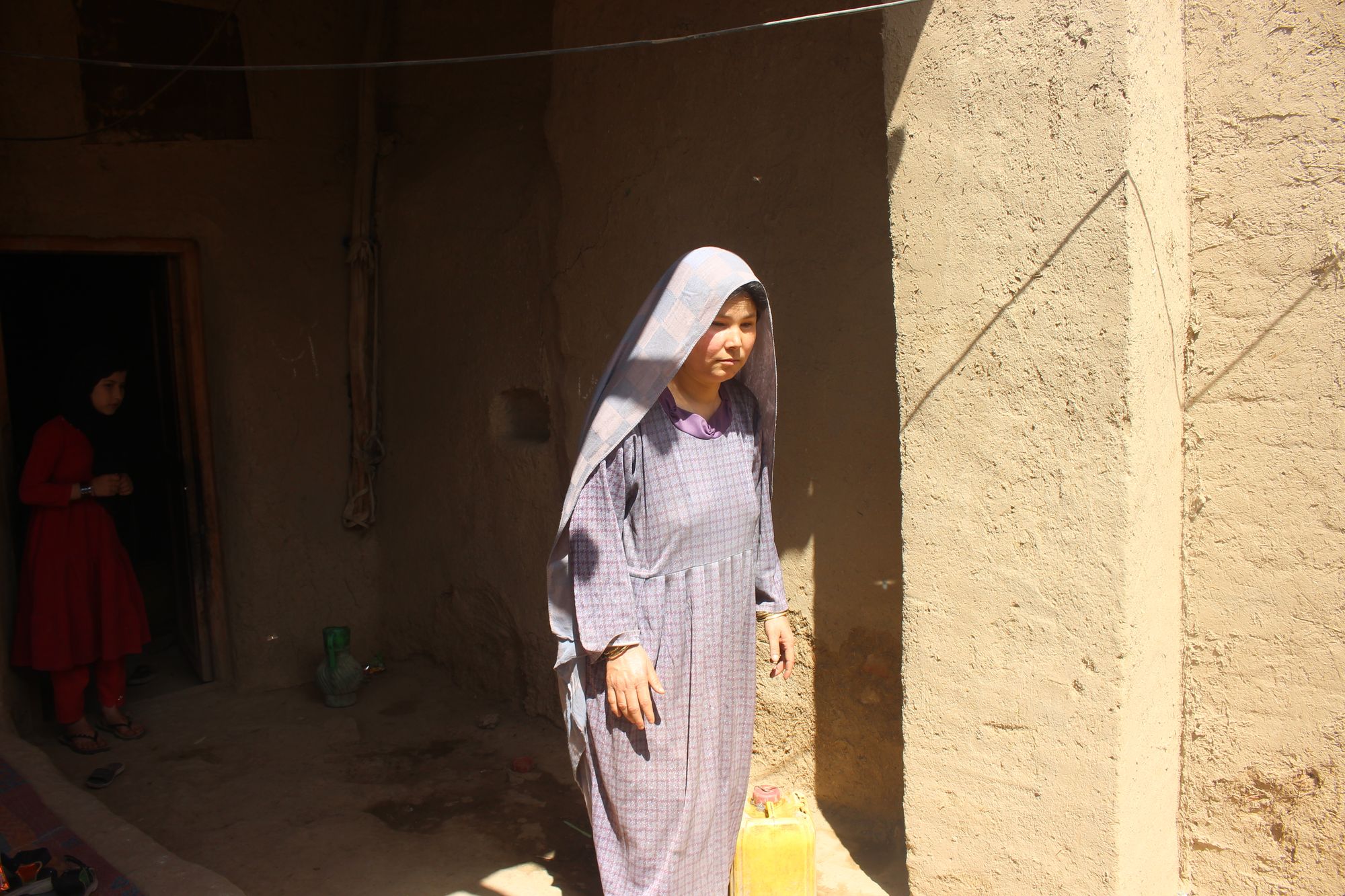 "There was no money; my husband couldn't afford it. We either managed with the leftover food our neighbors brought us or went to sleep hungry. How could we afford three to four thousand [Afghanis] ($34.30 to $45.73)  for proper treatment for Gul Shirin and take her to a private doctor?" Zahra says.
It's uncertain if Zahra's own condition is treatable. She has a very faint ability to see in her right eye, while her left eye remains completely black. Doctors she visited 20 years ago informed her that it's congenital and untreatable, while neighbors have suggested that she might find treatment outside of Afghanistan.
Despite the billions of dollars that the global community poured into the country in aid and reconstruction efforts over the past two decades, no improvement has materialized in the living conditions and economic circumstances of families like Zahra's and countless others.
Even though she and her husband are disabled, they have never received any disability benefits.
"Until now, neither the [previous] government nor the Taliban regime has provided me any financial support for my disability and blindness. No one has even approached me to inquire about the condition of these children," Zahra comments.